FORD, TAYLOR NAMED 'AMONG THE BEST' IN READERS' CHOICE POLL
News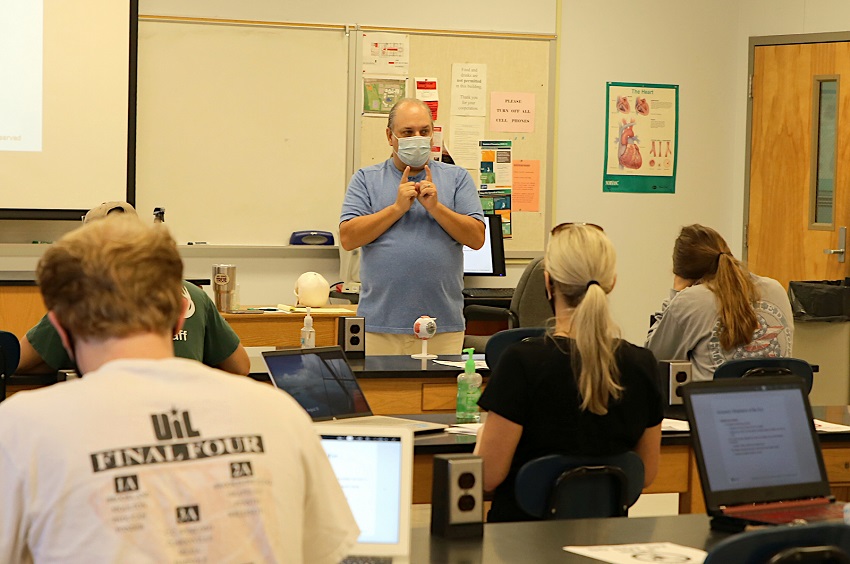 October 2, 2020
East Mississippi Community College instructors Eric Ford and Jamie Taylor have been selected among the best college professors in the "Area Professionals" section of the Commercial Dispatch's "Best of the Triangle Readers' Choice 2020" poll published Sept. 27.
Winners are chosen by Dispatch readers who vote for their favorites in numerous categories, such as "Best Beautician," "Best Cardiology Nurse Practitioner" and "Best Financial Planner," to name a few.
Top vote getters in each category are listed as the "Best," while second and third place winners are listed "Among the Best," according to the publication.
"The fact that Eric and Jamie made the list speaks to the high regard in which they are held," EMCC Associate Dean of Instruction for the Golden Triangle Campus Cedric Gathings said. "They are dedicated to ensuring their students receive the best education possible and are representative of not only the phenomenal instructors we have here at EMCC, but at all of the institutions of higher learning here in the Golden Triangle area."
Ford and Taylor, who both work on EMCC's Golden Triangle campus, earned the highest rating possible, a 5 on a scale of 1-5, on www.ratemyprofessors.com, a website where students grade their professors.
Top attributes students listed for Ford included "Hilarious," "Amazing Lectures," "Clear Grading Criteria" and "Gives Good Feedback." One student reviewer said of Taylor, "She is so funny and such a great teacher."
Ford teaches Anatomy & Physiology I & II and serves as an advisor to the Golden Triangle campus chapter of the Phi Theta Kappa Honor Society. He worked for five years as an adjunct instructor at EMCC's Scooba campus and is in his 15th year as a fulltime employee at the college.
After graduating from New Hope High School, Ford earned an undergraduate degree in biology and a master's degree in biology education from Livingston University, which is now the University of West Alabama.
After he completed his studies, Ford worked for a while in retail management before accepting a teaching position at Marengo Academy in Linden, Alabama. He later taught at Sumpter Academy in Livingston, Alabama.
His goal, however, was to teach at a community college. He was first hired in a fulltime position at EMCC to administer a U.S. Department of Education grant project on the Scooba campus.
"The whole idea of the grant project was to get underrepresented groups, minorities and females in particular, engaged in science education and research," Ford said.
When the grant project reached the end of its funding cycle, he was hired as a fulltime faculty member.
"To me, the purest form of teaching is that done at community colleges," said Ford, who was named the 2015 Post Secondary Educator of the Year by the Columbus-Lowndes Chamber of Commerce. "You are not pressured by state tests like you are in K-12 and you are not pressed by the need to do research as you are at universities. Ninety percent of what we do at community colleges is teach and that makes life better."
This month, Ford and his wife, Marilyn Ford, who is a humanities instructor on EMCC's Golden Triangle campus, will celebrate their 11th wedding anniversary. They first met when Eric Ford was serving as the faculty association president for EMCC's Scooba campus.
At the time, Marilyn Ford was the faculty association president for the Golden Triangle campus and president of the Mississippi Faculty Association of Community and Junior Colleges, a position in which she is now serving again.
The Fords enjoy working in their yard, watching sports and visiting Marilyn Ford's daughter and grandson, Brandi and Axel, 3, in Colorado.
Eric Ford said he feels as if he is doing what he was meant to do.
"It's all about the students," he said. "We don't teach to get wealthy, obviously, or for the accolades. We do this for the students. The best reward for me is when I get a Facebook message, email or a text from former students letting me know what they are doing."
Taylor teaches Music Appreciation and is director of the EMCC Choir on the Golden Triangle campus.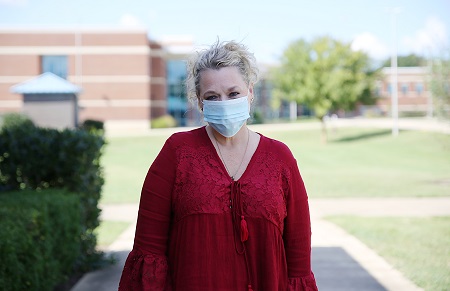 She grew up in East Columbus and graduated from Caldwell High School, where Columbus High School is now located. After earning an associate's degree from Northeast Community College, Taylor transferred to Mississippi State University, where she earned an undergraduate degree and a master's degree in music education.
She became interested in music at an early age and was a member of the band in high school, where she also served as the captain of the Color Guard. While in college, she was a member of the Winter Guard. She later served as a graduate assistant for the MSU band.
Taylor was employed as a band director for about 10 years, first accepting a position at Heritage Academy in Columbus while she was still in grad school. She later worked for schools in Ackerman before transferring to the Starkville Oktibbeha School District, where she oversaw the Color Guard, band and drumline, among other things.
Taylor's first brush with EMCC came after she graduated from MSU. She taught at EMCC's Columbus Air Force Base Extension for a year before accepting the position in Ackerman.
After her decade-long stint as a band director, Taylor taught music lessons at home while serving as a stay-at-home mom. She was later hired as an adjunct instructor at EMCC, a position she held for about 10 years before she started teaching fulltime for the college.
Taylor is approaching 20 years of service at EMCC as an adjunct professor and fulltime member of the faculty. While she enjoyed her time in K-12 schools, Taylor said she prefers teaching college students and music appreciation.
"What I really love about music appreciation is you get students who have no idea about the history of music," she said. "They only know the music they choose to listen to. I get to open their minds to something new they would never experience on their own had they not been required to do so."
The student choir she directs is involved in many events on campus, including those that are open to the public, such as graduations, spring and fall choral concerts and the annual Veterans Day program.
"The students really enjoy it when they get to perform," she said.
Taylor and her husband, John, will soon celebrate their 27th wedding anniversary. Their daughter, Jordan, is an EMCC graduate who is now enrolled at MSU. Their son, Joshua, is taking classes at EMCC. Taylor is also the choir director at Wesley United Methodist Church.