EMCC USES GRANT TO FUND DRIVE-THROUGH FOOD PANTRY
News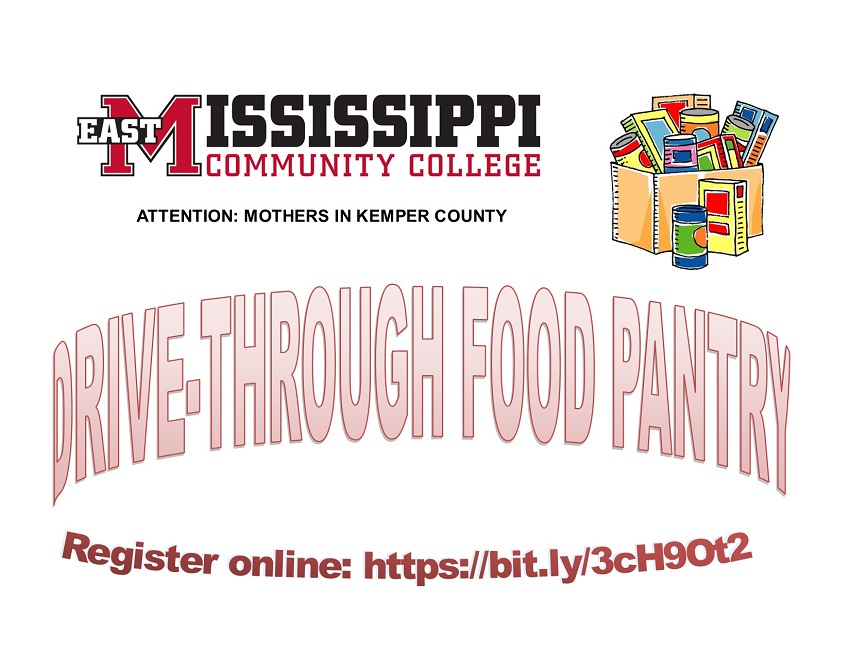 May 19, 2020
East Mississippi Community College has been awarded a $5,000 grant that will be used in part to create a drive-through food pantry for mothers who reside in Kemper County.
"We will designate a parking lot on the Scooba campus where they can drive up and we will put the items in their trunk so they don't have to get out and we can maintain social distancing," said Kimberly Rush, an EMCC academic advisor and Licensed Practical Counselor who is overseeing use of the grant funds.
The drive-through food pantry will take place Friday, June 5, from 8 a.m. to 2 p.m., and Saturday, June 6, from 8 a.m. to noon. Kemper County mothers will need to register online now here: https://bit.ly/3cH9Ot2
Food supplies will be limited and those who apply will be accepted on a first-come-first-served basis.
"We are hoping to help about 50 mothers in Kemper County," Rush said.
The grant funds were awarded to EMCC by the Women's Foundation of Mississippi, a Jackson-based nonprofit group dedicated to funding programs that improve the lives of girls and women statewide.
Half the grant funds will be used for the drive-through food pantry. The remaining $2,500 will either be used for another food giveaway later or to purchase items for a welcome basket for incoming freshmen females who will be staying in residential housing on EMCC's Scooba campus once students return to school.
"We would like to give our incoming female freshmen a laundry basket filled with all types of items first-time students generally need during their first semester in school," Rush said. "We want to help out the women in Kemper County, but we would also like to do something for our students as well."
Some of the things that will be given away during the drive-through food pantry include nonperishable foods, children's snacks and fruits, as well as some household items.
"We have ordered more than 100 different commodities in bulk that will be split up so each person gets the same thing," Rush said. "For example, we have ordered 50 cases of water and our food vendor at EMCC will be delivering fresh bread we will also be giving out."
EMCC is among 11 agencies and programs in Mississippi awarded a combined $55,000 in "Rapid Response" grants by the Women's Foundation of Mississippi. The funds are intended to help women and families in the state in the wake of the novel coronavirus pandemic, the agency's website states.
"The funds will be used for critical needs like food, personal hygiene products, medical equipment and protective gear, technology, and mental health services," according to the website.
It isn't the first grant awarded to EMCC by the Women's Foundation of Mississippi, which gave the college $20,000 in October 2018 to launch the P2P, or Plan2Postpone, campaign to educate students about methods to avoid unplanned pregnancies and to provide resources to expectant mothers and those with children.
"We are grateful for all the Women's Foundation of Mississippi has done for us," Rush said. "There is a great need for additional resources to help vulnerable women and families right now and this latest grant will go a long way in ensuring some of those people get the assistance they need."