EMCC TO ASSIST WITH FEDERAL STUDENT AID FORMS DURING FAFSA DAYS
News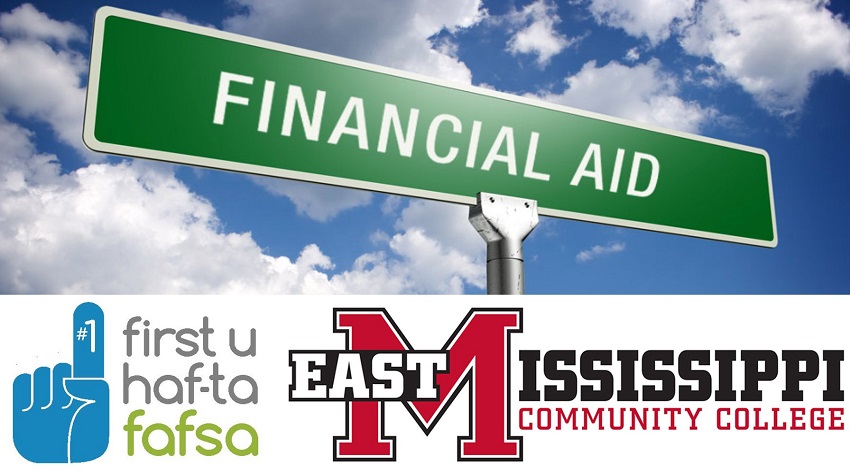 October 7, 2020
New and current students who need help filling out the Free Application for Federal Student Aid, or FAFSA, will be able to meet in person with financial aid staff during East Mississippi Community College's FAFSA Days that will take place at the Golden Triangle and Scooba campuses on select days during the months of October and November.
Students who plan to enroll in the spring, summer or fall 2021 terms are encouraged to attend.
Members of the Financial Aid Office on the Scooba campus will meet with students in Stennis Hall Tuesday, Oct. 20, from 4 p.m. to 7 p.m. and Saturday, Nov. 7, from 9 a.m. to noon.
FAFSA Days will take place on the Golden Triangle campus in the Lyceum Auditorium Thursday, Oct. 22, from 4 p.m. to 7 p.m. and Saturday, Nov. 14, from 9 a.m. to noon.
Students are asked to bring their FAFSA login information and passwords if they have them. Parent FAFSA login and passwords will also be needed if parent information is used on the FAFSA.
Students will need their tax information, as will parents whose information is listed on FAFSA. To enroll in the spring or summer terms of next year, 2018 tax information will be needed. Those enrolling in the fall 2021 term will need their 2019 tax information.
"We encourage parents to come, especially if they don't have a FAFSA ID already," said Enrollment Management Specialist Christine Montgomery, who handles financial aid loans and serves as a work-study coordinator.
The U.S. Department of Education requires information about students and their parents, such as social security numbers and dates of birth, among other things. Click on this link for details: Information FAFSA applicants will need
An EMCC staff member with the Admissions Office will also be available for those students who would like to submit admissions paperwork. Students are encouraged, however, to apply for admission online prior to attending FAFSA Days using this link: https://bit.ly/2Nx5GR7
"We will have someone from Admissions at the FAFSA Days in case somebody wants to turn in their transcripts or other documents needed for them to complete the admissions process," said Dean of Students, Golden Triangle Campus/Dean of Enrollment Management Dr. Melanie Sanders.
Parents or guardians are welcome to accompany the students but guests will be limited to two per student due to precautions being taken in light of the novel coronavirus. Face masks must be worn while on campus and visitors are asked to follow social distancing guidelines.