EMCC RADIO REMAINS ON AIR THROUGHOUT PANDEMIC
News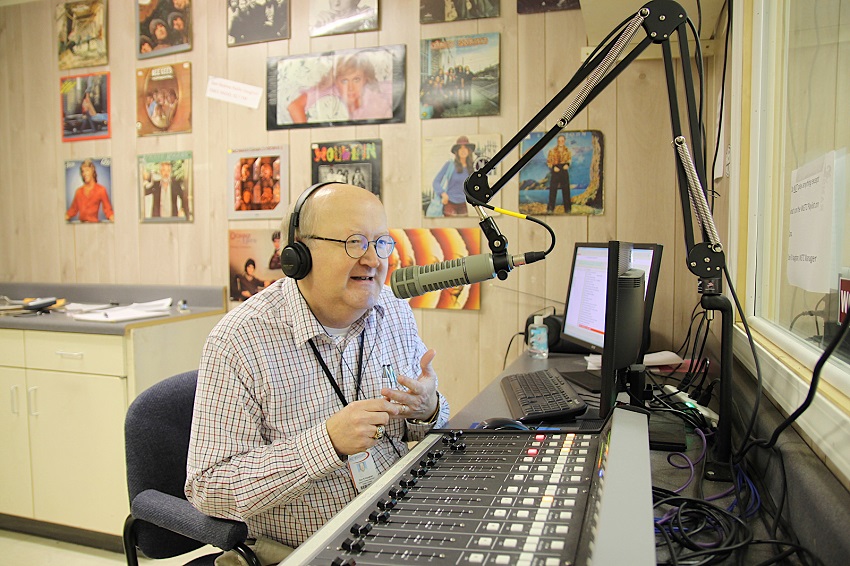 June 25, 2020
East Mississippi Community College's radio station on the Golden Triangle campus hasn't missed a beat since March 23 when colleges in Mississippi transitioned to online instruction in response to the novel coronavirus.
"We are a 24/7 operation and we have not gone off the air even once since that time," said Don Rodney "Radio" Vaughan, a speech, theater and journalism instructor at EMCC who also manages the college's radio station, WGTC 92.7 FM.
Vaughan works three or four days a week at the station during the summer, writing scripts for various announcements and station promos. He records some of the voiceovers for the scripts himself, but also has help from students, faculty and staff.
Students have also recorded Top 10 countdowns for Vaughan, as have EMCC employees.
"I will email the scripts to them and they will record the announcements and Top 10 playlists and send them back to me so I can prepare a track," Vaughan said.
Students and faculty also provide the voices for the characters on "Hope for Tomorrow," a radio drama written by Vaughan and EMCC humanities instructor Laura Vernon that is aired on the station.
"Everything is recorded at least two weeks in advance and I program it into the computer," Vaughan said.
The 100-watt station transmits north to West Point, south to Brooksville, west to Starkville and east to Columbus Nissan on Highway 12 East. The station can be accessed from anywhere through the TuneIn Radio app.
"I was on a mission trip in Lisbon, Portugal with members of First Baptist Church Starkville and we were able to listen to our EMCC radio station while we were there, which was amazing," Vaughan said.
The station, which is commercial free, features newscasts, school announcements and both current and Top 40 and Top 10 playlists.
"According to media consultant Mark Shands in Portland, Oregon, EMCC has the only radio station in the country that hosts a Top 10 countdown every two hours," Vaughan said.
The station also plays songs from the 1990s, which appeals to many faculty and staff, Vaughan said, along with selections from 2000 to the present.
Providing a wide range of musical genres that appeal to different groups is something Vaughan does "really, really well," said EMCC student Madison Nicole Davis.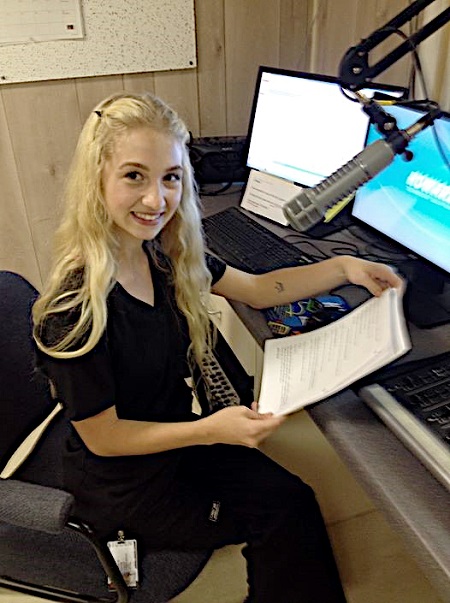 Davis of Starkville, who graduates from EMCC's Cosmetology program this month and plans to finish her Associate's Degree at the college, has been involved with the radio station since 2018.
She hosts a segment called "Madi's Hit Picks" in which she reviews and plays songs she believes will make it on one of the Top 10 lists. She also plays the character of Madi Tyler on the "Hope for Tomorrow" radio drama.
Davis, who was involved in drama and theater in high school, said Vaughan has taken the time to work with her to develop the character, whose role has continued to grow.
"The character has become someone I can actually emotionally invest in," Davis said. "The fact that Mr. Vaughan has really taken the time to get to know me and put my character in the story makes it all more personal and real."
Like other instructors at EMCC, Vaughan had to adapt to online teaching methods after the coronavirus outbreak. He has found he really enjoys using Zoom for class instruction.
"I can sit in my den and teach the class," Vaughan said. "Recently, during one class I had one student in Chicago, while another was in Vicksburg and another was in Columbus. My microphone speaker is really good and it sounded like they were right there in my house with me."
EMCC Associate Dean of Instruction for the Golden Triangle campus Cedric Gathings said Vaughan is an excellent instructor who is also passionate about radio.
"Through the radio station, Don is able to touch a diverse group of people on various topics while giving his students a medium to express themselves," Gathings said. "Don and the radio station serve as a vessel that benefits our art department, academic programs and the college."
As for Vaughan, he said he can't imagine doing anything different.
"I love EMCC and the whole concept of EMCC," Vaughan said. "I love working with the people at the college and the fact that we have a radio station here on campus."
Vaughan said he would like to recognize those students who have helped with announcement voiceovers. They are: Clayton Moore, Arlana Rice, Derriyana Mays , Theresa Pumphrey, Hannah Elliot, Cali Steverson, Emmanuel Powers, Jasmine Williams, Keaton Powers, Waverly Yeatman and Hannah Crowley.