EMCC ANNOUNCES FALL CANDIDATES FOR GRADUATION
News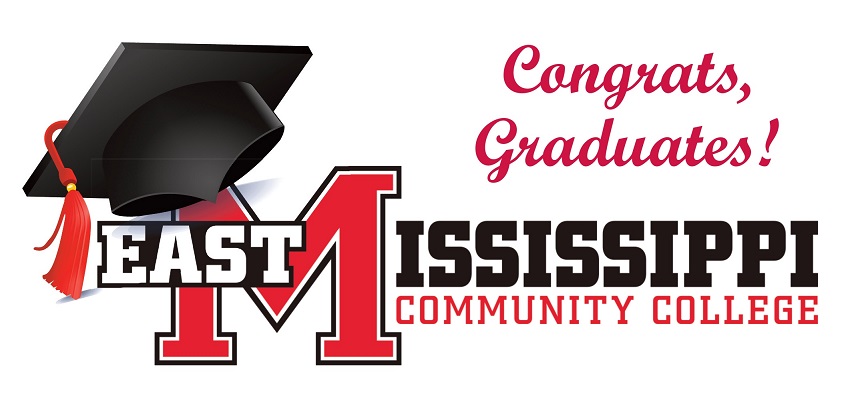 December 14, 2020
More than 300 students applied for conferral of their degrees or certificates at the end of East Mississippi Community College's fall 2020 term that concluded in November.
Graduates are eligible to participate in EMCC's May 2021 commencement ceremony. The students hail from 87 cities in seven states, although the majority call Mississippi home.
The students were enrolled in programs at EMCC's Scooba, Golden Triangle, Communiversity, Columbus Air Force Base, Lion Hills Center, West Point Center and online/eLearning campuses.
Here is a list of the students sorted by county and city of residence:
MISSISSIPPI
Adams County
Alcorn County
Corinth: Zachary Patterson
Calhoun County
Chickasaw County
Houston: Rebekah Falkner, Shane Juckes, Grady Nabors, Payton Smith
Woodland: Shelby Abrams
Choctaw County
Ackerman: Kailey Burdine, Clayton Dean, Shelby Edwards, Alana Fowler, Amelia Pratt, Juliana Wise
French Camp: Zakkariyya Gladney
Clarke County
Clay County
Pheba: Trae Griffin, Jessica Pruitt, Kimberly Rogers, Adam Tamez
West Point: Olivia Baird, Lacey Brewer, Kalexis Brooks, Clarissa Cade, Anna Campbell, Chaday Cistrunk, Justin Commings, Jaylen Cungious, Brandon Dailey, Jazmyne Gates, Angela Gillard, Quandra Gillespie, Mallory Gwathney, Chalantis Harden, John Howard, Kelci Langford, Jadrian Lofing, Temeisha Lenoir, Shakaishia McMurry, Britany McTaggart, Malaysia Moody, Quadijah Moore, Alexis Pruden, Alexis Ragsdale, Bonnie Riley, Caleb Roberson, Kevonna Robinson, Lanesha Temple, Haley Terry
Covington County
DeSoto County
Olive Branch: Daniel Rayborn
Forrest County
Hattiesburg: Kylan Carter
Hinds County
Clinton: Amiyah Evans
Jackson: Ka'randall Baker
Jackson County
Ocean Springs: Lauren Peltier
Jones County
Laurel: Hayden Landrum, Michiah Moss, Zias Perryman
Kemper County
DeKalb: Jena Bobo, Jadarious Bourrage, Cynthia Brown, Demetrius Carter, Shawnzell Coleman, Marlon Drummond, Kendra Grady, Alyssa Gully, Kelli Hollingsworth, Ladacia Hopson, Stacey Joyner, Keymarcus Jackson, Gus Nave, Charlena Odom, Shakiya Powe, Katricia Steele, Khiaria Towers
Porterville: Tarica Clark
Preston: Mardacious Johnson
Scooba: Alexisis Johnson, Venus Knox, Nekeida Rencher
Lauderdale County
Collinsville: Amber Anderson, Hunter Mitchell
Lauderdale: Keanna Robertson, Aliah Thedford
Meridian: Paxton Duke, Jamond Gordon, Taylor Gordon, Deondra Harris, Olivia Newell, Lamonta Pringle, Jamal Scott, Seth Smith, Austin Roberts
Toomsuba: Tommie Brown
Lee County
Mooreville: Lavacious Hill
Shannon: Caleb Fowler, Kayla Jackson
Tupelo: Brandy Carr
Lowndes County
Artesia: Tiffany McCoy
Caledonia: Charles Bell, Samantha Cooper, Jackson Covington, Hannah Crowley, Ava Delgado, Peyton Enger, Christy Gartman, Tanner Johnson, Amanda Pruitt
Columbus: Austin Adams, Angela Allen, Kelsey Allen, Annie Avery, Landen Bogan, Shaquala Boyd, Sydney Brocksmith, Taylor Brooks, Donyelle Brown, Genevia Buckhalter, Robin Burnett, Rose Bush, Shamya Bush, Jaylen Coleman, Tressie Collier, Samantha Cooper, Edward Crocker, Magen Davis, Rachael Duke, Jillian Dutcher, Stephanie Ellis, Taylor Evans, Nicholas Fields, Diamond Fisher, Adrianne Fondren, Anna Forrester, Arianna Gibson, James Glover, Haleigh Gore, Kartashia Guyton, Patrease Harris, Nicole Haynes, Tyeshia Henderson, Jaquinton Hendricks, Jaylen Johnson, Kanesha Johnson, Alexus King, Devon King, Oliver Latham, Dontarius Lewis, Benjamin Little, Christopher MacKey, Shakayla Madison, Brooklyn Martinez, Scylind McCloud, Maria McMillian, Taylor Mitchell, Ashley Mixon, Mia Mullin, Alexis Nelson, Harvey Parker, Nistha Patel, Amiyah Porter, Tamiya Porter, Carsen Prince, John Regl, Kevin Robinson, Quinton Rogers, Jayde Sanderock, Fredrick Scott, Bailey Shepperd, Bryson Shirley, Jalexia Skinner, Zachary Slaven, Genesis Smith, Rebecca Smith, Alexis Spencer, Ambria Spencer, Tammy Stanley, Jaquila Staples, Alyssa Strait, Keyshawn Swanigan, Jason Taylor, Mark Thatcher, Shamya Thompson, Merrill Warnat, Anayia Weatherspoon, Sylvia Wedel, Angel Weems, Lindsey Westbrook, Darius Williams, Makayla Williams, Lauren Wilson, Daniel Winders, Ian Wright
Crawford: Kaitlin Bell, Kayla Jackson, Rashaad Rice, Khadaria Smith
Steens: Lindsey Westbrook
Madison County
Madison: Bailen Haynie, Jonathan Hopson, Leija Ray
Marshall County
Monroe County
Aberdeen: Tameria Brandon, Nisha Morris, Latasha Strong, Ebone Williams
Amory: Dana Huffman
Hamilton: Amber Hogan, Benjamin Sanders
Hatley: Michael Pickle
Prairie: Sherita Cunningham
Neshoba County
Philadelphia: Latia Cleveland, Elaina Fielder, Justin Fox, Amaya Greer, Emily Greer, Brody Pinter
Newton County
Noxubee County
Brooksville: Ja'quaris Jamison, Demyer Slaughter
Macon: Megan Butterfield, Nakayla Chandler, , Bobby May, Kadaiesha Robinson, Zaria White
Oktibbeha County
Starkville: Zach Ashford, Mary Austin Barber, Emily Beall, Denise Bedford, Tonorris Brookins II, Jason Brown, Monteria Brownlee, Kyonna Cailloutte-Johnson, Payton Cosby, Haley Couch, Savannah Dombrowski, Shantisha Edwards, George Fox, Colby Freely, Amber Gifford, Meredith Gill, Tiera Gillespie, Cameron Hines, Savannah Jefferson, Eric Jones, Marlena Jones, Samuel King, Keith Lawrence, Savannah Lee, Andrea Lindsey, Jared Loper, Elizabeth Miley, Miracle Miller, Matland Mosley, A'destyni Neal, Akya Reese, Breanna Rivera, Zakkiyya Robinson, Jenna Rodriguez, Teresa Rogers, Candace Stevenson, Nia Tate, Elizabeth Underwood, Aubrie Watson, Zitavious Williams, Asha Wordlaw, Regina Yarbrough
Perry County
Richton: Albert Nicholson
Rankin County
Brandon: Garland Bryant, Cassie Freundt, Jamari Jones, Joshua Short, Elizabeth Williamson
Pearl: Hannah Watkins
Pelahatchie: Loreana Viera
Simpson County
Tate County
Coldwater: Stanley Leverson
Tippah County
Washington County
Leland: Andrew Thompson
Greenville: Cade Lackey, BJ Wasson, Bianca Wesley
Webster County
Eupora: Autumn Boydstun, Lily Pittman, Annslie Steadman, Hailey Thompson
Maben: Lauren Moran
Mantee: William Gilliland, Mallory Gwathney, Charles McCarter, Logan McCullough
Mathiston: Breland Anderson, Cierra Bell, Leeland Dinning, Ceilie Grimsley, Taylor Stephenson
Winston County
Louisville: Lakisha Cistrunk, Alexandra Cole, Bailey Johns, Taylor Krajewski, Alessandra Norton
Yazoo County
Benton: Octavian Hollins
Bentonia: Tredarius Carr
Yazoo City: Shelby Twiner
Out of State
ALABAMA
Aliceville: Shanell Spruill
Ethelsville: Lilnesia Barron

Livingston: Norman Fantroy, Jackson Mason
FLORIDA
GEORGIA
Lawrenceville: Montai Ellis
ILLINOIS
Kankakee: Tangela Williams
LOUISIANA
New Orleans: Karimah Mitchell
MARYLAND