EMCC REGISTERING STUDENTS FOR 'JULY FOUR-WEEK' TERM
News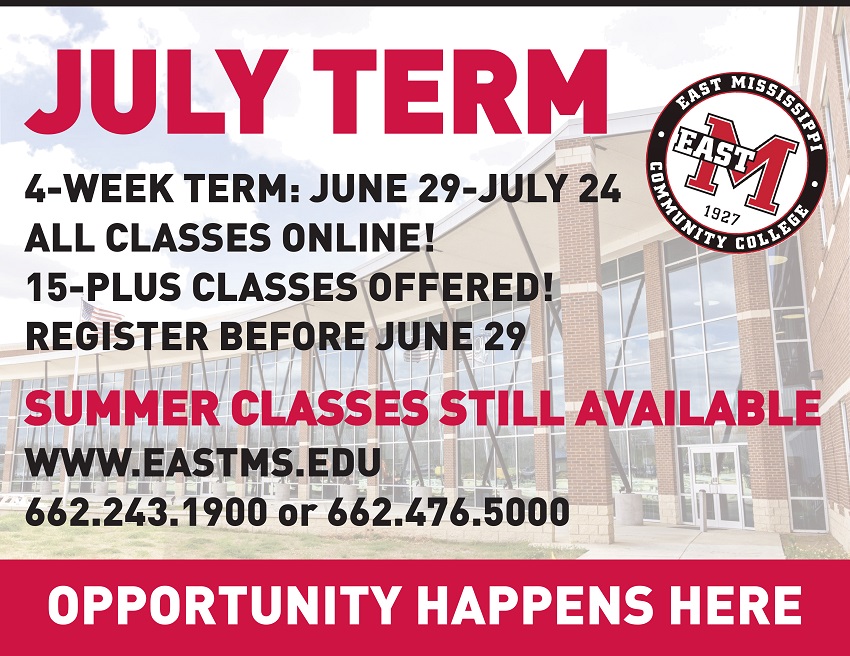 June 16, 2020
For the first time, East Mississippi Community College's eLearning Department will offer four-week online classes during the July term.
Classes for the July Four-Week term, which are offered wholly online, begin June 29 and end July 24. The deadline to register is June 29.
"The classes are a great way for students to pick up extra credit hours during a short period of time or complete a class before the fall term begins," EMCC Associate Dean of eLearning Coranette "Chris" Square said.
In the past, the eLearning Department has only offered four-week classes throughout the spring and fall terms. The classes that will be available are:
Principles of Biology I & II (with labs); Botany I (with lab); Microbiology (with lab); Computer Applications I; Adolescent Psychology; Nutrition; Western Civilization I & II; Life Skills; Spanish I; Music Appreciation; Testament Survey; Marriage & Family.
Depending upon demand, other classes could be offered as well.
For the online courses, students receive their assignments through Canvas, an online learning management system, and communicate with instructors via phone, email or message board. Virtual labs are offered for those courses that have a lab component.
For more information, email eLearning@eastms.edu.
Summer Intensive II and Fall terms
Registration is also under way for EMCC's Summer Intensive II and Fall 2020 terms. The Summer Intensive II term runs from June 29 to July 23. The fall term begins Aug. 17.
A list of available classes for those terms is available at www.eastms.edu. Click on the "Student Services" and "Class Schedules" tabs.
EMCC transitioned campus classes to online March 23 to comply with social distancing guidelines necessitated by the novel coronavirus. Regular classes since then have required virtual classroom instruction using Zoom, a video conferencing program.
The regular Summer Intensive Term II classes include Zoom meetings, while the eLearning Department's July Four-Week term classes do not. EMCC will resume in-class instruction at the start of the Fall 2020 term.
The eLearning Department will offer several four-week, eight-week and 12-week classes during the Fall 2020 semester.
Registering
Current students can register online or find out who their advisor is through their LEO account. Students who need assistance with registering are asked to email their advisor to schedule a telephone conference or video conference. Students will need to include their full name and date of birth in the email to help advisors access their records.
Current students may also use Student Planning, which is located under the self-service menu on LEO, to self-register. Those with general advising questions can email advising@eastms.edu.
New students can apply online at www.eastms.edu. Click on the "Prospective Students" tab. Newly admitted students will be contacted by an advisor to prepare their schedules and provide JourneyEAST information.