EMCC STUDENT ACCEPTED INTO DISNEY COLLEGE PROGRAM
News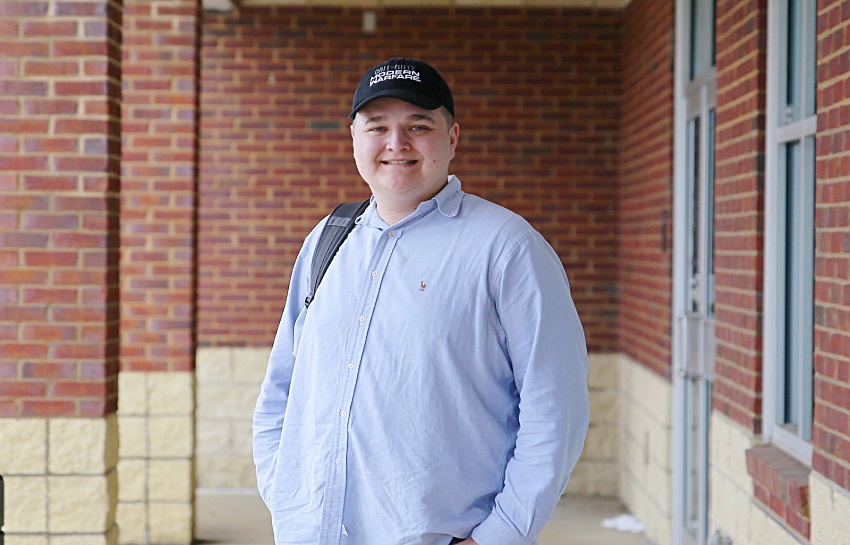 February 25, 2020
Starkville resident Andrew Schwartz, 23, is the first student in East Mississippi Community College's Hotel and Restaurant Management Technology program to be accepted into the Disney College Program, which offers participants college-level classes in their areas of study and paid internship at a Disney resort.
"We are really excited for Andrew," said Chef Shannon Lindell, who is the department head over the Culinary Arts, Hotel and Restaurant Management, Baking and Pastry Arts, and Travel and Tourism programs. "He has been focused on getting to Disney ever since he came to us two years ago."
Schwartz, who graduates in May, will serve as a Food and Beverage intern at Walt Disney World Resort near Orlando, Fla., from Aug. 3 to Jan. 14, 2021. He won't know exactly where he will be working at Disney until he completes initial training required before duty assignments are made.
"I could be working at a food cart or on a cash register at any one of the quick-service restaurants," Schwartz said. "I could be assigned to a prep line putting food together and sending it through for the people up front.
"I could be doing any one of those things within any of the parks or any of the resorts that have a quick-food service. It could be anywhere from Magic Kingdom, to Epcot, to Animal Kingdom or Hollywood Studios. It could be at any of the waterparks or hotels. It just depends on where they need me."
For Schwartz, his acceptance into the Disney College Program is a dream come true. He has been visiting Disney with his family since he was an infant. His parents used to take him regularly to Disneyland Resort in Anaheim, Calif., when they resided in that state.
Schwartz was in fifth grade when his family moved from California to Hamilton, Ala., and ever since then he and his family have vacationed once or twice a year at Walt Disney World Resort in Florida.
"My family is very Disney oriented," Schwartz said.
He will be staying at Disney-sponsored housing during his internship and participating in college-level coursework while gaining real-world career development skills.
"As always, our overall program is recommended for college credit by the American Council on Education based on the world-class training participants receive as part of their role," the Disney College Program website states.
Schwartz said he would love to get a fulltime job at Disney after he completes the program.
"It is a magical place, just like Disney says," he said. "I want to work somewhere that I know is the best and nothing compares to Disney."
If Schwartz doesn't get a job at Disney, his goal is to work his way up to a management position for a large hotel chain.
"There is a lot of money to be made in the industry and you can go anywhere and find work," Schwartz said.
EMCC's Hotel and Restaurant Management Technology program is offered as a two year Associate of Applied Science degree and prepares students for careers as managers or supervisors in the hospitality and tourism industry. Students learn all phases of hotel and restaurant management.
"It is a great program," Schwartz said. "Everybody is friendly and my experience has been really good. I think EMCC is one of the best colleges anyone could go to."
For more information about EMCC's Hotel and Restaurant Management Technology program, email Lindell at slindell@eastms.edu.