FOOTBALL STANDOUT TURNS COOKING PASSION INTO BUSINESS VENTURE
News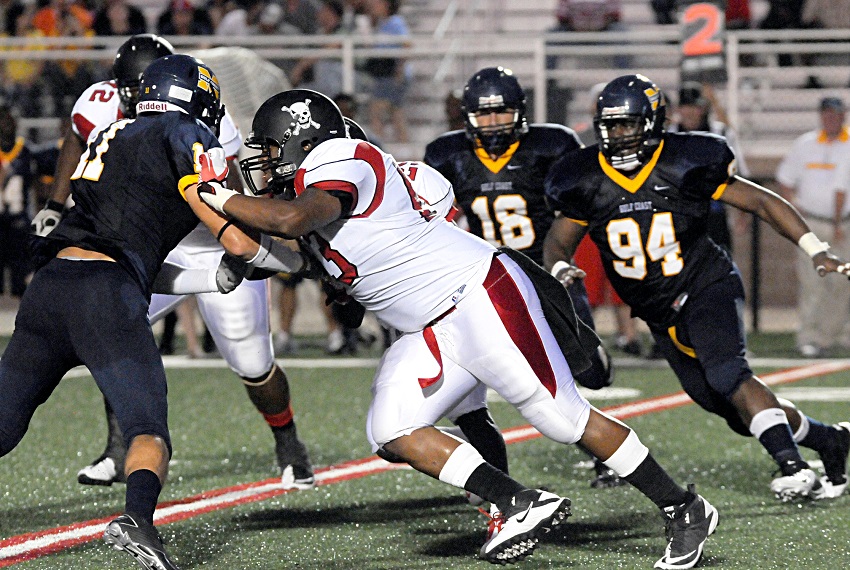 January 8, 2020
East Mississippi Community College alumnus Derrick "DJ" Wilson, a football standout who helped the Lions claim a national championship during the team's 2011 undefeated season, has turned a passion for cooking he shared with his mother into a business venture.
In 2018, Wilson launched Options Catering and Delivery. His business is a one-man show in which he serves as cook, caterer and delivery driver. Wilson serves up full-service meals he describes as "comfort food with a Cajun twist."
He caters upon request and hosts "pop-ups," cooking meals and setting up at predetermined locations so customers can come to him.
"I will post on social media, 'Hey, I am coming to your town for a four-hour span. I am going to set up at this location. This is what will be on the menu and you can come buy from me,'" Wilson said.
During a recent pop-up, he served chicken breast wrapped in bacon and stuffed with pesto, spinach and parmesan cheese that was served on a bed of noodles and covered with cream sauce, with Brussel sprouts on the side.
Wilson's most popular meal is bowtie pasta with grilled chicken and shrimp and a thick homemade Cajun cream sauce. He services areas around Greenville where he resides and cooks the meals out of his home.
"I will come cook in your kitchen," Wilson said. "I don't have a problem going anywhere in the state of Mississippi."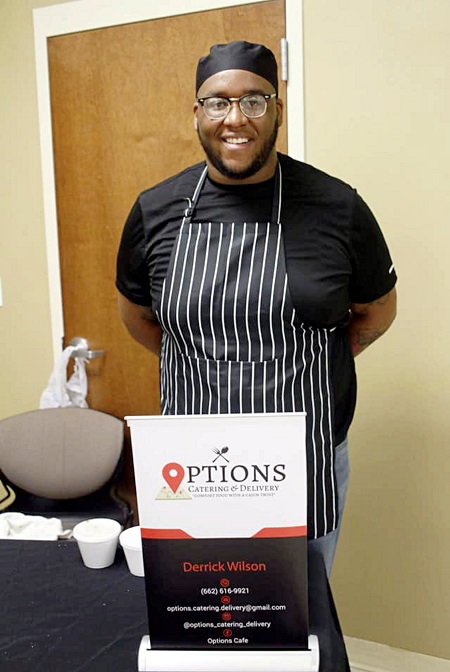 Wilson said his mother, Jelks Wilson, fostered a love of cooking in him at an early age. Each Sunday, Wilson and his mother would select an untried recipe out of a "Bell's Best Cookbook." He recalls cooking his first solo meal of spaghetti, supervised by his mother, at the age of 5.
"Granted it was only noodles, tomato paste, onions and a little seasoning, but at 5 years I felt like I had accomplished something," Wilson said.
By the time he was 8, he was allowed to cook on his own.
"In hindsight, I wouldn't let an 8 year old loose in the kitchen," Wilson said with a laugh. "But I didn't burn the house down."
Wilson always had a close relationship with his mother, who was diagnosed with cancer in November of 2010 when he was 19. His sister, Fallon, was 10 at the time. The youngest sibling, Reagan, was 3.
Wilson played offensive left tackle for the Lions and was the college's 2011 Scholar Athlete Award winner for football.
Wilson spent weekdays in 2011 on EMCC's Scooba campus, attending classes and football practices, returning to his mother's home in Horn Lake on weekends to make sure she and his sisters had everything they needed for the following week.
The only relief he found was on the football field during game nights.
"That was the only time I didn't have to be an adult or worry about what was going on off the field," Wilson said. "In those three hours it was me and my brothers and we were going out there to win."
When his mother died in January 2012, he turned down full-ride scholarship offers from the University of West Alabama, the University of Alabama-Birmingham and Northwestern State University of Louisiana so he could take care of his sisters.
He landed a walk-on spot as left tackle with the University of Mississippi and played there through the spring of 2013.
EMCC Executive Director of College Advancement Marcus Wood, who was an assistant offensive coach for the Lions when Wilson played for the team, recruited and coached Wilson.
"He was a really good player but when you got to know him as a person is when you really found out what a special guy he is," Wood said. "He is a shining example of what a good kid should come out looking like."
Wilson said he plans to purchase a food truck for his business and would like to open his own chain of restaurants. He believes he has found his calling.
"I am passionate about what I am doing now," he said.
For more information about Options Catering and Delivering, email Wilson at options.catering.delivery@gmail.com.