DR. HUXFORD, OCH REGIONAL MEDICAL CENTER PROVIDE COVID-19 TESTING FOR EMCC STUDENTS
News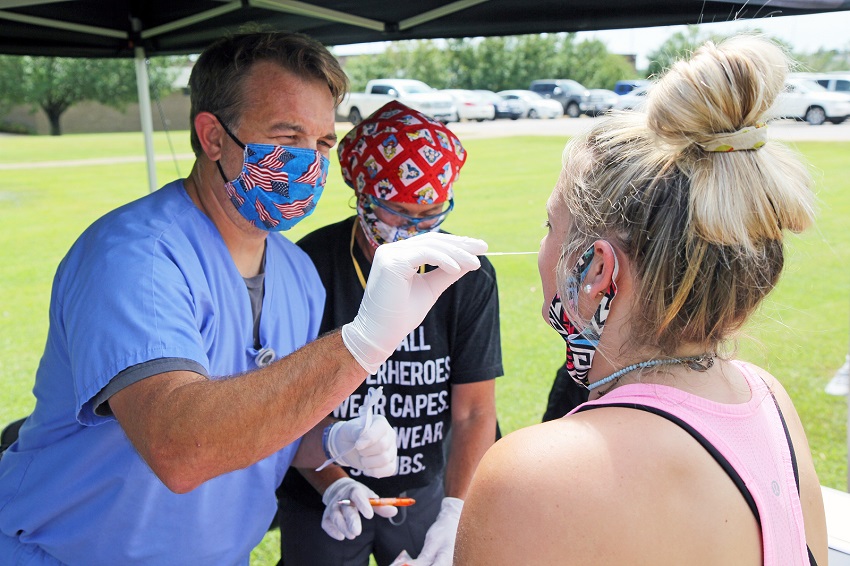 August 14, 2020
Dr. Cameron Huxford and registered nurse Kathleen Hilbun with OCH Regional Medical Center in Starkville tested 101 East Mississippi Community College students for COVID-19 Thursday afternoon at the college's Scooba campus in a community outreach effort to help prevent the spread of the novel coronavirus.
Students involved in activities that might bring them into close contact with others were tested, including athletes and members of the choir and Mighty Lion Band.
"We identified students for testing whose activities require proximity to others that might put them at a higher risk for contracting or spreading COVID-19," EMCC President Dr. Scott Alsobrooks said. "This will be ongoing and next week testing will take place on our Golden Triangle campus for students enrolled in Division of Nursing and Allied Health programs, Diesel Mechanics and other programs which require students to take labs on campus."
Huxford, Hilbun and OCH are not charging EMCC for the testing. EMCC will pay the cost to have the tests processed at independent labs using a portion of federal CARES Act funds, Alsobrooks said.
Huxford, who is a pulmonary critical care physician at OCH, said testing can help mitigate the spread of the novel coronavirus by those who are unaware they have the disease.
"One of the things we have learned is most people in this age group who contract COVID-19 are asymptomatic and don't know they have it or they have mild symptoms," Huxford said of traditional college-age students.
Although classes at EMCC classes begin Monday, Aug. 17, the decision was made to conduct the classes virtually at first given rising COVID-19 cases in the state. Students who enrolled in-person classes may return to EMCC campuses Sept. 8 if it is deemed safe for them to do so. EMCC is also offering virtual, online and hybrid classes during the fall term for those students who prefer not to take in-person classes.
Students enrolled in classes that require lab work may return to campus at the discretion of individual instructors. Those students, as well as those who reside on campus, will be given priority for COVID-19 testing.
The EMCC Department of Athletics announced earlier this week the school's football team would not participate in league play for the fall 2020 season if league play begins Oct. 1 as planned due to safety challenges presented by the pandemic.
The students will still practice, however, and some of the football players and other athletes will move into residential halls this weekend. Alsobrooks said he is aware of a few students tested Thursday who said they had COVID-19 over the summer when they were not in school, but that they were being tested again.
Huxford said one lab he works with can provide results in 24 hours.
"The rapid test you see most people taking has about a 20 percent false negative rate," Huxford said. "This one has a 0.5 false negative rate, so it is very, very accurate."
Huxford had 42 tests from that lab available Thursday and students staying in residence halls this weekend were first in line to receive the rapid-response tests.
"If we have a student who tests positive, we can send them home for 14 days to quarantine and then bring them back," Alsobrooks said. "We are hoping if we can catch those with COVID-19 before they come on campus, it will help prevent the spread of the coronavirus and keep everyone safer."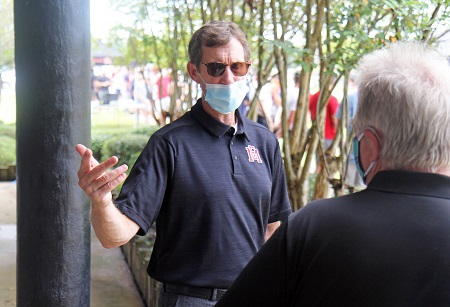 The college does have limited dorm space to quarantine students who are unable to return home, Alsobrooks said.
The remaining 59 COVID-19 tests administered to students Thursday were submitted to a lab with a five-day turnaround.
The testing came after Alsobrooks and Huxford were introduced by a mutual friend.
"Dr. Huxford told me he was doing community service testing for COVID-19 and I asked him if he would be interested in doing some testing with our college," Alsobrooks said. "He said, 'Absolutely.' This all happened just this past Sunday afternoon. It was sheer luck.
"We wanted to do it sooner but we couldn't find anybody who would test students who were not symptomatic. Not everybody can do this and we are grateful to Dr. Huxford and OCH Regional Medical Center for providing this great community service."