THE COMMUNIVERSITY AT EMCC FILLING SKILLS GAP FOR IN-DEMAND, HIGH-TECH JOBS
News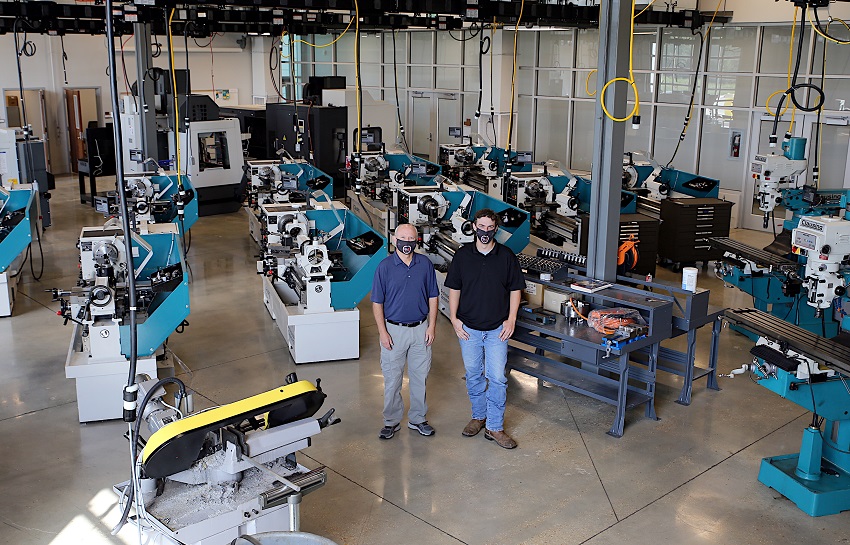 August 4, 2020
A skills gap has resulted in a growing demand nationwide for employees trained to work in today's evolving field of advanced manufacturing, which utilizes robotics, automation and innovative technologies to streamline production processes, according to industry experts.
The Communiversity at East Mississippi Community College offers programs of study that will provide training needed to fill many of those jobs, but enrollment is not as high as it could be in some of the programs.
"There is a need both locally and nationally for machinists, mechatronics technicians and robotics engineer technicians, to name just a few positions," Executive Director of The Communiversity at EMCC and Workforce Development Dr. Courtney Taylor said. "The challenge is convincing students and their parents to take a closer look at these emerging career paths while helping them to truly understand the options available."
The issue is not unique to EMCC or the Golden Triangle.
In an article in IndustryWeek titled, "How Manufacturers are Tackling the Skills Gap," Manufacturing Institute Executive Director Carolyn Lee states, "Manufacturing has a serious perception problem. Many young people just don't know what is happening inside these plants — they don't realize that it's a high-tech industry with great career potential."
A lack of trained workers resulted in more than 500,000 manufacturing jobs in the U.S. remaining unfilled last year, according to the article.
A report by The Manufacturing Institute and Deloitte states as many as 2.4 million manufacturing jobs may go unfilled between now and 2028 as demand rises and baby boomers retire.
Precision Manufacturing and Machining is among the programs at The Communiversity in which student enrollment has room for growth. The program is offered at The Communiversity as both a one-year certificate and as an Associate of Applied Science degree.
"For one thing, I think a lot of people don't know what a machinist does," program instructor Ronnie Guy said. "EMCC is working to expand opportunities to learn about these occupations."
Machinists use lathes, boring mills, shapers, milling machines and presses, among other things, to manufacture parts used in industrial settings.
"At PACCAR, for example, machinists may be boring cylinders in the diesel engines they make for a certain number of days and then they may switch over and make pistons for a while," Guy said.
Most repetitive work is automated and is performed by computer numerical control, or CNC, machines. The machinist, or CNC operator, programs the software that runs the machines.
"Once it is programmed, you are basically standing there watching the machine to make sure everything goes right," Guy said. "It isn't physically demanding and this is something a person can do all the way through to retirement age."
Students in the program, who also learn how to operate the machines manually, will need an understanding of basic math and Guy said that makes some of them uncomfortable at first.
"We use calculators and we use formulas," Guy said. "All you have to do is take your information, insert it into a formula and it will work."
Guy said he has had some students go on to earn degrees in engineering. He has also had some former engineering students who were struggling with calculus that dropped out and enrolled in his program, "where they did great."
Machinists are in demand in the automotive and aerospace industries, among others, and the need for machinists is growing in niche industries, some of which are changing lives, such as in the medical field, Guy said.
"If you go to a hospital to get a knee or hip replacement, machinists made those parts or they made the molds used to make those parts," Guy said. "It is a really good field. I tell my students they will earn a comfortable living and can often have their pick of jobs."
Recent job openings in the field include those of machinist, millwright, CNC operator, machine assembler, machine operator and die maintenance technician.
Former Precision Manufacturing and Machining student Ryan Nicholson said in an interview last year he planned to attend MSU after finishing the program at The Communiversity.
"I feel like there are a lot of benefits to this program at EMCC," Nicholson said. "If I choose not to become an engineer, this will provide me with a great career option and a backup plan."
Electro-Mechanical Department Chair Ben Harris teaches Mechatronics Technology and Systems Based Automation at The Communiversity.
Students enrolled in Mechatronics learn the same fundamentals as those in Industrial Maintenance, who typically find work troubleshooting and repairing equipment used in advanced manufacturing. While industrial maintenance technicians often perform maintenance on programmable logic controllers, fluid power systems and mechanical power transmission, students in Mechatronics learn those skills and receive additional training in robotics, process controls and programming, among other things.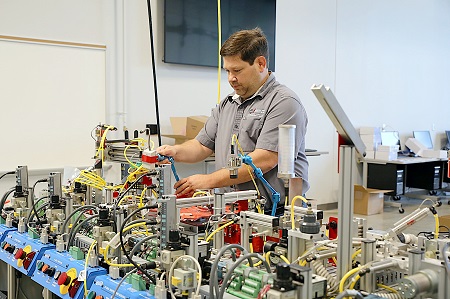 "Mechatronics is geared toward troubleshooting, but at a higher level than that of an industrial maintenance technician, who is doing the nuts and bolts work," Harris said. "The mechatronics technician is going out there with a laptop to try to figure out software issues or why a specific sensor doesn't read at a specific time of day, or some sort of odd problem that usually involves the programs that are in those programmable logic controllers."
Students who graduate from Systems Based Automation are more focused on programming and less on troubleshooting and repair.
"They are doing more development of the automation and deal primarily with process controls and programming the programmable logic controllers, which is the standard motion control platform used in manufacturing," Harris said.
Like Guy, Harris said he has additional room for students in his programs of study.
"Graduates are in pretty high demand," Harris said. "They are usually hired as industrial maintenance technicians and have to prove themselves over three months, six months or a year before getting those high-level technical positions."
The starting pay for graduates of the Mechatronics and Systems Based Automation programs is typically between $45,000 and $50,000, Harris said.
"After they get some experience, that could grow beyond $70,000 a year," Harris said.
Harris believes one reason more students are not seeking out the programs is that technically savvy students with good math schools "have been pushed all their lives towards engineering" and a four-year degree.
"A lot of the students who go through engineering school find out the work is not really what they want to do," Harris said. "It's not the hands-on field they were told it was and they wind up sitting behind a computer. Our graduates like the variety of working on a computer sometimes to develop new control software and sometimes helping out on the shop floor to troubleshoot a problem."
Recent job openings in Systems Based Automation include electrical and instrumentation technician, process control technician and calibration technician, to name a few. Openings in Mechatronics include mechatronics technician, robotics engineer technician, PLC/robotics maintenance technician and automation technician, among others.
For more information about the Precision Manufacturing and Machining program, email Guy at rguy@eastms.edu. For information about the Mechatronics Technology or Systems Based Automation programs, email Harris at bharris@eastms.edu.
Other programs of study at The Communiversity include Engineering Drafting & Design; Electro-Mechanical Technology; Mechatronics Technology; and Industrial Maintenance Technology.
Fall 2020 classes at The Communiversity and EMCC campuses begin Aug. 17. For admission information, visit www.eastms.edu.