COMMUNIVERSITY MEETING DIVERSE NEEDS
News

January 17, 2020
Construction on East Mississippi Community College's Communiversity wrapped up last summer and on Aug. 19, 2019, the $42 million facility dedicated to training students for careers in modern manufacturing opened to students.
Programs taught out of the Communiversity, also known as the Center for Manufacturing Technology Excellence 2.0, include: Precision Machining & Manufacturing; Engineering Drafting & Design; Electro-Mechanical Technology; Mechatronics Technology; Industrial Maintenance; and Systems Based Automation.
"Our students are already blazing new paths in learning fields like Mechatronics, Cybersecurity Technology and Systems Based Automation," EMCC President Dr. Scott Alsobrooks said. "We hope to ignite a passion for modern manufacturing early in the lives of students and fan that flame through an industry-relevant credential."
Meeting a need
Hands-on training takes place in high-bay laboratories equipped with some of the most technologically-advanced equipment available, including a fully operational miniature of an automated assembly line that is used as a trouble-shooting training tool.
Classes are designed to teach real-world skills in areas such as programmable logic controllers, industrial robotics and computer assisted manufacturing, to name a few.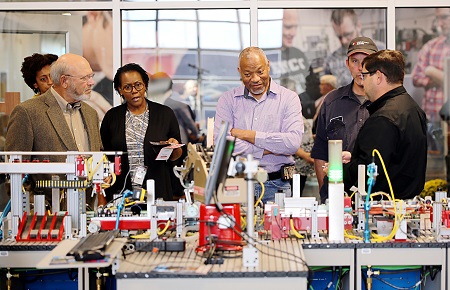 Those skills are in high demand both locally and nationally. According to the National Association of Manufacturers, an anticipated shortage of skilled workers could result in 2.8 million U.S. manufacturing jobs going unfilled over the next decade.
That demand is creating opportunities for EMCC students like Ryan Nicholson, who is enrolled in the Precision Manufacturing and Machining Technology program. After completing the program, Nicholson plans to continue his education at Mississippi State University to earn a bachelor's degree in engineering.
"I feel like there are a lot of benefits to this program at EMCC," Nicholson said. "If I choose not to become an engineer, this will provide me with a great career option and a backup plan."
Growing interest
The Communiversity was garnering attention before the doors opened. The facility has been featured in national publications and officials from community colleges in California, Washington State, West Virginia, the Carolinas and Kentucky have toured the facility to see if it is something they could emulate in their home states.
From the start, the intention with the Communiversity was to "wow" visitors, EMCC Vice President for Workforce and Community Services Dr. Raj Shaunak said. The design of the 145,638-square-foot, two-story building is modern, with a glass and steel façade punctuated by sweeping lines outside and large open spaces inside.
"We wanted to change the image people have of Mississippi and encourage young people in our community to come here to acquire the skillsets needed to earn a good living right here at home," Shaunak said.
Over the years, EMCC has earned a reputation as a workforce innovator and key player in area economic development efforts. EMCC's CMTE on the Golden Triangle campus provided office space for officials with PACCAR Engine Company while their Columbus plant was under construction and the college's West Point campus serves as a training site for Yokohama Tire Manufacturing Mississippi employees.
Bridging the gap
The Communiversity is expected to further enhance EMCC's role as a bridge between education and industry. The advisory board for the Communiversity is comprised of local industry CEOs and human resource professionals and each technical program has craft committees whose members are industry experts in their respective fields.
Three of the 21 high bay laboratories are reserved for use by start-ups or incoming industries.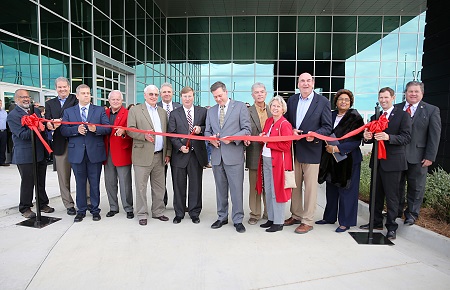 "When a company comes in, there are offices where they can put their human resources person, maybe a general manager and four or five people to do designated training, or whatever their needs may be," Golden Triangle Development LINK Chief Executive Officer and EMCC Board of Trustees member Joe Max Higgins said. "And there is space for their training equipment. You tell me what that is worth to a new company? That has tons of value."
It is the Communiversity's multi-faceted role as an educational facility, workforce developer and economic driver that is piquing many people's interest.
Jackson, Tenn. Chamber Vice President of Talent Development Vicki Bunch was among a contingent of people from that city who toured the Communiversity last September. She was accompanied by education, business and industry leaders.
"It would be wonderful to have a training facility just like this located in Jackson, Tenn.," Bunch said. "We can have the best infrastructure, the best site and the best location but if you don't have an available and skilled workforce you are not going to be successful in expanding existing industry or attracting new companies. Anytime we can learn best practices from other areas and bring them to fruition in our town, it puts us one step closer to helping our industries be successful."
During an October 18, 2019 ribbon cutting and grand opening ceremony for the facility, then Gov.-elect Tate Reeves said the Communiversity could prove to be a game changer for the state.
"If this facility is done right and we can mirror it in other parts of our state, we can not only be competitive, we can win," said Reeves, who was sworn in Jan 14 as Mississippi's 65th governor. "We can win big and we can win consistently at recruiting business and industry into our state."
New leadership
On Nov. 11, 2019 Dr. Courtney Taylor assumed the role of executive director of the Communiversity. She will replace Shaunak, who is retiring.
Taylor has served in higher education for the last 13 years, most recently as the regional director of workforce and economic development for the Alabama Community College System. Prior to that, she served as the director of the Workforce Solutions department at Calhoun Community College where she managed open-enrollment programs and customized training for local industry.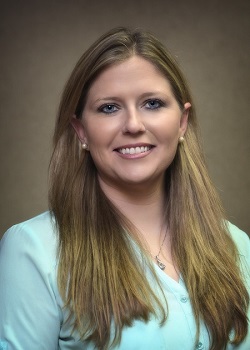 She is a past assistant director at Troy University's Center for International Business and Economic Development.
Taylor is familiarizing herself with EMCC and meeting with stakeholders to determine their needs.
"EMCC is on a great path," Taylor said. "My main focus is to ensure we continue to serve our current students while expanding offerings as needed by local industry. We have great opportunities for students and will be increasing partnerships with both industry and our local K-12 partners to ensure all are aware of the job opportunities in the region and the educational pathway EMCC can provide to those jobs."
Outreach
Part of that effort will include educating students and their parents, many of whom are not aware that high-skill, high-wage jobs available in today's modern manufacturing plants are a far cry from the low-skill, low-wage manufacturing jobs that were the norm in years past.
To that end, Communiversity staff and instructors have been conducting tours of the facility for students enrolled in area middle schools and high schools to expose them to programs and career opportunities they may not have otherwise considered.
That educational component was incorporated into the design of the Communiversity, which boasts a two-story Imagination Center that includes interactive exhibits and displays by area manufacturers to showcase locally-made products to visiting students and their teachers.
Since its opening, the Communiversity has hosted several major events, including the Golden Triangle Comic-Con, which took place in September 2019 and featured gaming, vendors and cosplay, in which attendees dressed up as pop culture figures.
Last October, about 1,000 8th grade students attended a FORGE Your Career Path Expo at the facility in which vendors in the construction and career technical trades provided hands-on activities to students.
"Our mission as industry and business leaders is to go out there and find the next generations of our workforce and get them excited about the great career opportunities that await if they will just come through this Communiversity," said Ben Machen, who is the chairman of the Communversity Advisory Board and an assistant plant manager at PACCAR Engine Company.