EMCC STUDENT NAMED COCA-COLA ACADEMIC TEAM SCHOLAR
News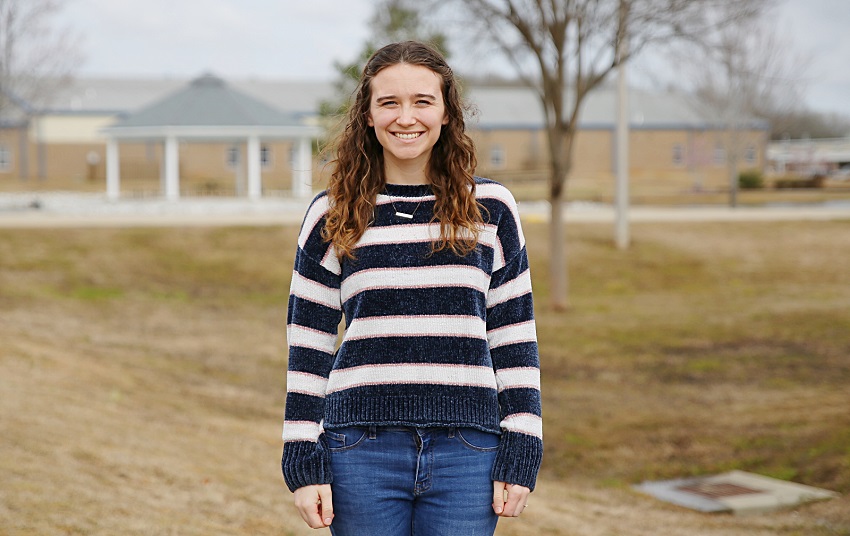 March 18, 2020
East Mississippi Community College sophomore Belle Ferrebee is among 50 Phi Theta Kappa Honor Society members nationwide named 2020 Coca-Cola Academic Team Silver Scholars.
Ferrebee will receive a $1,250 scholarship and a commemorative medallion through the program sponsored by Phi Theta Kappa and the Coca-Cola Scholars Foundation. The scholarship winners are nominated by their college administrators. Selection is based on academic achievement, leadership and engagement in college and community service.
"This scholarship is very competitive and I was really excited when I found out I had been selected," Ferrebee said.
Ferrebee, a native of Caledonia, is in her last semester at EMCC and will transfer in the fall to Mississippi University for Women to complete her undergraduate studies in speech pathology. She plans to earn a master's degree in speech pathology after graduating from MUW.
"I just really think speech pathology is a great profession because there are so many opportunities," Ferrebee said. "You can work in a hospital, a nursing home or a school system. It is a really growing field right now."
Ferrebee is the president of the Student Government Association on EMCC's Golden Triangle campus and a Phi Theta Kappa officer. She is enrolled in the Honors Program, is a member of the Baptist Student Union and a past member of the EMCC Quiz Bowl Team.
Ferrebee was also among a select group chosen to participate in the Bridges to Baccalaureate program, which provides paid internships to students interested in STEM (science, technology, engineering and mathematics) fields to conduct research at Mississippi State University labs.
She spent the past summer in a microbiology lab at MSU helping a team researching black soldier fly larvae, which have been touted for their ability to consume organic waste.
"They eat garbage and other waste and are really good for the environment," Ferrebee said.
Eric Ford, an EMCC biology instructor, is the advisor for the Beta Iota Zeta chapter of Phi Theta Kappa on the college's Golden Triangle campus.
"I can't think of anyone more deserving of the scholarship than Belle," Ford said. "She is an excellent student whose dedication shows in the classroom and in the many organizations in which she is involved."
In addition to the Coca-Cola Academic Team Silver Scholars, 50 Gold and 50 Bronze scholars are also selected each year. They are recognized during PTK Catalyst, Phi Theta Kappa's annual international convention, which was planned this year for April 2-4 at the Gaylord Texan Resort and Convention Center in Grapevine, Texas.
In-person attendance at the convention has been cancelled this year because of the coronavirus, but Phi Theta Kappa members will be able to participate in the first-ever PTK Catalyst live stream, which will allow digital access.
"We thank the Coca-Cola Scholars Foundation for recognizing these student leaders and investing in their futures," Phi Theta Kappa President/CEO Dr. Lynn Tincher-Ladner stated in a press release. "Scholarships like these are integral to the success of these students in reaching their educational and career goals."
Ferrebee's mother and stepfather, Jennifer and Joey Persechino, reside in Columbus. Her father and stepmother, Rob and Nicole Ferrebee, reside in Jacksonville, Ala.