EMCC'S BRANDON SESSER NAMED HONORARY COMMANDER
News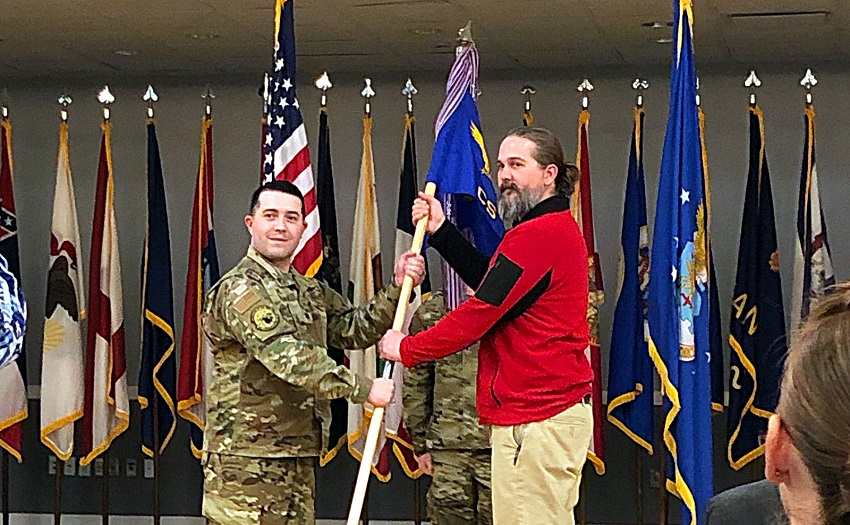 January 24, 2020
East Mississippi Community College Information Systems Technology Department Director Brandon Sesser was named an Honorary Commander of the 14th Communications Squadron at Columbus Air Force Base during an induction ceremony that took place Tuesday, Jan. 21.
Sesser was among 25 civilians who received honorary titles through the Honorary Commander Program. The induction ceremony was hosted by the 14th Flying Training Wing and took place at the Columbus Club on the base.
According to an information sheet, the Honorary Commander Program is intended to foster relationships between the base and the community by connecting local leaders with base commanders, personnel and their families. Among other things, the goal of the program is to increase public awareness and understanding of the base's mission.
Inductees, who are nominated for the position, serve two years and are encouraged to stay engaged with their designated military unit, to attend base functions and to form lasting relationships, the information sheet states.
"I am really honored to be a part of the program," Sesser said. "I think this will be a good opportunity for the base and for our students at EMCC, many of whom are interested in careers in the military."
EMCC's IST department offers a variety of study concentrations, such as Computer Networking, Computer Programming, Cybersecurity and Database Administration. The department also trains students for A+, Network +, Security+, MTA Software Development and CIW Database Administration certifications, which are sought after by employers looking to hire computer professionals.
"One of the things we will do is work closely with the base to ensure our students are getting the training they need," Sesser said.