EMCC ALUMNUS EARNS PRESTIGIOUS POETRY AWARD
News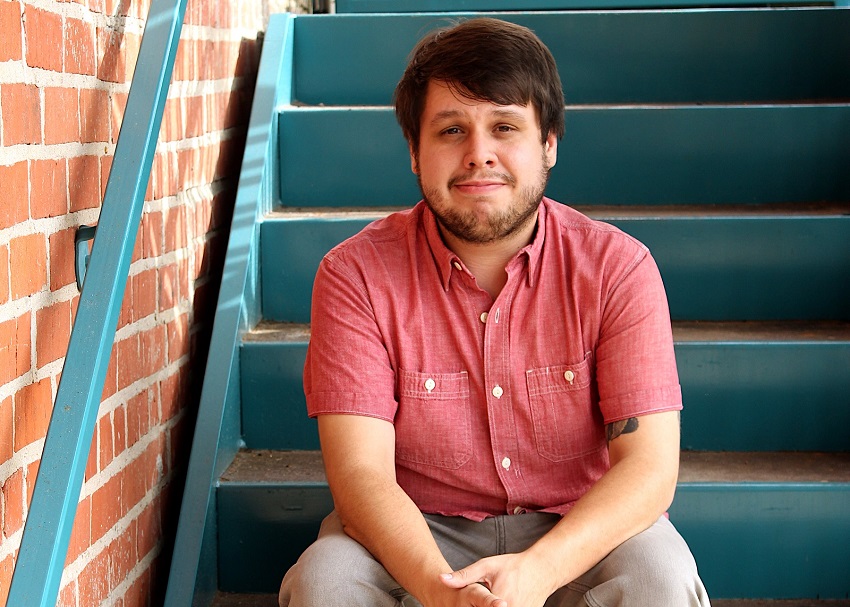 March 29, 2020
East Mississippi Community College alumnus C.T. Salazar has been named the recipient of the 2020 Mississippi Institute of Arts and Letters (MIAL) Awards in Poetry.
Salazar and other MIAL Awards recipients will be recognized June 6 during the organization's 41st Anniversary Awards Gala in Jackson.
Each year, the MIAL honors creative individuals in eight categories: Fiction, Non-fiction, Youth Literature, Visual Art, Music Composition (Classical), Music Composition (Contemporary), Photography and Poetry. This year, more than 60 nominations were submitted to the juried competition.
To qualify, the works of the award winners, chosen by out-of-state judges prominent in their fields, must have been first published, performed or shown in 2019, according to the MIAL website.
Salazar received the MIAL award for his book of poetry titled "This Might Have Meant Fire," which was published in June 2019 by Bull City Press. The book contains 13 poems and one titled "Mostly I'd Like To Be A Spiderweb" was written by Salazar, who is 27, on his 25th birthday after walking the trails at Plymouth Bluff Environmental Center with a friend.
While walking, the two encountered numerous spider webs. The poem is about the conversation the two had that day. Here is the first stanza of the poem:
"Mostly I'd like to be a spiderweb
because in the rain I'd look like a cracked window
without a church to belong to. You could look
through me and see the world in front of us."
"I think there is a kinetic energy to your thinking when you are moving and the conversations you have are really nice," Salazar said.
While "This Might Have Meant Fire" is Salazar's first published collection of his works, about 40 of his poems have been featured in leading literary journals such as "The Rumpus," "The Cincinnati Review," and "Rhino," to name a few. A collection of Salazar's unpublished poems is slated for release in September by Animal Heart Press. He is a 2017 Association of Writers & Writing Programs Intro to Journals Project Winner.
A voracious reader, he first began writing poetry while taking two semesters of EMCC humanities instructor Marilyn Ford's creative writing class.
"I enjoyed it and that was enough to keep doing it," Salazar said. "My teachers were really encouraging because they knew I was new to it."
Ford, who also teaches literature and composition, said she knew from the outset there was something special about Salazar's ability to ingest and analyze literature. She said he was surrounded by other students in her class who pushed each other to excel.
"In that learning environment, C.T. grew and began to develop his own poetic voice," Ford said. "It was comparable to watching spring flowers bud and mature."
Salazar, who attended EMCC in 2011-2013, earned second place in the Mississippi Community College Creative Writing Association's statewide contest in 2013. He was awarded a creative writing scholarship from the Mississippi University for Women, where he earned a Master of Fine Arts, with a concentration in poetry.
Salazar, who is the senior librarian at the Columbus Air Force Base Library, is working towards a Master of Information Science in Archiving degree at the University of Southern Mississippi,
He resides in Columbus with his wife, Rachel Guerry, who is owner of Three Sisters Pie Company. Salazar frequently hosts poetry workshops and has done so for Parkinson's Disease patients, homeschooled children and inmates at a New York penitentiary via Skype, to name a few.
For Salazar writing is an act of self-discovery.
"If I can assign language to it in a poem, not only can I understand that thing but I can understand how I feel about that thing, whatever it is," he said.
Ford, who described Salazar as a model student, said she is certain he will continue to shine and serve as an encouraging voice for others.
"I have no doubt that C.T. will follow in the footsteps of other Columbus writers such as Tennessee Williams and Michael Farris Smith as being one of our century's greatest writers and activists," Ford said.