EMCC DIVISION OF NURSING & ALLIED HEALTH CONDUCTS DRIVE-THROUGH PINNING CEREMONY
News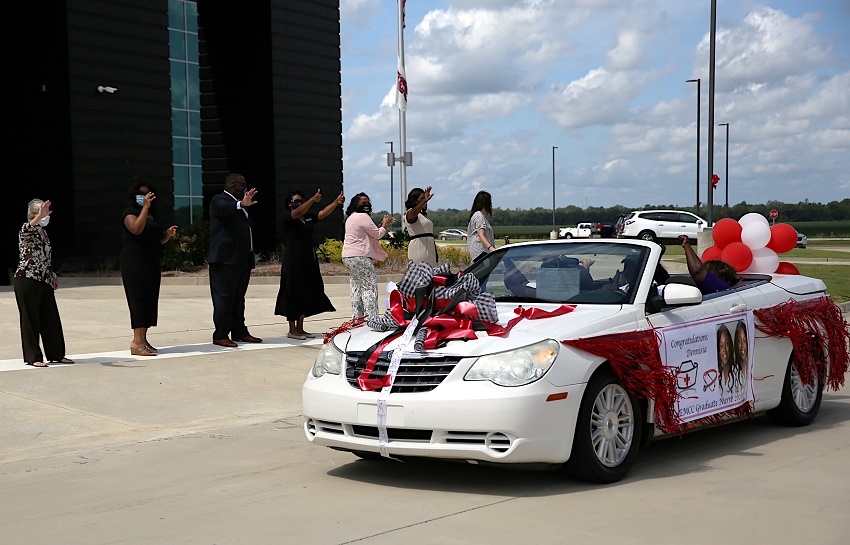 July 25, 2020
East Mississippi Community College's Division of Nursing and Allied Health conducted a drive-through pinning ceremony Saturday, July 25, at 10 a.m. at The Communiversity at EMCC for students enrolled in the Practical Nursing, Surgical Technology and Paramedic programs.
The graduates lined up in automobiles at EMCC's Golden Triangle campus and drove to The Communiversity for the ceremony. The students, who wore face masks as a precaution because of the novel coranvirus, got out of their vehicles one at a time to receive their pins from instructors in their respective programs.
The ceremony, which was prerecorded, was played over loudspeakers and streamed on EMCC's radio station, WGTC 92.7 FM. Speakers included EMCC President Dr. Scott Alsobrooks, Vice President of Instruction Dr. James Rush, Director of Nursing Programs/Associate Dean of Health Sciences Dr. Tonsha Emerson and Vice President of the Golden Triangle Campus Dr. Paul Miller.
Here is a list of the Division of Nursing and Allied Health Class of the 2020 graduates:
PRACTICAL NURSING
Kalyn J'Nae Abrams of Columbus (Cum Laude Honors, Scholastic Award, Clinical Excellence Award, Florence Nightingale Award, Outstanding Student Award); Atoya Banks of Maben; Dennisia Batts of Ackerman; Katherine Davis of Kosciusko (Clinical Excellence Award); Sh'kaitlin Dickerson of Artesia; Kiara Shante Foster of Houston; Micah Gill of Hamilton (Cum Laude Honors); Jasamine Harris-Brown of Columbus; Brittney Johnstone of West Point (Cum Laude Honors); Lakiya Sha'ree Lash of Columbus (Clinical Excellence Award); Michelle Mason of Eupora (Leadership Award); Hope Smith of West Point; Monique Spohn of Columbus; Hannah Thomas of Starkville (Clinical Excellence Award); Robert Auston Thomas of Meridian (Cum Laude Honors); Shmeka Verdell of Columbus (Clinical Excellence Award); Ayasha Welch of Starkville (Cum Laude Honors); Elizabeth White of Columbus (Cum Laude Honors, Clinical Excellence Award); Farron Wheat of West Point (Cum Laude Honors); Samuel Whittington of Bowling Green, Ky. (Cum Laude Honors); Dalexis Williams of Meridian (Cum Laude Honors)
SURGICAL TECHNOLOGY
Madison Flemings of Mantee (Scholastic Award, Leadership Award, Outstanding Student Award); Sirlena Gibson of Starkville; Carmen Giles of Columbus (Leadership Award); Courtney Hawkins of Hamilton; Alexandria Hendrix of Starkville; Jordan Kennedy of Caledonia (Cum Laude Honors); Chasidy Lavendar of Columbus (Clinical Excellence Award); Georgia McGinnis-Roberts of Maben; Bonnie Riley of West Point; Jordan Sanderson of Columbus (Clinical Excellence Award); Karley Smitherman of Una (Clinical Excellence Award)
PARAMEDIC
Macy McGairty