EMCC DIVISION OF ALLIED HEALTH TO CONDUCT DRIVE-THROUGH GRADUATION
News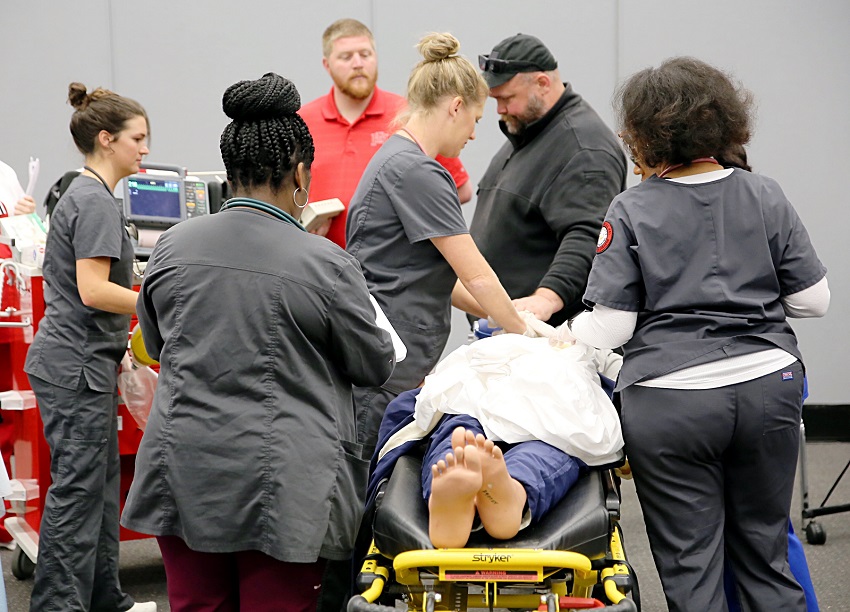 July 10, 2020
East Mississippi Community College's Division of Nursing and Allied Health will conduct a drive-through graduation ceremony Saturday, July 25, at 10 a.m. at The Communiversity at EMCC for students enrolled in the Paramedic, Practical Nursing and Surgical Technology programs.
Traditional graduation ceremonies across the state and nation have been canceled because of concerns over the novel coronavirus. EMCC conducted a virtual graduation in May for the Class of 2020, while the Golden Triangle Early College High School at EMCC held a drive-through graduation ceremony similar to the one planned by the Division of Nursing and Allied Health.
"This has been a challenging year for our students because of the coronavirus and we wanted to make sure and do something special for their graduation," EMCC Practical Nursing instructor Jamonica Johnson said. "We liked the idea of a drive-through graduation like the one held by GTECHS, but wanted to also incorporate a parade into the ceremony."
Students will line up in vehicles at EMCC's Golden Triangle campus and drive from there to The Communiversity during the parade. Each student will be allowed to bring as many friends and family as they can fit into one vehicle.
The students will get out of their vehicle one at a time to receive their pin and pick up their diplomas from a table set up outside The Communiversity. The students' pictures will be displayed on EMCC's electronic billboard at The Communiversity and the event will be simultaneously broadcast on EMCC's radio station, WGTC, 92.7 FM so they can listen to the guest speakers from their vehicles.
The Florence Nightingale Award recipient and other award winners will be announced during the ceremony titled "Allied Health Summer Pinning Ceremony."
Speakers will include EMCC President Dr. Scott Alsobrooks, Director of Nursing Programs/Associate Dean of Health Sciences Dr. Tonsha Emerson, Vice President of the Golden Triangle Campus Dr. Paul Miller and Vice President of Instruction Dr. James Rush.
Emerson said the challenges presented by the coronavirus makes this graduation special.
"By embracing these challenges, EMCC has been very creative and innovative in our approach to celebrating the accomplishments of our students," Emerson said. "This ceremony is just one approach. We are extremely proud of our graduates and celebrate this accomplishment with them. Best wishes to them all."
This will be the inaugural graduating class for the Surgical Technology program, which was launched in January 2019 through a partnership with Baptist Memorial Hospital-Golden Triangle. Students in the program will graduate with an Associate of Applied Science degree.
The Paramedic program is also offered as an Associate of Applied Science degree, while students in the 12-month-long Practical Nursing program earn a certificate and are eligible to apply for the National Council of State Boards of Nursing licensure examination.
"Some have a story, but they made history," Johnson said of the graduates. "Our students worked hard this year and we are glad we will be able to help them celebrate their accomplishments with this graduation."