EMCC STAFF ASSUME NEW LEADERSHIP DUTIES
News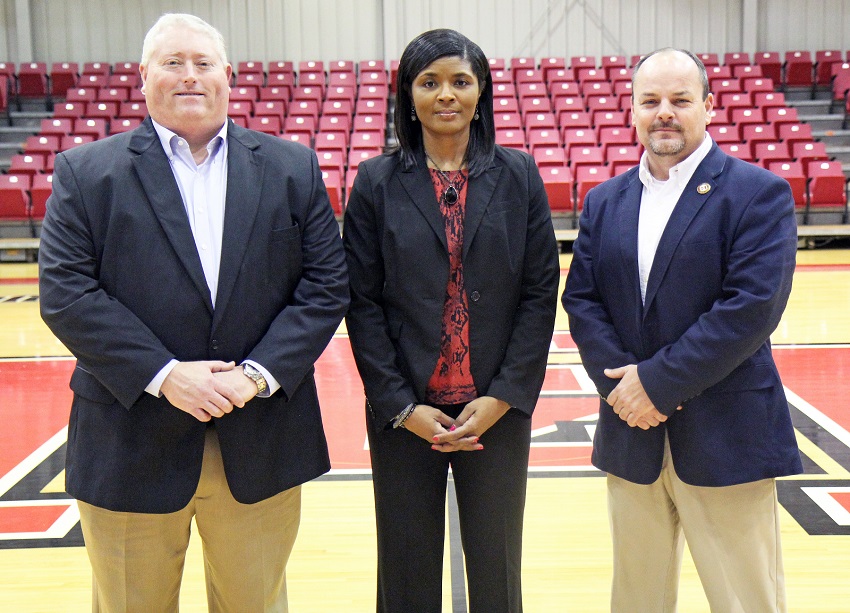 January 22, 2020
Three East Mississippi Community College employees with more than five decades of combined service at the college are assuming new administrative duties.
Women's head basketball coach Sharon Thompson has been named athletic director and will handle day-to-day operations of the college's sports programs. She will report to Executive Director of College Advancement & Athletics Marcus Wood, whose duties have been expanded to include oversight of athletic programs.
Dean of Students Tony Montgomery will additionally oversee the Transportation, Facilities & Grounds Management, Campus Police and Food Services departments on the Scooba Campus.
Montgomery, Thompson and Wood are assuming the duties of Mickey Stokes, the college's former vice president of the Scooba campus and director of athletics who has accepted a position with Coastal Alabama Community College. He retired from EMCC this January after 34 years of service to the school.
"Sharon, Marcus and Tony have dedicated their professional careers to providing exemplary service to EMCC and our students," EMCC President Dr. Scott Alsobrooks said. "We are fortunate to have proven leaders like them who we can rely on to step in to assume these responsibilities while continuing to provide the quality services for which the college is known."
Wood, Thompson and Montgomery said they appreciate the opportunity to serve in their new roles.
"East Mississippi Community College is a great institution that continues to improve and evolve," Wood said. "We are excited about what the future holds and thankful to Dr. Alsobrooks for allowing us to play a part in EMCC's continued success."
Thompson is in her 19th season with the Lady Lions women's basketball team, serving as head coach for 15 years. Her tenure includes three MACJC North Division regular-season titles and an NJCAA Region 23 championship.
A native of Geiger, Ala., Thompson is a former two-time all-state player at Sumter County High School in York, Ala., and a former All-SEC standout at Mississippi State University. She was the No. 6 pick overall in the 1998 American Basketball League Draft. She played the 1998-99 season with the ABL's San Jose Lasers in California and spent 1999-2000 playing professionally in Italy.
Thompson earned her bachelor's degree in educational psychology from MSU and completed her master's degree in physical education from the University of West Alabama in 2003.
For now, she will continue to coach and serve as the college's athletic director. As the senior-most coach on EMCC's staff, Thompson has mentored other coaches and sat in on athletic directors' meetings when Stokes was unavailable.
"It kind of helped prepare me for the position," Thompson said. "I get calls from coaches at other schools all the time who want advice about rules or need some information."
Wood's roots run deep at EMCC. A 2017 inductee into the EMCC Sports Hall of Fame, Wood was an all-state safety who played for the Lions during the 1992 and 1993 football seasons.
After graduating from EMCC, he earned an undergraduate degree in elementary education from Mississippi State University. In 1998, he graduated from MSU with a master's degree in sports administration. He served as a volunteer coach at Holmes Community College and later coached at Mississippi high schools for 10 years, with stints at Meridian High School, Philadelphia High School, Columbia High School and Gulfport High School.
Wood was also an assistant coach at MSU. In 2007, he accepted a job as a wide receiver coach at EMCC and in 2011 was named offensive coordinator, serving for a total of nine years under head football coach Buddy Stephens.
In 2017, Wood transitioned into administration when he was named associate vice president of athletic development. The following year, he assumed the position of executive director of college advancement. He will continue in that role while helping out with athletics.
"I am looking forward to assisting Sharon with anything she needs from me," Wood said. "We have been charged with managing athletics well while keeping the best interest of the college at heart in everything we do."
Like Wood, Montgomery is a former EMCC athlete. A New Hope High School baseball standout, he played baseball for the college from 1991 to 1993.
After earning a Master of Education from Delta State University, Montgomery returned to EMCC where he served eight years as an assistant baseball coach under head coach Bill Baldner. It was not a paid position, so Montgomery worked part time in the maintenance department.
He also taught night classes and online classes and was eventually promoted to director of housing. In 2004, Montgomery transitioned into administration as assistant dean of students.
In 2007, Baldner accepted another position and Montgomery was named head baseball coach, serving in that role for four years. When his contract was not renewed, Montgomery accepted a job as baseball coach at Columbus High School, working there for 13 months before returning to EMCC in 2011 as dean of students for the Scooba campus.
Montgomery resided on EMCC's Scooba campus for two years as a student and lived in on-campus housing there for 21 years while working for the college.
"At the end of the day, that is 23 years I have lived on the Scooba campus and I am 46," Montgomery said. "That is half my life. For me, this is home."
Montgomery, Thompson and Wood all go a long way back. Montgomery was playing baseball for EMCC when Wood was a football player. All three were coaching for EMCC at the same time.
"I am really looking forward to working with Sharon and Tony," Wood said. "They are going to be great."
Thompson agreed.
"I consider Tony and Marcus dear friends," Thompson said. "I am really excited about working with them more closely."