COMMUNIVERSITY BOOSTS TRAINING IN ADDITIVE MANUFACTURING
News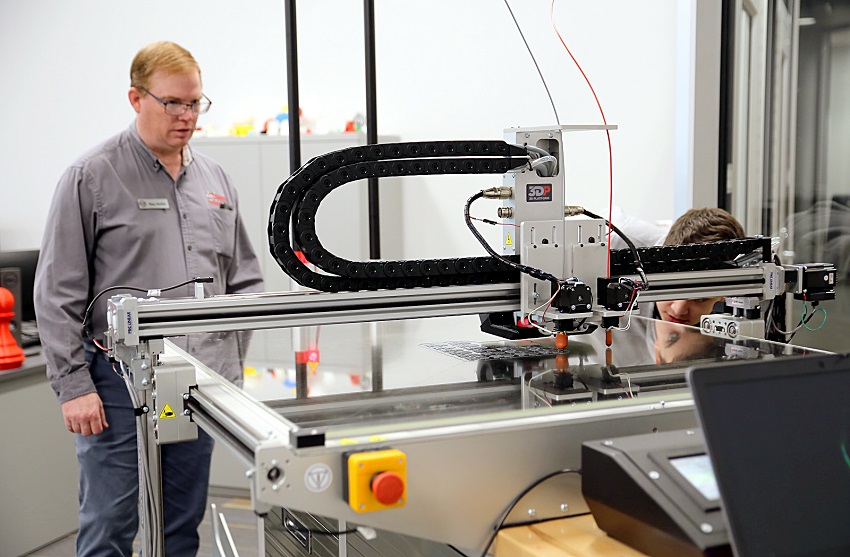 February 10, 2020
The addition of a large-scale 3D printer to the Engineering Technology, Drafting & Design program at East Mississippi Community College's Communiversity will provide students real-world experience in the rapidly expanding field of additive manufacturing.
"This is a piece of equipment you would find in industry and can be used by students to create true production pieces," Engineering Technology, Drafting & Design instructor Ray Hollis said.
The 300 Series Workbench Pro 3D printer made by 3D Platform was purchased through Magee Enterprises in Brandon and uses dual HFA extruder heads to print 3D products up to 39.3 inches long by 39.3 inches wide and 27.5 inches tall. To put that in perspective, Hollis said, one of the products 3D Platform prints on each of the machines before they are sold is a mock full-scale motorcycle gas tank.
Commercial uses for 3D printing are varied and run the gamut from creation of product prototypes, to the fabrication of airplane components and custom prosthetics for amputees, to name a few uses. Some 3D printers use steel and titanium to create metal parts, while others can employ chemicals to manufacture medicines. Massive 3D printers have even been used to construct concrete homes.
The 300 series can't be used for metal, chemical or concrete projects, but it can use a wide variety of filaments, such as plastic, wood fiber, thermoplastic elastomers and carbon fiber, to name a few.
"It will print pretty much whatever you can imbed in the material," Hollis said. "While we may not be printing metal, we are teaching the processes all 3D printing share that can be used by our students once they enter the workforce."
Engineering Technology, Drafting & Design students have been using 3D printers long before the 300 Series Workbench Pro was purchased for the program. There are 20 Afinia H400 3D printers in Hollis' class that can print small objects 4.4 inches in diameter and two larger MakerBot Replicator 3D printers, one of which can create objects up to 18 inches tall.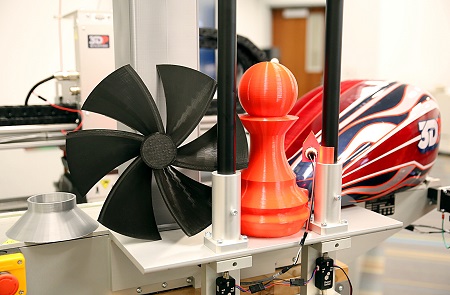 "The smaller 3D printers are great and teach the students about design and tolerances but those aren't going to give them real-world experience with 3D printing in industry," Hollis said. "With our new printer, we now have that capability."
Students are assigned class projects and have used the smaller 3D printers to design and create objects with moving parts that serve a function. Among other things, they have built working c-clamps, a desk vice and functioning gyroscopes constructed in a single print operation.
"The number one rule in class is that students can't download projects off the Internet and print them," Hollis said. "They can design anything they want and print it, but it can't be a design that somebody else has created."
Max Pyron of Ackerman is among a group of Hollis' students who are putting the finishing touches on an 18-inch-long remote controlled boat dubbed the "Sea Hollis" that is equipped with dual propellers. The students hope to soon launch the boat for its maiden voyage in the pond on EMCC's Golden Triangle campus.
"We built everything but the receiver, the motor and the remote," Pyron said.
The term additive manufacturing has become synonymous with 3D printing and was coined given the way some 3D printers, like those in use at EMCC, create three dimensional objects by adding layer after layer of heated material on top of each other from the bottom up.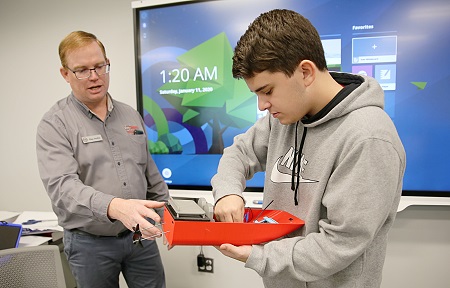 According to an article in "Chief Executive," there is a growing unfilled need for trained workers in the additive manufacturing field.
"Finding the right talent is a challenge not only here in the United States but around the globe," the article states.
That skills gap creates opportunities for area residents, EMCC Communiversity Executive Director Dr. Courtney Taylor said.
"Our goal at the Communiversity is to bridge the gap between industry demands and students' desire to obtain training that will lead to employment that offers good paying wages and job stability," Taylor said. "Ray's program exemplifies the quality training available to our students who are looking for careers in growth sectors liked advanced manufacturing. One of our tenants is to ensure that our students are trained on the latest industry-relevant equipment and the new 3D printer is one example of our commitment to do that."
Additive manufacturing is one component of what students in Hollis' program learn. Classes include coursework in engineering, statics, mechanical design and computer aided design, to name a few. Students who graduate from the program, which is offered as an Associate of Applied Science degree, are prepared for work in several fields.
"Students who graduate can go to work as an engineer technician, perform jobs that require computer aided design software, or work for any industry that requires somebody to draw or design," Hollis said. "We also provide our students with hands-on work in surveying and some will go on to work in that field."
For more information about the Engineering Technology, Drafting & Design program, contact Hollis at chollis@eastms.edu.