EMCC TURF STUDENTS TO WORK USGA WOMEN'S AMATEUR CHAMPIONSHIP
News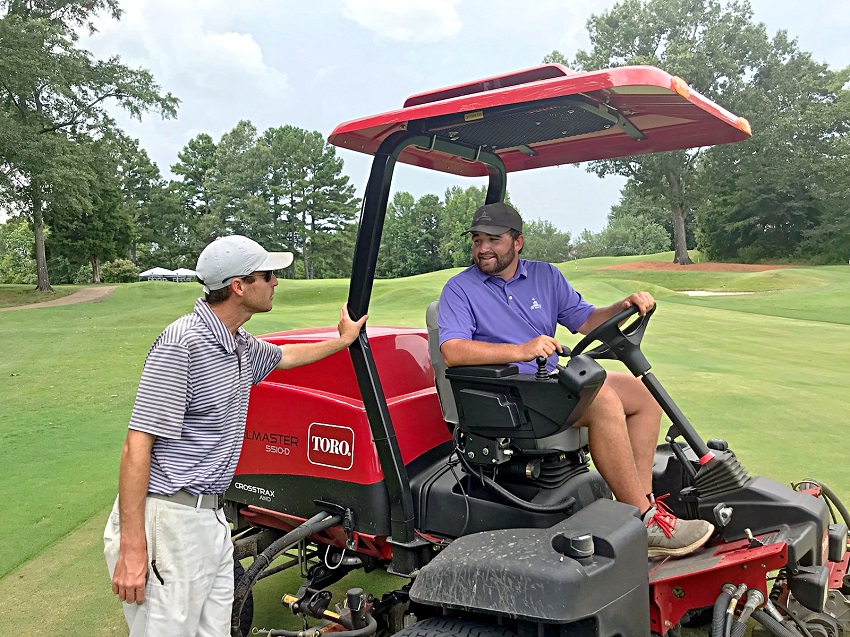 August 2, 2019
Long days are in store for former, current and future students of East Mississippi Community College's Golf & Recreational Turf Management program tasked with helping keep the greens and fairways in optimum condition next week during the United States Golf Association's 2019 U.S. Women's Amateur Championship at Old Waverly Golf Club in West Point.
Championship play kicks off Monday, Aug. 5, and culminates Sunday, Aug. 11, during which 156 of the best women amateur golfers in the world will vie to hoist the historic Robert Cox Trophy.
Brett Chapman, Raines Rester, Andrew Vasser and Gill Wilkerson, all graduates of EMCC's Turf Management program, are employed by Old Waverly and, along with their co-workers, have been working to ensure the golf course meets rigorous USGA standards.
"We have been busy," said Wilkerson, a 2018 graduate of EMCC's Turf Management program who resides in West Point. "The other day I got here around 5 to 5:30 in the morning and was here until about 8 p.m."
Old Waverly Assistant Golf Superintendent Zak Holloway said preparations for the championship have been under way all summer and have intensified in recent weeks.
"Right now we are working 12 hours a day, seven days a week," said Holloway, a former golf superintendent at EMCC's Lion Hills Center and Golf Club.
That work includes narrowing fairways, renovating bunkers and repairing irrigation systems.
The workload will intensify during the U.S. Women's Amateur Championship, the largest and most prestigious event in all of women's amateur golf.
Crews will arrive each morning around 4:30 a.m. to double mow the greens to improve ball speed and to mow the fairways, tees and the collars that surround the putting greens. They will rake the bunkers, cut new cup holes and blow and mow the rough. That has to be done before play begins at 7 a.m.
In the evening, after the contestants have finished play, everything is mowed again and divots, where turf is cut out by a golf swing, are filled with sand.
"We will probably finish for the night around 8 p.m. to 9 p.m., depending on what is going on," Holloway said. "Once the championship starts, we will have to stay on the course all day in case anything pops up. If it rains and the bunkers fill with water, or the bunker faces are washed out, we will have to rake the bunkers and get them back into play."
Wilkerson is a laborer for Old Waverly. Chapman and Rester are spray techs and Vasser is a small engine mechanic. The graduates of the Turf Management program, which is taught out of EMCC's Lion Hills Center, aren't the only ones with ties to the college who will be working during the championship.
Two students currently enrolled in the Turf Management program, Josh Arnett and Colton Tant, will be volunteering at the event, as will Grady Nabors, an incoming EMCC freshmen who will take his first turf class in the fall term that begins Aug. 19.
This won't be Wilkerson's first championship tournament. He worked the 2016 Sanderson Farms Championship at the Country Club of Jackson shortly after he enrolled at EMCC.
"It opened my eyes up for sure, waking up at 3 a.m.," Wilkerson said. "It's not fun for some people but I love it. I am really looking forward to the tournament."
The championship is open to the spectators and attendance is free. Tickets will be available at the gate.
Holloway said working the championship, which will be aired by Fox Sports, will be an experience of a lifetime for the turf crews.
"I've been telling these guys, 'This is something to put on your resume,'" Holloway said. "This is the real deal and we want to show them what Mississippi is about."
More information is about EMCC's Golf & Recreational Turf Management program is available here: http://bit.ly/2YmZfrG