GTECHS STUDENTS TO GRADUATE FROM EMCC AND HIGH SCHOOL
News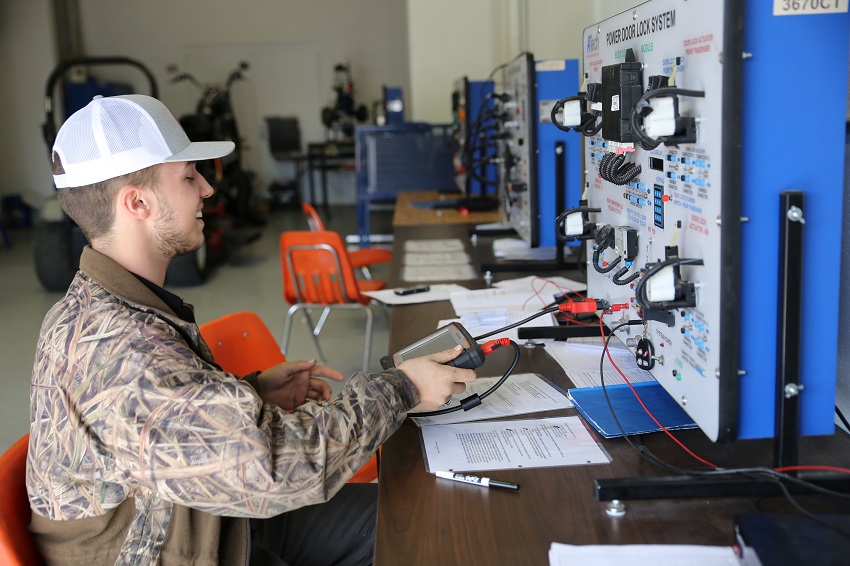 April 23, 2019
Samantha Brooks, 17, will be awarded an associate of arts degree from East Mississippi Community College in a May 7 graduation ceremony and will be presented with her high school diploma during the Golden Triangle Early College High School (GTECHS) commencement ceremony four days later.
"My parents are excited for me," Brooks said. "My momma really, really wanted me to be the first person in our family to graduate from college."
Fifty-four GTECHS seniors will graduate May 11 in a 10 a.m. ceremony in the Lyceum auditorium on EMCC's Golden Triangle campus. Forty-one of those students have earned enough college credits to graduate this semester from EMCC with either an associate's degree or a technical certificate.
"We are proud to partner with the Golden Triangle Early College High School on what has turned out to be a testament to the achievements of these young students," EMCC President Dr. Scott Alsobrooks said. "What the students and staff at GTECHS have accomplished in a few short years is remarkable."
First in the state
Founded in 2015 as a pilot school on EMCC's Golden Triangle campus, this will be the inaugural graduating class for GTECHS, which was Mississippi's first early college high school.
At that time, neither the school's faculty nor the incoming students knew what to expect.
"Some days we felt really good about what we were doing and there are other days we thought, 'Have we messed up?'" GTECHS guidance counselor Lisa Elmore said. "We didn't know because we were the first and there was nobody to ask."
The graduating seniors comprised the first group of 61 incoming freshmen. The following year, as they entered their sophomore year, another group of about 60 freshmen were enrolled. About sixty students were added the two subsequent years until all four grades — freshmen, sophomore, junior and senior — were filled.
"We literally learn something new every single day and with every single group that has come through," GTECHS Principal Jill Savely said. "At this point, we have done year four one time, for example. There are still things we need to tweak and learn from."
Origins
In the 2010-11 time frame, the Mississippi Department of Education and Mississippi State University's Research & Curriculum Unit began exploring ways to increase high school graduation rates. They settled on an early college high school model, which are typically small, public high schools where students also take college courses free of charge.
In 2012, members of the MSU Research & Curriculum Unit took a group of educators and officials from Columbus to North Carolina to visit early college high schools there. Savely, who was an assistant principal in Columbus at the time, was among that group.
"Although I really didn't understand a lot about how early college high schools worked, I could see there was a difference in how the students there felt connected to their schools," Savely said. "They felt like they were part of a family and that was what kept them coming back. I knew that was something really special and I wanted to be a part of it."
Officials from Clay and Oktibbeha counties later toured the North Carolina early college high schools. In late 2014, former EMCC President Dr. Rick Young and the college's board of trustees offered space at the college's Golden Triangle campus for the early college high school.
"That kind of kicked everything into high gear," said Savely, who was principal at Columbus High School by that point. "EMCC's support of this program played a huge part in everything moving so quickly. There is no way we would have accomplished as much as we have without the strong partnership we have with EMCC and this campus."
The position of principal for the GTECHS was posted in January of 2015, Savely applied, was hired and began her new position in February 2015. The incoming freshmen were selected before the GTECHS school staff was hired.
Incoming students
Columbus resident Douglas Trevon Cockrell, 18, was in 8th grade at Columbus Middle School when he heard a new public school was opening on EMCC's campus.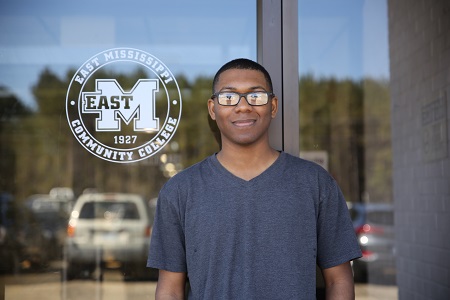 "I remember thinking, 'Why would I want to attend a fancy school like that?'" Cockrell said.
But his parents wanted him to apply and Cockrell took a closer look at what the school had to offer.
"I really got excited about it when I understood the scope of everything," Cockrell said. "I am very interested in computers and when I realized I could earn college credits towards an associate's degree. I was like, 'Oh, this is looking pretty cool.' When I got accepted, I remember my mom was recording me opening the package and I just fell on the floor I was so happy I got accepted."
The school accepts applications from students in the Columbus Municipal, Lowndes County, Noxubee County, Starkville Oktibbeha, and West Point Consolidated school districts. Students must fill out an application and are interviewed to determine if they really interested in attending the school.
"The students have to want to do this," Savely said. "It is great if the parents want them here but if the kids really aren't on board, it rarely works out well."
All of the names of students who are approved go into a lottery and a random drawing determines which students will be sent acceptance letters. The remaining names are placed on a waiting list.
Some of the students who apply are looking for a fresh start, while others are natural risk takers or want to get a jump start on their education, Savely said.
On campus
EMCC Vice President of the Golden Triangle Campus Dr. Paul Miller said the GTECHS students have been a welcome addition to the college.
"They fit right in and are model students," Miller said. "The level of maturity and commitment to their education is commendable."
High school classes for GTECHS students are taught out of portable classrooms located on the east side of the EMCC campus and the students attend regular college classes. There are no sports or extracurricular activities.
"Our students had to be really brave when they came here," Elmore said. "They left schools where they had friends and where they were cheerleaders and football players to come to a school where they did not have those things. They really took a chance on us."
Zackary Guyton grew up in Caledonia and attended schools there from kindergarten through eighth grade.
"I planned on graduating from Caledonia High School with all of my friends and leaving them was kind of saddening," Guyton said. "When I got accepted into this program though I felt I wanted to focus on myself and my future."
Guyton will graduate from EMCC this semester with a certificate in Automotive Technology.
"All of my friends at Caledonia are in the same high school grade as me and they don't have any college credits. I have about 50 credit hours and that is not counting the ones I have earned this semester."
After graduation, Guyton plans to return to EMCC to earn a certificate in Welding Technology.
"The certificate in welding would give me something to fall back on if something were to backfire in the automotive field," Guyton said.
Coursework
When students enroll in GTECHS they aren't guaranteed to earn enough college credits for an associate's degree or certificate before they finish high school, although the bulk of them have. They have the leeway in the number of college courses they take.
Some of the career technical and Workforce and Community Services programs require students attend full time so those students need to complete the bulk of their high school courses first.
"My goal was to make sure all of my high school classes were done by the end of eleventh grade," Guyton said. "That way I could just focus full time on automotive in my senior year, which is what I am doing right now."
In addition to Savely and Elmore, GTECHS employs a secretary and seven teachers.
"Our staff is super, super small for the size student body we have," Savely said. "We all had to learn to be flexible. You never know when you are going to need to jump in and cover a class or help out with a group. Our teachers have gotten really good at that."
Brooks, Cockrell and Guyton all described the atmosphere at GTECHS like that of family and said there is a close bond between the students, teachers and staff at the school.
"I just feel like the teachers here care a little bit more," said Cockrell, who will earn his associate's degree from EMCC this May.
Outcomes
Savely said the results at the school have been great. Students scoring at basic and minimal levels on state tests before enrolling at GTECHS are now scoring proficient and advanced, she said. ACT scores for the GTECHS students are higher in general than those of other students in the area and are higher than the state average.
"Our students have done more than I ever imagined they could or would," Savely said. "I think the most important piece of all of this is that our students are really thinking about their futures and using their four years of high school in a very meaningful way."
Elmore said about half of the students are the first in their families to attend college.
"Many of them are first generation high school students," Elmore said. "This is a really big deal for them."
Since the formation of GTECHS, five more early college high schools have been created in Mississippi in Clarksdale, Greenville, Natchez, Jackson and Vicksburg. The early college high school in Clarksdale accepts a few students from surrounding counties but the remainder are the result of arrangements between one K-12 school district and a community college.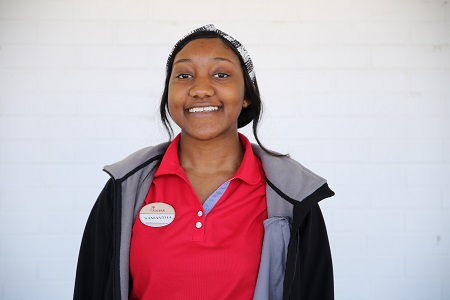 "The exciting thing is that students all over the state are now having this opportunity," Savely said. "The beautiful thing about early college high schools is that there is no one way to do it. You can do it however it works best for your community and for the population of students you serve."
Brooks, who grew up in Crawford, said she and her friends cried when she decided to attend GTECHS. Now she can't imagine what her life would have been like had she not made that decision.
"I love GTECHS," Brooks said. "It is one of my favorite environments. When I came here, I got a chance to separate and find my own personality. I was not surrounded by all my friends to mold me so I got to be by myself in this space and learn who I am."
Here is a list of the GTECHS Class of 2019 broken down by the school districts they transferred from:
Columbus Municipal School District
Richard Gathings, Kayla Hairston, Daria Hanks, Nyasia Harkins, Amyah Kahey, Jamya Mills, Kayla Williams
Lowndes County School District
Eli Box, Zykidra Bridges, Samantha Brooks, Tyson Brown, Angela Bush, Bridget Bush, Chasisty Butler, Shakia Butler, Quinten Chaney, Douglas Trevon Cockrell, Zackary Guyton, Sara Grace Lowery, Brooklyn McCullough, Shamariah Nash, Dakota Oswalt, Alexis Sheppeard, Alexis Turner, Amber Williams, Georgia Wood
Noxubee County School District
Aris Buckhalter, Cortez Bush, Demarcus Henley, Synario Johnson, Letadreon Mattix, Sha'Kambreanna May, Destiny Orr, Diamond Stevenson, Lyvya Taylor
Starkville Oktibbeha School District
Zach Ashford, Jadice Cain, Shelby Grice, Caitlin Jennings
West Point Consolidated School District
Alexia Cothren, John Cummings, McKenzie Cummings, Cameron Farmer, Nakya Forest, Caziah Garth, Kierra Hayes, Krystal Hayes, Denise Jefferson, Donessia Johnson, Samantha Kellum, Shakerria Lane, Curtisha Lenoir, Olivia Porter, Christopher Ray