NATIONWIDE DEMAND FOR EMCC TURF/LANDSCAPE GRADUATES
News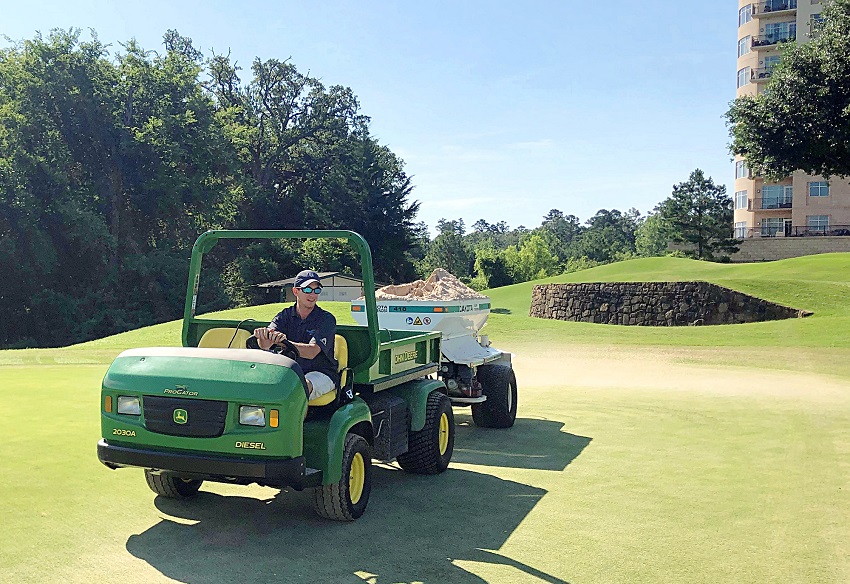 June 14, 2019
All it took was one phone call for Trey Sansing to line up an interview that led to a job in the Texas city where he wanted to work.
In fact, Sansing began work as an assistant golf superintendent at The Cascades Golf & Country Club in Tyler, Texas two weeks before his May 7 graduation from East Mississippi Community College's Golf and Recreational Turf Management Technology program.
EMCC Turf Management instructor Danny Smith said Sansing's experience is not uncommon and that most graduates of the college's Turf Management and Landscape Management Technology programs are hired before they graduate.
"There is a big demand in the field and we have kids getting jobs all over the country," Smith said.
As graduation neared Sansing, who was then residing in Starkville, began looking at areas where he might like to work. His girlfriend at the time was an intern at a company in Tyler and he hoped to get a job at a Texas golf course that was close to her location.
"I started looking and the number of jobs available at golf courses in Texas was just off the charts," Sansing said.
Smith looked up golf courses in Tyler and, while Sansing was sitting in his office, picked up the phone and called the golf superintendent at The Cascades Golf & Country Club in Tyler, an upscale championship facility that has hosted the Texas Open for six consecutive years.
"I immediately got the supervisor and he told me, 'It must be my lucky day. We are really in need of an assistant superintendent,'" Smith said.
A day in February was scheduled for Sansing to visit the golf course and sit down for an interview. He was hired on the spot and began work April 22 after completing his last class at EMCC.
"Once I visited the golf club I was ready to begin work as soon as I could," Sansing said.
He has been learning the ropes since that time, familiarizing himself with the golf course and machinery and working on irrigation systems.
Many program graduates find work at golf courses, athletics facilities or municipal parks as turf specialists, assistant golf superintendents, greens keepers, maintenance workers or irrigation specialists, Smith said.
Students in Landscape Management learn landscape design; selection and care of plants; installation of irrigation and lighting systems; construction; equipment use and maintenance; and business management, among other things.
Students in Golf and Recreational Turf Management cover many of the same areas, as well as the care of specific grasses, the use of chemical applications and specialized equipment used in turf maintenance.
Like Sansing, Matthew Morse and Zachary Mozingo both graduated from EMCC May 7 with associate's degrees. Morse's concentration was in Landscape Management, while Mozingo majored in Turf Management. Both landed jobs prior to graduation.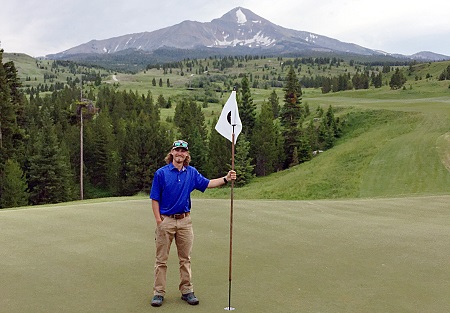 Morse and Mozingo spent the summer of 2018 in Big Sky, Montana, working as paid interns on high-elevation golf courses located in the heart of ski country.
Mozingo interned at The Yellowstone Club, a private residential club and ski and golf resort near Big Sky, while Morse served his internship 20 minutes away at The Reserve at Moonlight Basin.
Morse enjoyed his time at the golf course located in the Rocky Mountains. A couple of months before graduation, he called The Reserve and was offered a job as an assistant in training. It is a year-round job, although the golf course closes in the winter.
During cold weather months, Morse will monitor the golf course turf for snow mold and operate a snow plow to keep the streets clear for the community of Moonlight Basin.
"I have always wanted to be in the mountains," Morse said. "It was never planned out and it all kind of just fell into place."
In fact, his employers at The Reserve have hired another intern from EMCC's Turf Management program, Madison resident Hunter Calhoun.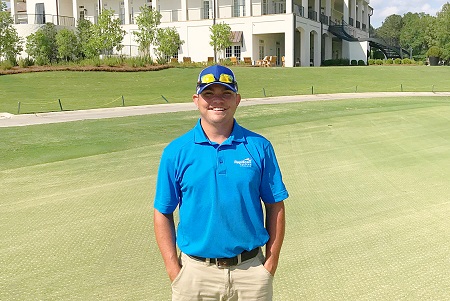 Mozingo wanted to stay in Mississippi and accepted a job as a spray technician at Reunion Golf and Country Club in Madison, which is about a half hour drive north of Jackson. He was surprised at the number of job openings available at golf courses when he began his job search.
"You can pretty much pick any state in the country and almost any city that has a golf course and choose where you want to work," Mozingo said.
Morse, Mozingo and Sansing all said a desire to work outdoors was a big factor in choosing their professions. All three enjoy playing golf.
Sansing, 29, played golf for Starkville High School and toyed with pursuing a career as a professional golfer. In fact, he turned down a full golf scholarship at EMCC to pursue a degree in Agronomic Sciences at Mississippi State University where all of his friends were going.
"Not accepting the golf scholarship at EMCC is a big regret I still carry," Sansing said.
About two years into his stint at MSU, Sansing underwent reconstructive surgery on his jaw to correct problems associated with a wreck he was involved in four years earlier. His schoolwork suffered and Sansing left the program at MSU to take a job in landscaping in Jackson.
He enjoyed the work but realized he needed a degree in order to earn a good living. He returned to Starkville and enrolled at EMCC. Sansing, who was the EMCC Turf Club president, said the program and the instructional staff were a perfect fit.
"I think other Turf Management programs should watch what they are doing at EMCC and try to recreate it," Sansing said.
For him, the draw of working outdoors and the pull of working at a golf course are equally strong.
"This work is just a perfect fit for my personality," Sansing said. "Everybody has always told me, 'Trey, do what you love.' I think I have found it."
For information about the Golf and Recreational Turf Management or Landscape Management programs email instructors Danny Smith at dsmith@eastms.edu or Will Arnett at warnett@eastms.edu.