EMCC SURGICAL TECHNOLOGY PROGRAM THRIVING
News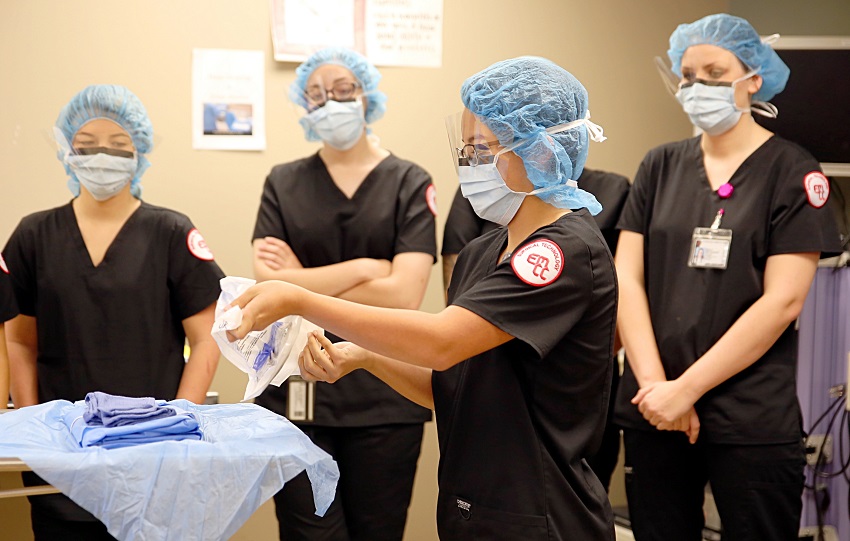 September 10, 2019
Columbus residents Tressie Collier and Taylor Evans are among the 10 freshmen who in August enrolled in East Mississippi Community College's Surgical Technology program.
They join 11 sophomores who comprise the inaugural class of the Surgical Technology program, which was launched in January of this year. Upon completion of the two-year program that leads to an associate of applied science degree, they will be prepared to play a crucial role as integral members of a surgical team.
Evans, 19, said she knew she wanted to enter the medical field but was undecided about what course of study she wanted to pursue until she learned about the Surgical Technology program.
"I wasn't sure about nursing and I knew I did not want to become a doctor because I wanted to have a job before I was in my mid-30s," Evans said. "I wanted something that was hands-on."
September 15-21 is National Surgical Technologists Week, an annual recognition that first took place in 1984.
Surgical technologists prepare the operating room and make sure all surgical instruments, supplies and solutions for that operation are ready. They are responsible for maintaining a sterile environment during surgery and passing surgical instruments to the surgeon. They also keep a count of sponges and supplies during the operation to ensure none are left inside the patient.
"Surgical technologists are basically the right hand man, or woman, for the surgeon," said Janan Rush, who is both an instructor and director of EMCC's Surgical Technology program.
EMCC partnered with Baptist Memorial Hospital-Golden Triangle to offer the program after hospital officials identified a need for certified surgical technologists in the area. Baptist offered space for the program on the hospital's Columbus campus in a building located at 515 Willowbrook Road. Officials at the hospital also equipped classrooms, supplied computers and labs, and provided a mini operating room at the training facility.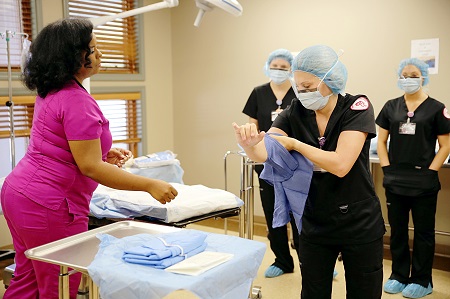 "Everyone at Baptist has been great," EMCC Division of Nursing and Allied Health Director Dr. Tonsha Emerson said. "We are really grateful for everything they have done for us. This is an important program that is benefitting not only our students but the community at large."
Baptist Golden Triangle's Director of Perioperative Services Derrick Forrester said in an interview for an earlier article that the ultimate beneficiaries of the program will be patients undergoing treatment at health care facilities in the Golden Triangle area.
"Providing excellent patient care is always our No. 1 priority," Forrester said. "Having high-quality surgical technologists will help ensure we continue to provide the best possible care for patients."
Alicia King, an adjunct instructor for the Surgical Technology program, works at Baptist Golden Triangle as both a surgical technologist and certified first assistant. She performs some of the same duties as a surgical technologist but has additional training and responsibilities.
"As a first assistant, I am actually able to sew the patient up whereas a surgical technologist cannot," King said. "I can finish up the case for the surgeon once he leaves the room and can clamp during surgery and cut tissue."
Sophomores in the program began their clinicals in June and are assisting in operating rooms under supervision of a preceptor, a certified surgical technologist who serves as their mentor while they are inside the hospital.
Baptist Golden Triangle, OCH Regional Medical Center in Starkville and North Mississippi Medical Center Gilmore-Amory are all offering preceptorships to the students.
"All three of the hospitals have worked really worked well with this group of students," Rush said. "They are thrilled to have them."
According to the U.S. Bureau of Labor Statistics, the 2018 annual median pay for surgical technologists was $47,300 and employment nationwide is expected to grow by 9 percent between 2018 and 2028.
"The aging of the large baby-boom generation is expected to increase the need for surgical technologists because older people usually require more operations," the Bureau of Labor Statistics website states.
Rush said the job is anything but routine and on-call surgical technologists could respond to a routine gallbladder operation or assist during surgeries to treat patients with gunshot wounds or other injuries.
It was that aspect of the work that prompted Collier to enroll in the Surgical Technology program.
"I don't like to be bored and I think a high intensity work environment like that would be best for me," Collier said.