EMCC STUDENTS FARE WELL IN STATE ART COMPETITION
News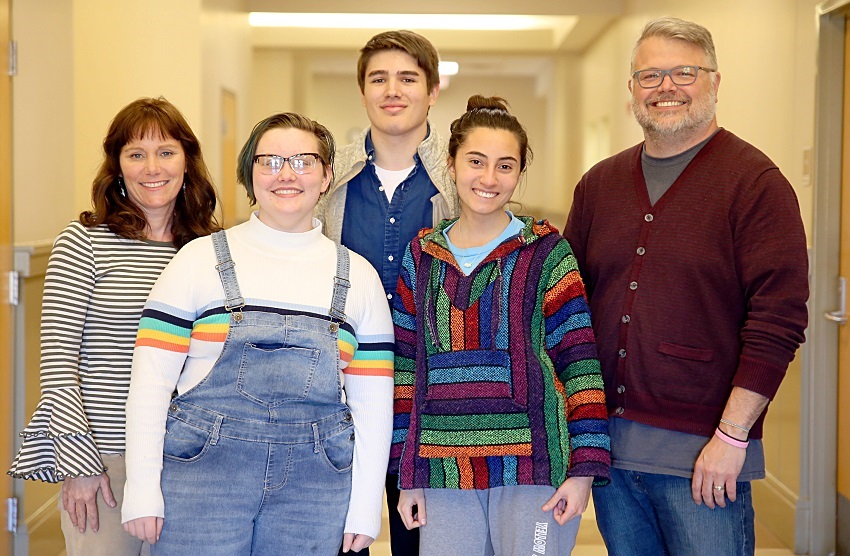 March 5, 2019
East Mississippi Community College freshman Ana Sofia Licona Luque, an international student from Queretaro, Mexico, took first place in the Printmaking category in the Mississippi Community and Junior College Art Instructors Association State Art Competition for her depiction of a cat titled "Who's There?"
Luque, 19, who said she was surprised when she learned she had won, has been interested in art since she was a child.
"During my free time as I kid I would draw with crayons," Luque said. "My dad framed a lot of the pictures and put them in his office. He still has them."
Students from colleges across Mississippi submitted artwork for the annual competition, which included categories in Drawing, Ceramics, Computer Art, Two-dimensional Design, Painting, Photography, Printmaking and Three-dimensional Design.
Each year a reception and awards ceremony is held for the winners at a college in the state. Copiah-Lincoln Community College will host this year's event at noon on March 22.
In addition to Luque, other EMCC winners are:
Samuel Gibson, third place in Printmaking for his depiction of a tiger titled "Lookout"
Dan Joyner, third place in drawing for his work titled "Finale"
Georgia Wood, honorable mention for her drawing titled "Timothy's Studio"
Luque and Gibson are students at EMCC's Golden Triangle campus. Joyner is enrolled on the college's Scooba campus. Wood is a senior at the Golden Triangle Early College High School and is dual enrolled at EMCC.
"To place at all in the state competition is really a prestigious thing," EMCC Art Instructor and Honors Program Director Scott Baine said. "We only sent eight pieces of art to the show and three of them placed. We pretty much swept the printmaking category with first and third places."
Wood, a Columbus resident who graduates from EMCC and GTECHS in May, plans on transferring to a four-year university.
"I am going to major in art education and am interested in becoming a teacher," Wood said.
This isn't Luque's first brush with the Golden Triangle. She attended Starkville High School two years ago during her junior year as a foreign exchange student.
"I went back to Mexico for my senior year but really wanted to go to college in the states," she said. "My first thought was Mississippi State University but I decided to attend EMCC first."
Luque plans to transfer to MSU and major either in interior design or graphic design. She has enjoyed her time in the states, although it was an adjustment at first. Starkville, where she resides now, is a small city compared to her home in Queretaro, which combined with adjacent municipalities, comprises the 10th largest metro area in Mexico, according to the National Population Council, with a population in 2010 of about 1.1 million residents.
"I miss home a lot, especially my mother's cooking," Luque said. "My parents miss me too but they are excited for me and really support what I am doing."