COLUMBUS-LOWNDES CHAMBER HOSTS 'SENIOR SENDOFF' AT EMCC
News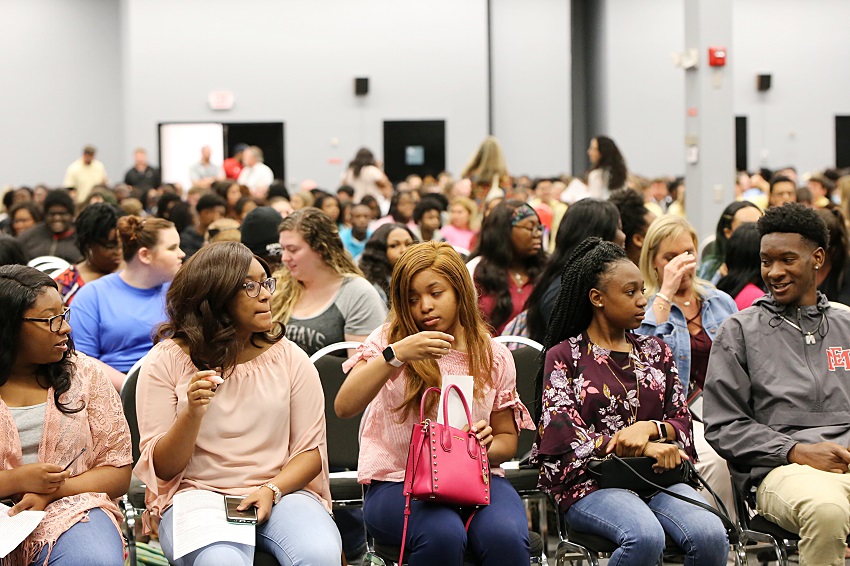 May 1, 2019
About 750 seniors from high schools in Lowndes County attended a "Senior Sendoff" Wednesday, May 1, in the Lyceum Auditorium on East Mississippi Community College's Golden Triangle campus.
Guest speakers at the event sponsored by the Columbus-Lowndes Chamber of Commerce Education Committee encouraged the seniors to plan for the future and persevere through obstacles that come their way.
Students from Caledonia High School, Columbus Municipal School District, Golden Triangle Early College High School, Heritage Academy, Mississippi School for Mathematics and Science, New Hope High School and West Lowndes High School attended the event.
Chamber of Commerce Education Committee Chair Glenn Lautzenhiser credited Columbus Municipal School District Superintendent Cherie Labat, who sits on the committee, with the idea for the senior sendoff.
"The reason we are here today is because of her idea and suggestion and the hard work of the education committee," Lautzenhiser said.
He spoke to the students about the power of education and encouraged them to become lifelong learners.
"President John Fitzgerald Kennedy said it about as well as anyone I have ever heard," Lautzenhiser said. "He said, 'Let us think of education as the means of developing our greatest abilities, because in each of us there is a private hope and dream which, fulfilled, can be translated into benefit for everyone and greater strength for our nation.'"
EMCC President Dr. Scott Alsobrooks told the students that the 7 million unfilled jobs in the United States and 40,000 open positions in Mississippi represent an opportunity for the graduates as they plan for their future careers.
He said many prospective employers don't have the right skills to fill those open positions.
"Many of those jobs don't require a four-year degree and you can get the skills you need right here at EMCC," Alsobrooks said.
He spoke about the student debt crisis in the U.S. According to Forbes, more than 44 million student loan borrowers collectively owe more than $1.5 trillion, with that amount exceeding the national credit card debt.
"You can come to EMCC at a fair discount and get a very good education that leads to work or prepares you to transfer to a four-year university," Alsobrooks said. "We offer both options. You can save a lot of money and prepare to enter the world without a lot of debt."
Door prizes were handed out at the event in which Mississippi School for Mathematics and Science student Samantha Anderson sang the national anthem and WCBI news anchor Aundrea Self introduced the guest speakers.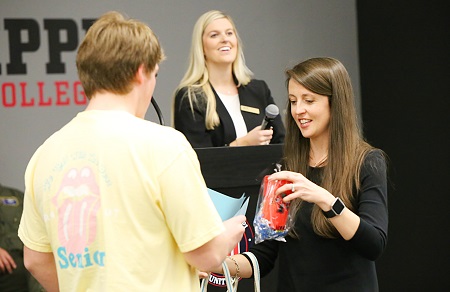 "I look out here, truly and honestly, and I see the future," Self told the students. "What you do from here, the decisions you make from here, are going to start shaping the person that you become."
She encouraged the students to be agents of change
"Indian activist Mahatma Gandhi said 'to be the change you want to see,'" Self said. "If there is something happening that you don't like, don't wait for somebody else to make a change. You initiate the change."
Artesia resident Jay Little, an alumnus of West Lowndes High School who is about to graduate from the University of Alabama with an undergraduate degree in computer science, was the student speaker.
Little shared this quote from Oprah Winfrey: "It doesn't matter who you are, where you come from. The ability to triumph begins with you — always."
"I truly love this quote because it means no matter who you are or where you come from, what you have done or where you have been, you have the power to change the future," Little said. "You have control over your life. You have the ability to change things."
The keynote speaker for the event was Columbus Air Force Base, 14th Flying Training Wing, Vice Commander Col. William Denham.
Denham told the high school seniors to expect obstacles and setbacks.
"You may have heard this maxim of Greek philosopher Heraclites but it bears repeating in this context," Denham said. "He said, 'Character is destiny.' Much of your character is going to be revealed when you are under fire. When you experience setbacks. When things are not going your way. You can answer today, 'What are you going to do when you experience those setbacks?' Are you going to dig down and keep going? You can decide today that you will.
"This is all to say that yes, life can be hard. But it does reward those who are persistent, consistent and resilient and those qualities take character. "
Columbus-Lowndes Chamber of Commerce President Lisa James reminded the students they will soon be among those who comprise the area's workforce.
"You will be our future employees and you will help build this community to greatness for generations to come," James said. "We just wanted to take today to say congratulations on everything you have accomplished so far. Good luck in the future and we look forward to seeing you in the workforce here in Lowndes County."