SCOOBA WELDING DEPARTMENT TO DONATE SCULPTURE
News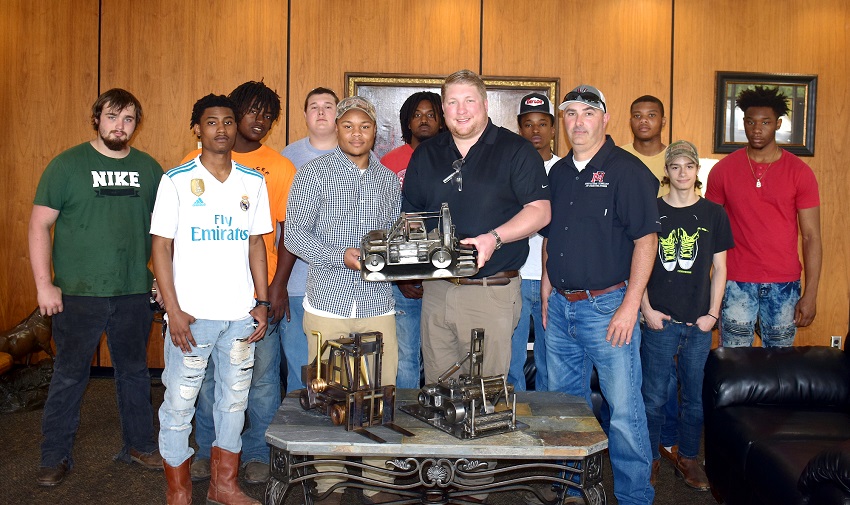 May 29, 2019
ARTICLE COURTESY OF THE WINSTON COUNTY JOURNAL
An award winning metal sculpture by an East Mississippi Community College student that depicts one of Taylor Machine Works most prominent machines will soon be donated and on display in the front lobby of Taylor Logistics.
EMCC Welding student Bryson Jenkins of DeKalb recently won first in Welding Sculpture in the Mississippi SkillsUSA Championships in Jackson for his miniature replica of a forklift built by Taylor Machine works. He earned the award for the sculpture's detail and challenging welding techniques used to construct it.
Jenkins is enrolled in the Welding program on EMCC's Scooba campus. Shane McDaniel of Louisville is the Welding instructor. This was the first year that students in the Welding program on EMCC's Scooba campus had ever participated in a welding competition, McDaniel said.
Other Mississippi SkillsUSA Championship winners with local connections from EMCC were Isaiah Woods and Dylan Copeland, who received first place in Chapter Display in the SkillsUSA Championship. Chanley McDaniel placed first in sheet metal and second in the state.
Jenkins, Woods and other welding students from EMCC recently toured the Taylor Machine Works Louisville plant with eyes on future employment.
The students asked many questions of Davis Taylor of Taylor Machine Works parts distribution subsidiary, Sudden Service, about the machines produced and work at the company, which has locations across the U.S.
The first-place winners at Mississippi SkillsUSA earned state championship titles and will advance to the national championships during the 55th National Leadership and Skills Conference June 24-28 in Louisville, Ky. Jenkins's sculpture will be entered in that competition.
More than 6,000 students from across the country will compete in 100 different trade, technical and leadership categories for national championship titles at the nation championships.
Jenkins and McDaniel plan to present the sculpture to Taylor Machine Works for display after the national welding competition.