WORK UNDER WAY ON NEW MEN'S RESIDENCE HALL
News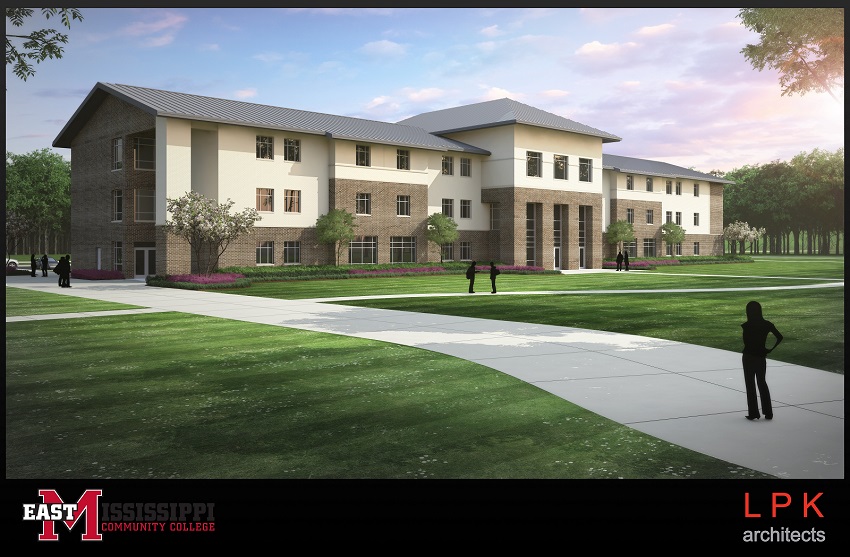 November 18, 2019
Site work has begun a new 148-bed, three-story student residence hall on East Mississippi Community College's Scooba campus.
"The demand for student housing on the Scooba campus has exceeded capacity for years, so students are asking for rooms we don't have," EMCC President Dr. Scott Alsobrooks said. "This will be a beautiful, modern building that will help meet that demand."
Construction on the 42,636-square-foot building is tentatively scheduled for completion in August of 2020. LPK Architects, P.A., which has offices in Meridian, Starkville and Gulfport, was hired to design the building. Tupelo-based Century Construction will perform the work.
EMCC's share of capital improvement bond money allocated by the state to Mississippi's colleges will pay for $5.5 million of the $11.5-million project. EMCC issued a local $6-million bond to make up the balance.
The brick residence hall will feature two wings separated by a main lobby, with identical front and rear entrances facing both the Dottie Smith Family Center for Instrumental Music Education building and the F.R. Young Student Union.
For now, the residence hall will be reserved for use by male students, but each wing of the building was designed to allow for limited access if the need arises to convert one wing into a women's dormitory.
Most of the dorm rooms will accommodate two students, with a couple of sole occupancy rooms that will be Americans with Disabilities Act compliant. Each room will be equipped with a bathroom and space will be available on the third floor for study halls or tutoring labs.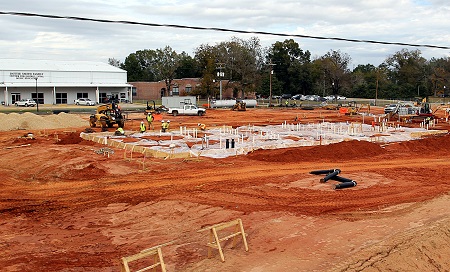 The building will be located at the site of the original Sullivan-Windham Field, where the EMCC football team hosted home games until the new state-of-the-art stadium opened in 2011.
The building at the old football field that housed a ticket booth, concessions and restrooms will be repurposed.
"One side of the building will be converted into a laundry mat and there will be an entertainment area in the other side where we can put ping pong tables or video gaming," Alsobrooks said. "That building is near and dear to the hearts of a lot of our alumni and it will be nice to rehabilitate it for use by future students."
Picnic tables and other outdoor amenities will be placed at the site of Virginia Gardens, which is dedicated to the wife of the late legendary EMCC football coach Robert Victor "Bull" Sullivan.
Student housing is only available at EMCC's Scooba campus, where there are enough beds to accommodate 584 students. Some of the residence halls are outdated and nearing the end of their usefulness. Plans are to eventually take down Lauderdale Hall and renovate Noxubee Hall. Some of the Katrina-style cottages used to house athletes will also eventually need to be replaced.
"Construction of the new dorm will give us time to plan for our next housing initiative and update our master facilities plan," Alsobrooks said.