EMCC STUDENTS INDUCTED INTO PHI THETA KAPPA
News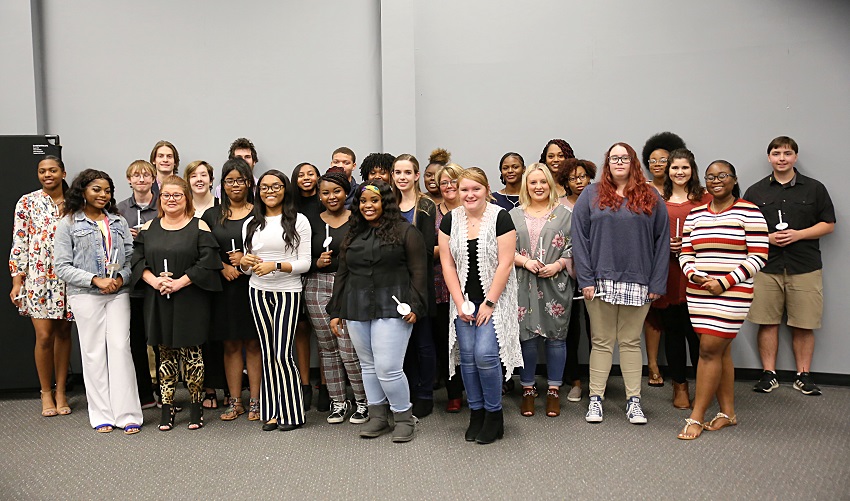 October 24, 2019
The Beta Iota Zeta Chapter of the Phi Theta Kappa Honor Society on East Mississippi Community College's Golden Triangle campus inducted new members Thursday, Oct. 24, in a ceremony in the Lyceum Auditorium.
The opening remarks were provided by Phi Theta Kappa faculty advisor Eric Ford. Mississippi State University Transfer Coordinator Katy Tucker was the ceremony sponsor. MSU Vice President for Student Affairs Dr. Regina Young Hyatt was the guest speaker.
Beta Iota Zeta chapter officers assisted in the ceremony. They are: Evalyn Bassett, Belle Ferrebee, Lori Jeffries, Camila Salazar, Peter Tran and Shana Walker.
Phi Theta Kappa's mission is to recognize the academic achievements of college students and to provide them opportunities to grow as scholars and leaders. Beta Iota Zeta is a Five Star Chapter, which is the highest possible ranking.
Forty-five students have joined the Beta Iota Zeta Chapter since Sept. 1. Seventeen of those students are also enrolled in the Golden Triangle Early College High School (GTECHS). Twenty-seven of the new Phi Theta Kappa members participated in the Thursday night ceremony. Here is a list of all the new members, broken down by county and city of residence:
CLAY COUNTY
Cedar Bluff: Makela Quinn (GTECHS)
Pheba: Kaleb Kellum (GTECHS)
West Point: Emily Allen, Brandi McDonald (GTECHS)
KEMPER COUNTY
DeKalb: Chase Cawthorn
Preston: Johne Brandy (GTECHS)
LOWNDES COUNTY
Caledonia: Kristina Desmidt (GTECHS), Christian Oswalt (GTECHS)
Columbus: Diamond Dickerson, Diamond Fisher, Nicole Haynes, Tylan Hinton (GTECHS), April Humphries, Krishuana Jethrow, Dominique Key (GTECHS), Makyah Lee (GTECHS), Jalyn Lofton (GTECHS), Christopher Mackey, Ayden Richardson (GTECHS), Carl Robinson, Shameria Roby, Amanda Rowley, Destiny Wells (GTECHS), Anna White, Azaria Young
Steens: Kia Jones
MADISON COUNTY
MARSHALL COUNTY
MONROE COUNTY
Prairie: Ciara Thomas (GTECHS)
NOXUBEE COUNTY
Brooksville: Tera Dora (GTECHS)
Macon: Tomyah Smith (GTECHS), Reagan Williams
OKTIBBEHA COUNTY
Starkville: Emily Beall, Tanner Bond, Lauren Brown, Mary Driskill (GTECHS), Fannie Kennard (GTECHS), Alison Lane, Kaelynn Mattison, Daniel McKay, Veronica Mullins
Sturgis: David Morgan
WASHINGTON COUNTY
WINSTON COUNTY
OUT OF STATE
Mason Johnson, Lake Village, Ariz.