PHI THETA KAPPA CHAPTERS GARNER RECOGNITION
News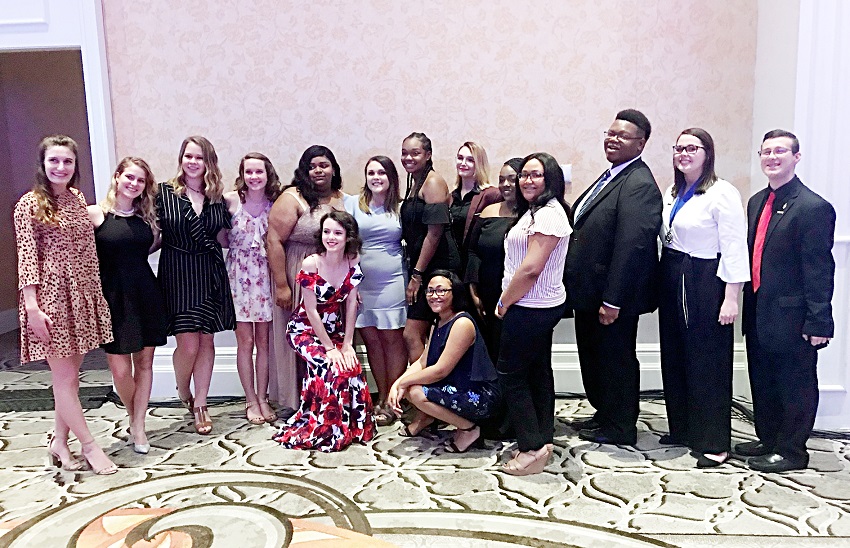 April 30, 2019
East Mississippi Community College's Phi Theta Kappa chapters on the Scooba and Golden Triangle campuses earned recognition at both the Mississippi/Louisiana Region Awards Gala 2019 March 1-2 at Mississippi State University and at PTK Catalyst 2019, the organization's annual international convention held April 4-6 in Orlando, Fla.
Both the Eta Upsilon chapter at the college's Scooba campus and the Beta Iota Zeta chapter on the Golden Triangle campus were named Five Star Chapters by Phi Theta Kappa International Honor Society. The Five Star Designation marks the highest level of achievement by a PTK chapter.
In addition, both chapters were named REACH chapters for excelling in membership development.
The Eta Upsilon chapter was also named a Most Distinguished Top 10 chapter at the regional gala and a Top 100 chapter at the convention in Orlando. Both designations were derived from the chapter's combined scores on the Hallmark Honors in Action project and College Project.
PTK students in the Eta Upsilon chapter worked on a year-long research project whose theme was "Powers of Connection: How are the ways we connect evolving and changing the world" for the Hallmark Honors in Action project, earning third place at the region awards gala. For the College project, the Eta Upsilon chapter members worked on recreational projects at EMCC's Scooba campus and in the town of Scooba, earning fifth place at the regionals.
Phi Theta Kappa is the world's largest honor society for students enrolled in two-year-colleges. Students invited to join must generally have a grade point average of 3.5 or higher. Students from chapters at both campuses attended the regional and international events, along with Scooba PTK advisors Janet Briggs and Derrick Conner and Golden Triangle campus advisors Alison Alexander and Eric Ford.
"I am really proud of our students and the work they have done," Briggs said. "We had a successful year."
Alexander, Briggs and Conner earned Five Star Advisor designations for completing extensive online curriculum study materials provided by Phi Theta Kappa.
Jordan White, a Phi Theta Kappa student on the Scooba campus, was recognized as an All Mississippi Academic Scholar and a 2019 Coca-Cola Academic Team Silver Scholar.
Gracin Sutton, a member of the Beta Iota Zeta chapter on the Golden Triangle campus, was presented a Get2College scholarship. Golden Triangle PTK member Blair Madison was recognized as a Dowell Leadership Scholar and a Coca-Cola Leaders of Promise Scholar.