EMCC PRACTICAL NURSING CLASS OF 2019 GRADUATES
News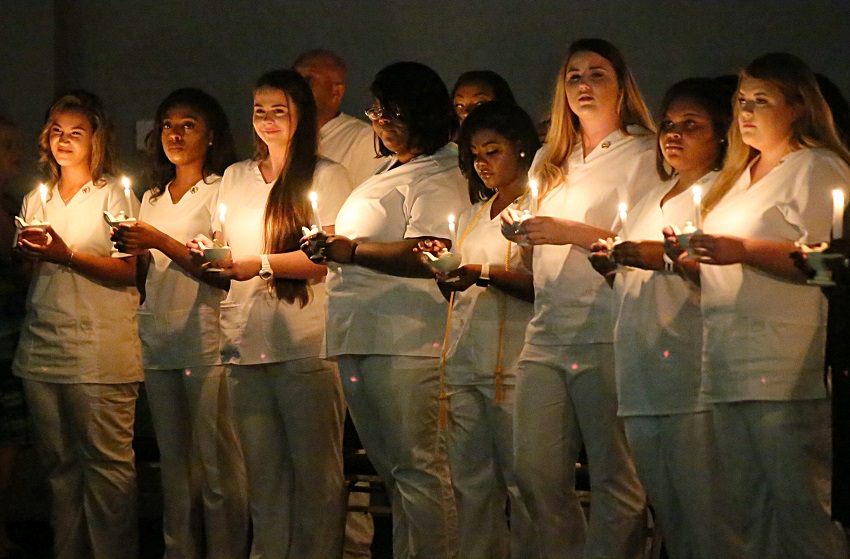 July 11, 2019
Twenty-seven students graduated from East Mississippi Community College's Practical Nursing program in a pinning ceremony the night of Thursday, July 11, in the Lyceum Auditorium on the Golden Triangle campus.
Several awards were presented with the highest honor going to Starkville resident Jesse Sorrell, who garnered the Florence Nightingale Award, which is awarded to the student who most embodies the spirit of nursing.
Sorrell also garnered the Leadership in Service Award and was among the Clinical Excellence Award recipients, along with Bernesha Pope, Aisha Smith, Kenley Hays and LaNicholas Ingram.
Pope was the guest speaker for the graduation ceremony.
Tylesha Moore was presented the Scholastic Achievement Award for earning the highest grade point average in the graduating class.
The Practical Nursing program is a 12-month course of study designed to prepare students to become licensed practical nurses. Students are taught nursing skills, nutrition, anatomy and physiology, human growth and development, pharmacology, maternal child nursing, emotional and mental illness, and medical/surgical nursing.
The 2019 graduates of EMCC's Practical Nursing program are: Jessica Bailey of Columbus, Andrea Bishop of Columbus, Rachel Bruce of Columbus, Davida Collins of Starkville, Danielle Disbrow of Macon, Heather Downs of Starkville, Tonia Epps of Columbus, Celeste Gray of Sturgis, Demarcus Green of Starkville, Kenley Hays of Starkville, LaNicholas Ingram of Louisville, Danielle Johnson of Brooksville, Debriel Knox of Columbus, Halley Lanier of Columbus, Tylesha Moore of Columbus, Bernesha Pope of Starkville, Chanequa Randle of West Point, Ashley Robertson of West Point, McKenzie Russell of Starkville, Samantha Sims of Macon, Aisha Smith of Starkville, Jessie Sorrell of Starkville, Ken-Yetta Stallings of Starkville, LaPrecious Tabb of Starkville, Mandi Tallent of Columbus, Leah Watson of Eupora, and Caitlin Williams of Columbus.