EMCC NURSING AND ALLIED HEALTH CONDUCTS MEDICAL SIMULATION
News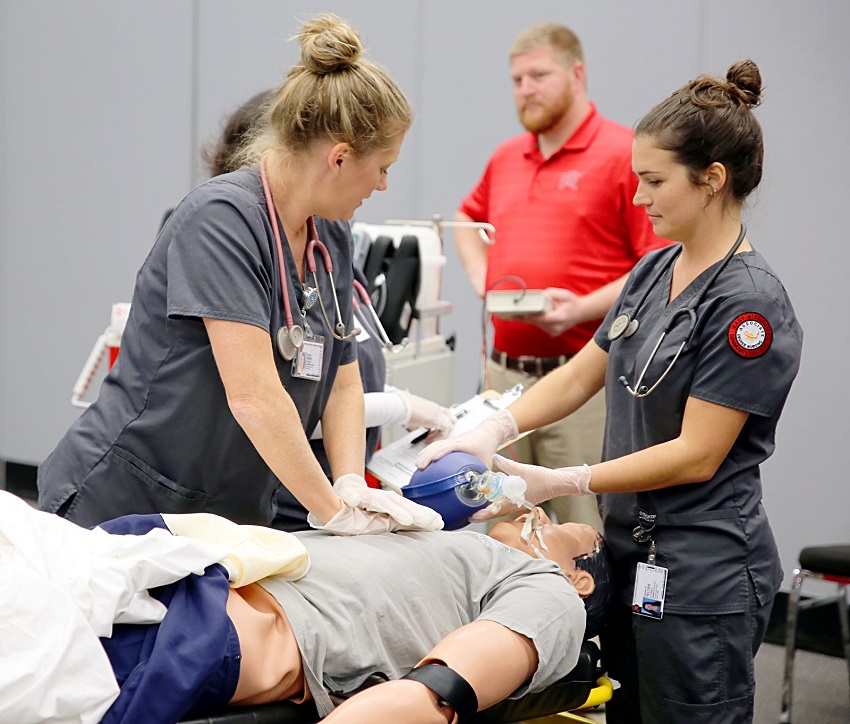 October 18, 2019
Students enrolled in all of East Mississippi Community College's Division of Nursing and Allied Health programs took part in a large-scale simulation in which a patient suffering a medical emergency was transported by paramedics and emergency medical technicians to the emergency room and sent to a catheterization lab before winding up in the operating room.
The "patient" was actually a series of specialized mannequins used for medical training purposes and the properly equipped emergency room, operating room and catheterization lab were set up in the Lyceum Auditorium on EMCC's Golden Triangle campus during the two-day training event that took place Oct. 16-17.
EMCC Division of Nursing and Allied Health staff led the exercise in which students in EMCC's Associate Degree Nursing, Emergency Medical Technician, LPN to RN, Paramedic, Practical Nursing and Surgical Technology programs were tasked with diagnosing the patient's condition and performing necessary medical treatment.
The training exercise was the first "collaborative simulation" for the Division of Nursing and Allied Health in which students worked with their peers enrolled in other medical programs.
"The feedback we are hearing from our advisory board is that we need more collaborative efforts like this because our students need to know how to work with other entities," Associate Degree Nursing instructor Terasa Harpole said.
Six training exercises were conducted over the course of two days, with about 160 students in the Division of Nursing and Allied Health both participating and serving in the role of observers. High School students from the Lowndes County School District's Allied Health programs also attended the training event.
"We want to involve other medical agencies in the future but we felt it would be best if we conducted the first one so we can make any needed improvements," Harpole said.
The patient's medical emergency was changed up during the simulations. During one simulation the patient suffered a heart attack, or cardiac arrest, and ultimately expired on the operating room table.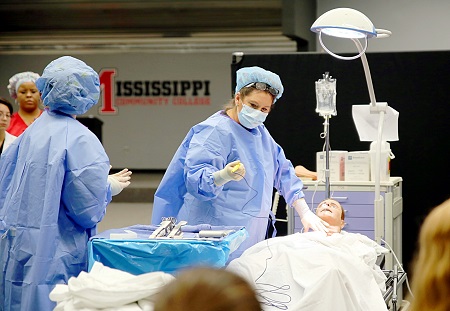 When the patient's daughter was informed by the physician that her father had died, overwrought, she proceeded to give the operating room physician and attending nurses a difficult time. The part of the patient's daughter was played by Practical Nursing instructor Jamonica Johnson, while Associate Degree Nursing instructor Karen Taylor enacted the part of the operating room physician.
Carter's Funeral Services, which took part in the collaborative simulation and showed up with a hearse that was parked outside the Lyceum, was on hand to console the woman and make necessary funeral arrangements.
"Collaborative simulations are important in that they expose students to situations they will encounter once they enter the workforce," EMCC Division of Nursing and Allied Health Director Dr. Tonsha Emerson said. "Once they begin work in a medical setting, they will need to collaborate with medical staff across differing departments and units. This way, they have a better understanding what to expect when that time comes."