EMCC INSTRUCTOR EARNS EDUCATOR OF YEAR HONORS
News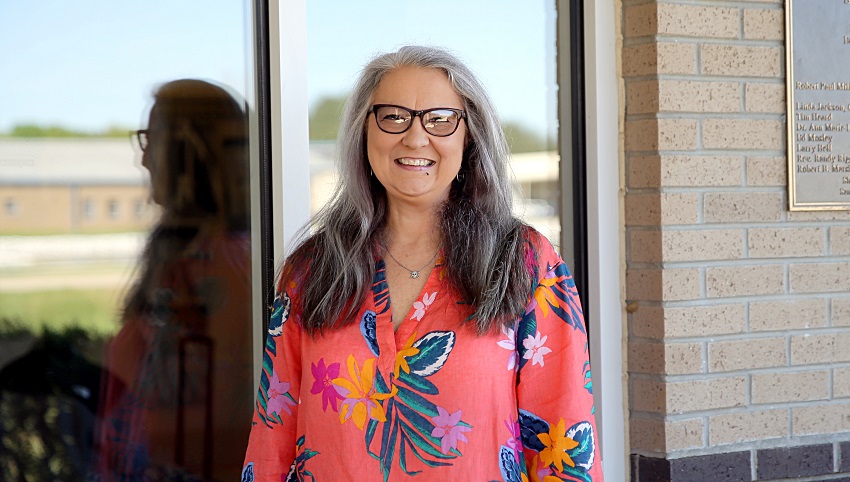 April 11, 2019
East Mississippi Community College humanities instructor Marilyn Ford was named a 2018-19 Educator of the Year by the Columbus Lowndes Chamber of Commerce.
Ford was among area students and educators honored during the chamber's annual Education Awards Program that took place April 4 at the Mississippi University for Women Pope Banquet Hall.
At the event, outstanding high school seniors were presented awards, as were students from the Columbus Municipal and Lowndes County school districts who earned the highest grade point averages in their respective classes. Program sponsors also awarded scholarships to some students. In addition to Ford, other recipients of the Educator of the Year awards included a professor at MUW and an elementary school, a middle school and a high school teacher.
"I am truly honored to be among those chosen for this recognition," Ford said. "I am also grateful to the Columbus Lowndes Chamber of Commerce for celebrating the efforts of our students and teachers."
Ford is in her 23rd year as an instructor at EMCC, where she teaches creative writing, literature and composition. She wears many hats in addition to her teaching duties.
Ford is the president of the Faculty Association and lead editor of the English Department's reference guide for English Composition classes. Recently, she spearheaded the college's launch of the Learning in Our Neighborhood, or LION program, which provides adult residents the opportunity to take noncredit courses on a wide range of topics.
She also compiles and publishes "Syzygy," EMCC's annual magazine celebrating the arts, which earned first place in 2017 and in 2018 in the Mississippi Community College Creative Writing Association's annual workshop and contest.
"Marilyn Ford is an amazing instructor and a consummate professional," EMCC Dean of Students Gina Thompson said. "She pours her heart and soul into teaching her classes and her students respond.
"When we need someone to assume extra responsibilities, Marilyn is always ready to help out. She was already really busy with her English classes, which are exhausting to teach because it is constant paper grading, but she volunteered to be the coordinator for the LION program, which is brand new on our Golden Triangle campus. It has been a whirlwind for her trying to get this program off the ground but she has done an amazing job."
A West Point native, Ford earned a bachelor's degree in English at MUW and a master's degree from Mississippi State University in English, with a concentration in British Literature. In 1984, she joined the U.S. Marines while still enrolled at MUW, returning to complete her studies after serving in the military as a message carrier and administrative clerk at III MEF Headquarters in Okinawa, Japan.
In October 2017, Ford's service to her country was recognized by Driven 2 Honor program founder and NASCAR Camping World Truck Series driver Jennifer Jo Cobb at Talladega Superspeedway during Fred's 250, a playoff elimination race.
Driven 2 Honor is a nonprofit organization that caters to the needs of homeless veterans, according to the agency's website. Since its founding, the organization has saluted the contributions of hundreds of former and active duty female members of the military.
"It was way cool," Ford said of the experience.
Ford is the daughter of Gailon and Maudie Young, who reside in West Point. Maudie Young said her daughter has always been driven to excel.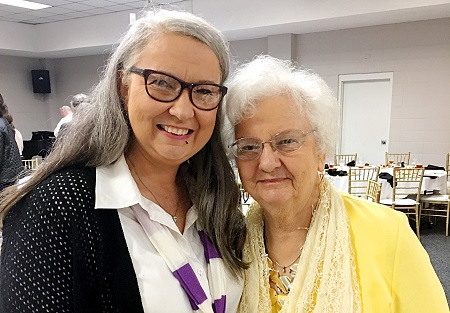 "She always took a big part in whatever she was involved in and gave it 100 percent," Maudie Young said.
She was not surprised at her daughter's choice of career.
"She has always been interested in English and I felt like that would be her career all the way through high school," said Maudie Young, who accompanied her daughter to the Columbus Lowndes Chamber of Commerce Education Awards Program. "We are so proud of her."
Ford resides in Columbus with her husband, Eric Ford, an EMCC biology instructor and former recipient of the chamber's Educator of the Year Award.
"It is such a neat event," Ford said of the awards program. "It is really special to see all the kids from Columbus and Lowndes County schools honored."