EMCC TO HOST DIGITAL SYMPOSIUM, LAN PARTY
News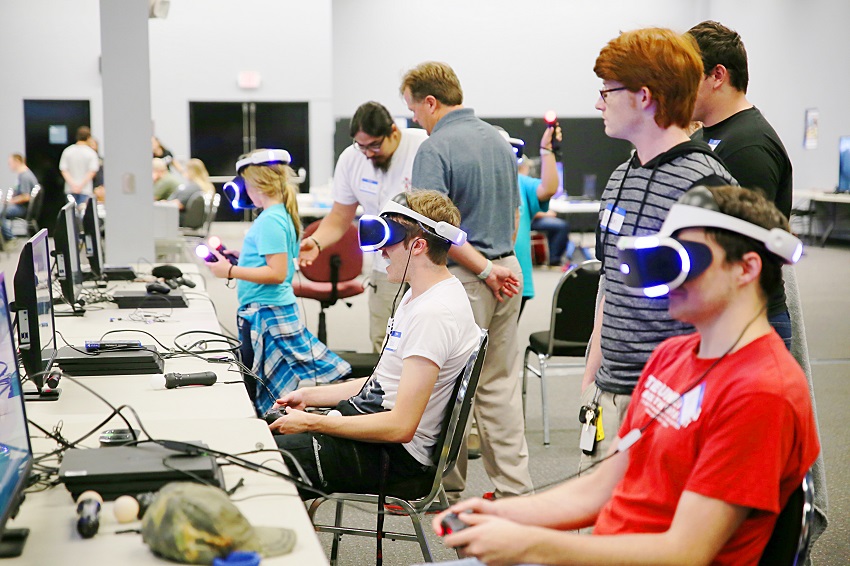 February 21, 2019
East Mississippi Community College's Information Systems Technology Department and the student-led Association of Information Technology Professionals will host a Digital Symposium Thursday, Feb. 28, to showcase emerging technologies to area businesses, industries and high school students. That event will be followed by a Local Area Network, or LAN, party for gamers the following night on Friday, March 1.
Both events will take place in the Lyceum Auditorium on EMCC's Golden Triangle campus.
The Digital Symposium runs from 8 a.m. to 5 p.m. and is open to the public. There is no cost to attend. Attendees will be able to experience the latest trends in virtual reality, augmented reality and 3D printing. Information will also be available about new developments in areas such as cybersecurity, networking and programming.
"Anybody from the general public, industry or business who wants to know more about technology and how it has progressed is encouraged to attend," EMCC Information Systems Technology Director Brandon Sesser said.
EMCC students, faculty and staff are also invited to attend, as are high school students interested in a career in one of the computer fields.
"We are inviting area high schools to bring between 40 and 50 students who are interested in Information Technology so they can learn more about our programs and try out some of our new equipment," Sesser said.
The LAN party will run from 6 p.m. to midnight March 1 and will include a gaming tournament and activities for the general public. Doors open at 5 p.m. for those who wish to bring and set up their own PC, console or gaming equipment. There is a $5 admission fee for students, with food and drinks available for $5. Admission for the general public is $10.
There will be both PC and console games available for play, as well as tabletop and card games. Starkville-based Down to Game will be on hand to show attendees how to play different board games and card games.
There will also be 20 Lenovo virtual reality headsets, five HT Vive headsets, five PS4 Pros, 15 Mixed Reality headsets and 10 DAQRI augmented reality headsets available for use.
A gaming tournament with a grand prize is also planned. Possible tournament games include Fortnite and PlayerUnknown/PUBG. Those who wish to preregister for the gaming tournament can do so online at http://ist.eastms.edu/lan.htm.
For more information about the Digital Symposium or the LAN party, contact Sesser by email at bsesser@eastms.edu or by phone at 662.312.8114.