EMCC KIDS CULINARY CAMP A HIT WITH BUDDING CHEFS
News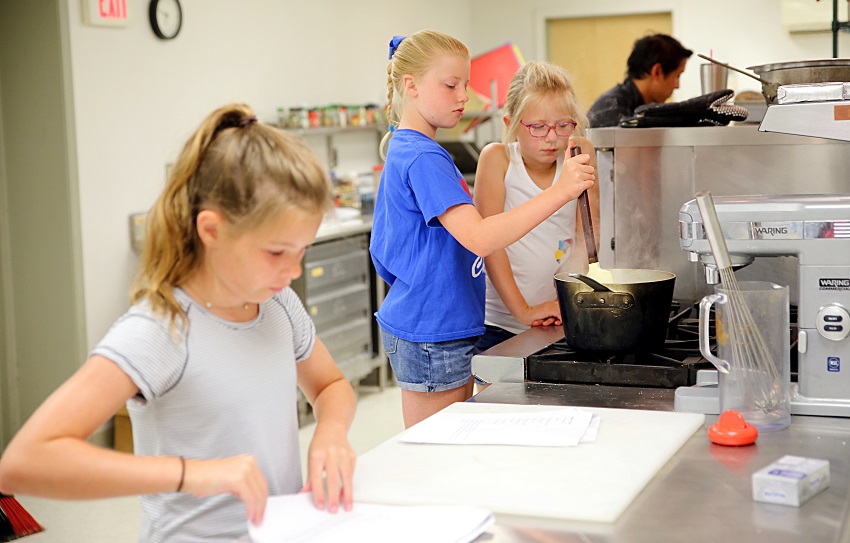 May 31, 2019
Columbus resident Abby Edwards attended her first East Mississippi Community College Kids Culinary Camp at the college's Lion Hills Center two years ago when she was 8 years old.
She enjoyed the summer camp so much she returned again this year and brought several of her friends with her.
"I love baking and my parents like it when I bring food home to them," Abby said. "I think one of my favorite things we are going to learn to make this year is going to be donuts."
Children in the camp are taught to plan a menu, bake various breads and pastries and prepare different dishes. The first day of camp is always spent making bread, EMCC Culinary Arts Technology Program Director Shannon Lindell said.
"The dough is fun to play with and it gives me time to assess their skill levels and customize what we will be doing for the rest of the week," Lindell said. "This is a very high-skill group and we are actually working on some of the recipes used in our college classes."
There are no boxed or canned goods used in preparing the food items. Everything is made from scratch. On day three of the four-day camp, the children cooked Asian food. The dishes they prepared included chicken teriyaki, fried rice, sautéed shrimp, cream cheese won ton soup, General Tso's chicken, lo mein noodles and Japanese honey cake.
"I let the kids take the lead on what they would like to learn how to cook," Lindell said. "That way they are getting to make things they want to make and they are more involved if they are in on the planning process."
This was the first of four Kids Culinary Camps at the Lion Hills Center this summer. This camp is for children in first through fourth grades, as is one that runs from June 11-15. Two camps are also planned for children in fifth through eighth grades.
Lindell said she tries to limit the number of children in the camps to eight so she and Culinary Arts instructor Doan Truong can ensure each child is getting individual attention.
"We let them do everything themselves but we guide them on how to do it," Lindell said. "If they need something measured, we will show them how to measure it but we want them to do it. They are very impressive in what they can do if you just let them loose."
Izzy Gilman, 10, who moved to Columbus two years ago with her parents from Perth, Australia, was among the students enrolled at the camp.
"I have always loved cooking so it is a really fun class," Izzy said. "The breakfast foods are probably what I have enjoyed learning to make the most, especially the cinnamon cake."
As of Friday, May 30, there were two spots left in the June 18-21 Kids Culinary Camp for children in fifth through eighth grades. For more information call 662.328.4837 or email Lion Hills Center Director Cheryl Hubbard at chubbard@eastms.edu.
Visit www.eastms.edu and look for "Summer Camps" under the "Programs" tab for a list of all EMCC summer camps.