JORDAN WHITE ACCEPTED INTO RURAL PHYSICIANS SCHOLARSHIP PROGRAM
News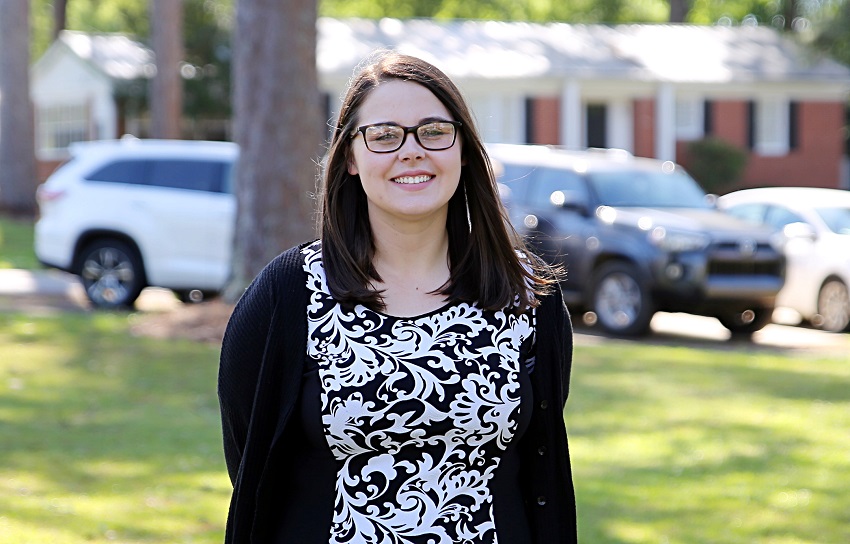 April 29, 2019
East Mississippi Community College sophomore Jordan White has been accepted into the Mississippi Rural Physicians Scholarship Program (MRPSP) designed for students living in sparsely populated areas of the state who agree to practice medicine in a rural setting for a certain number of years once they obtain their degree.
"I am so excited," White said. "I will get to work with other students my age who are interested in rural medicine and shadow different physicians to gain medical experience from them."
White of DeKalb, who graduates from EMCC May 4, plans to attend Mississippi State University over the next two years and hopes then to enroll in the University of Mississippi Medical Center's School of Medicine to obtain a doctorate in Family Medicine.
White was accepted into the pre-matriculation portion of the MRPSP for undergraduates which, among other things, provides materials and practice tests for the Medical College Admission Test (MCAT), mentoring by rural physicians, medical workshops at UMMC School of Medicine, membership in the Mississippi Rural Health Association and rural clinical experience.
"The MCAT materials alone that they are providing are very expensive and will be invaluable," White said.
She has also received early assurance into the UMMC School of Medicine and received a letter from that school's Admissions Committee stating she has been offered a reserved seat for the incoming class in the fall of 2021 as long as she satisfactorily completes the MRPSP requirements.
Even if she is not accepted into the UMMC School of Medicine through MRPSP, White can still apply to the medical school as a normal student.
White is also a preferred candidate for the MRPSP's medical or osteopathic school phase, which she will apply for once she finishes her undergraduate studies. If accepted, she will be eligible to receive a scholarship of up to $30,000 a year.
"Basically, it would pay for my medical school," White said. "That is only if I get in and go into that discipline and work in a rural community, which is what I plan to do anyway. I have been told that just because you are approved for the undergraduate portion of the Mississippi Rural Physicians Scholarship Program it does not guarantee you will be accepted for the graduate portion but it does greatly increase your odds if you do well on the MCAT and keep your grades up."
Students awarded the medical or osteopathic phase of the MRPSP must complete their residency training in family medicine, pediatrics, combined medicine-pediatrics, obstetrics-gynecology or general internal medicine. Additionally, they must enter a clinic-based practice in a community of 20,000 or fewer residents that is located more than 20 miles from a medically served area, according to the MSPRP website. They must serve in that area for an amount of time equal to the number of years they received the scholarship funding.
Only 22 students in the state are accepted into the pre-matriculation portion of the MRPSP each year, according to the program's website. Applicants for the highly competitive scholarship program must interview with a program official and a practicing physician.
"The third round of interviews consisted of multiple mini interviews," White said. "There were 10 stations and at each station you had a different medical topic they gave you and you had eight minutes to talk about it. They are not supposed to give you any feedback. It is hard to talk to somebody when they are staring at you and not saying anything but it was really fun."
White, who is the daughter of Johnny and Suzanne White of Kemper County, said she has always wanted to be a rural physician. Her mother, brother, sister, aunts and grandmother are all nurses.
"I have always wanted to help people and there is a need for physicians, especially in small towns," White said. "I have always wanted to practice medicine in a small town. I love rural Mississippi. I have always loved going to a store where you see people you know. It just has a family feel to it. That is one of the main reasons I came to EMCC's Scooba campus."
In March, White was among 50 students nationwide named a 2019 Coca-Cola Academic Team Silver Scholar. President of the Eta Upsilon chapter of Phi Theta Kappa on EMCC's Scooba campus, White was named Most Distinguished Chapter President during the Mississippi/Louisiana Region 2019 Awards Gala held March 1-2 at Mississippi State University and at the PTK Catalyst 2019 convention in Orlando, Fla.
In February, she was named the student recipient of EMCC's HEADWAE (Higher Education Appreciation Day, Working for Academic Excellence) award for her academic excellence. White is also a student ambassador, president of the Student Government Association and vice president of the Math and Science Club.
EMCC Humanities instructor Janet Briggs called White "one of a kind."
"From the first moment I had her in class, I knew that there was something special about Jordan," Briggs said. "Little did I know this 'something special' carried over into every facet of her life. She is so deserving of this honor."