EMCC'S GINNY LEONARD RECIPIENT OF HUMANITIES TEACHER AWARD
News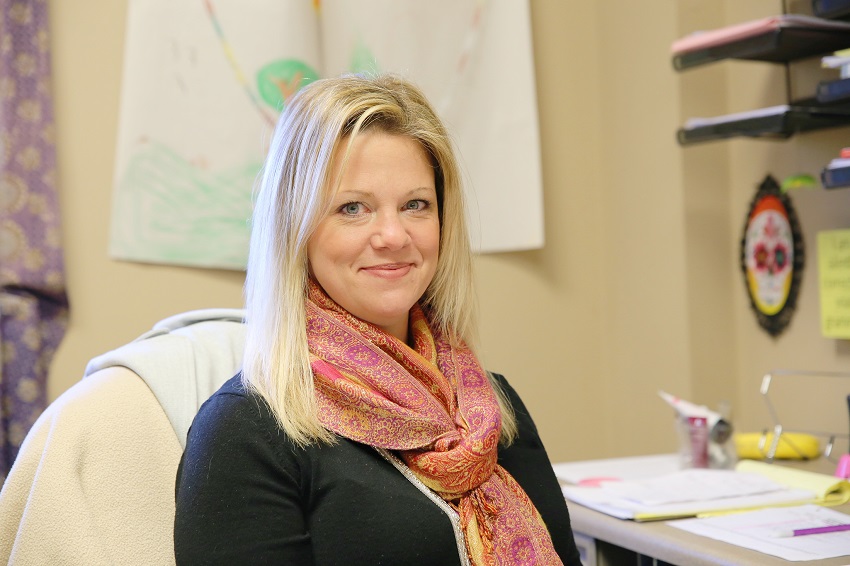 January 10, 2019
East Mississippi Community College English instructor Ginny Leonard is the recipient of this year's Humanities Teacher Award.
"Ginny is an excellent instructor and is well deserving of the award," EMCC Associate Dean of Instruction Gina Thompson said. "She is always looking for ways to improve so her students get the best experience possible in her classroom."
Each year the Mississippi Humanities Council presents the award to humanities faculty at each of the state's colleges and universities. The recipients will be recognized April 5 at the Mississippi Humanity Council's annual Public Humanities Awards ceremony at the Old Capitol Museum in Jackson.
Humanities Teacher of the Year Award recipients are nominated each year by their respective institutions' presidents or department deans. Recipient receives a $400 cash award.
Each recipient of the Humanities Teacher Award is required to prepare and deliver a public lecture. Leonard's lecture will be Thursday, March 21, at 3 p.m. in the Center for Manufacturing Technology Excellence in Seminar Room 134. The event is free and the public is encouraged to attend, as are the college's students, faculty and staff. A reception will follow.
Leonard's lecture, titled "Literature in Relief: Healing the Human Spirit" will focus on the healing aspect of the written word.
Leonard teaches English Composition I and II and Intermediate English and has also taught literature courses in the past. She first began work at EMCC in 2006 as a part time Adult Basic Education instructor shortly before Sara Lee Corporation closed its Bryan Foods plant in West Point, helping students prepare for the high school equivalency and ACT tests.
"After Bryan Foods closed, we had a huge influx of people, many of whom did not have basic literacy skills," Leonard said. "Many of them had dropped out of high school to work at the plant making $20 an hour. They thought it was going to last forever. It was a very trying job but rewarding as well."
It was during that period as an ABE instructor that Leonard experienced one of her most memorable moments as an educator, which was precipitated by her introduction to "Mr. Sam," an illiterate gentlemen she guessed at the time to be in his 70s. Mr. Sam had been attending EMCC for a couple of years prior to Leonard's arrival with a goal of earning his GED.
"He had gotten to the point where he realized he was not going to be able to earn his GED but he really wanted to learn to read," Leonard said.
Mr. Sam's desire was to not only to learn to read but to complete a book from cover to cover. She and Mr. Sam began what turned out to be a long, arduous task of reading John Grogan's "Marley & Me: Life and Love with the World's Worst Dog."
"I would read two sentences and Mr. Sam would read two sentences," Leonard said. "It probably took us a year."
The day they were slated to finish the book, Leonard had arranged a surprise reception for Mr. Sam that was attended by then EMCC President Dr. Rick Young.
"As we finished the book, Mr. Sam and I were both boohooing," Leonard said. "We opened a door and there was the president of the college."
But it was what Mr. Sam told Leonard afterward that left an indelible imprint. A divorcee whose children were grown and had moved away, Mr. Sam had no one at home.
"He pulled me aside after the reception and said, 'Miss Ginny, I want you to know how much this means to me. Now when I go home at night and am tired of watching television, I don't have to be alone. I can read now.'
"He couldn't even be in close contact with his faith because he couldn't read his Bible and that was important to him. Now he could. That was pretty profound for me. It still is."
Leonard discovered the power of books at an early age. Her family was not particularly well off and did not travel much but she found she could experience the world through the writings of others.
"I couldn't go to Italy but I could read about it," Leonard said. "Through reading you learn about human beings and how we all behave and how we all react simply by being exposed to different things."
Her interest in the insights books provided about the shared human experience proved, in part, to be the impetus for her pursuit of advanced degrees in English. A Booneville High School graduate, Leonard earned an associate's degree from Itawamba Community College and graduated from the Mississippi University for Women in 2004 with a major in English and a minor in secondary education.
She earned a master's degree in English (literature) from Mississippi State University in 2007. In 2011, Leonard began teaching fulltime at EMCC.
She resides in Columbus with her husband of nine years, Wade Leonard; their two sons, Mark and David; and an extended family that consists of five cats and a dog.