GTECHS STUDENTS RECOGNIZED DURING AWARDS DAY
News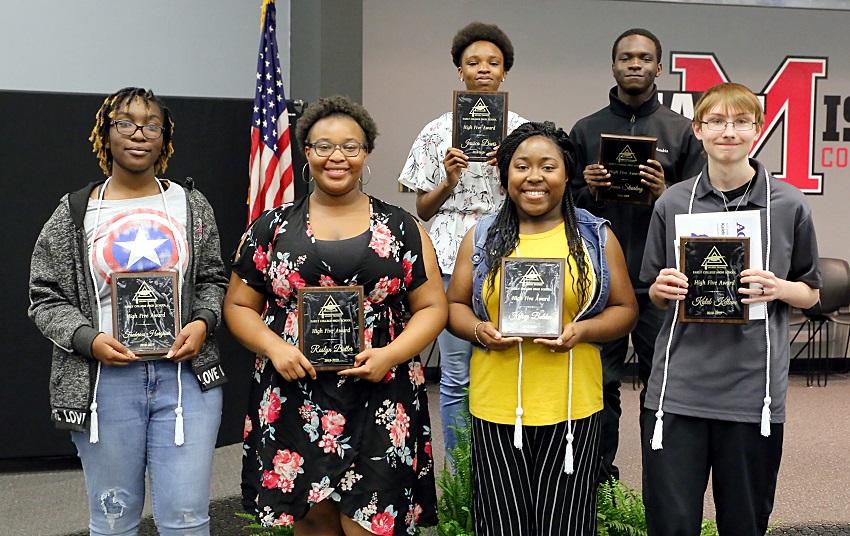 May 13, 2019
The Golden Triangle Early College High School held an Awards Day May 13 for students in 9th, 10th and 11th grades in the Lyceum Auditorium on our Golden Triangle campus. Students were recognized for academic excellence and other achievements throughout the year.
Here is a list of the students and what they were recognized for:
GTECHS Ambassadors
Freshman: Destiny Jones
Sophomores: Tomyah Smith, Lily Adam, Ayden Richardson, Oliver Lofton, Kody Rickert
Juniors: Angelique Wilson, Shandria Rambus, Jessika Harkins, Abby Shaw, Kaitlin Williams
2019-20 Lowndes Young Leader: Samya Brooks
2019 College Prep Scholar: Nyshedra Jordan
Math Awards: Brianna Burrage, Algebra 1; Abby Romig, Geometry; Domonique Key, Algebra II
English Awards: Abby Romig, 9th grade; Katelyn Stevenson, 10th grade, Anayiah Weatherspoon, 11th grade.
Science Awards: Abby Romig, Biology I; Kaely Fenton, Anatomy and Physiology; Bre Desmidt, Chemistry.
ACT Prep: Oliver Lofton
History Awards: Abby Romig, U.S. Government and Economics; Xavier Eacholes, U.S. History
Borlaug Scholars: Ashref Abdulla, Samya Brooks, Roslyn Butler, Mylor Hammond, Frederica Hargrove, Destiny Jones, Keith Peoples, Gabe Phillips, Alex Provencher, Mary Redman, Abby Romig, Aymelia Stevenson
State Science Fair participants: Jordan Gillespie, Jessika Harkins, Keyira Williams, Destiny Kayla Jones, Mary Redmon, Jordan Rowan, Abby Shaw, Angel Wilson, Angela Williams, Kaitlin Williams
PRIDE Awards
Freshmen: Ashref Abdulla, Calvin Bailey, Kyndall Barnett, Shakyus Brewer, Samya Brooks, Honor Brown, Brianna Burrage, Roslyn Butler, Jonena Cane, Sarah Clark, Jonathan Conner, Antjuann Davis, Braylen Dawson, Jalaya Evans, Mason Gerberg, Mylor Hammond, Frederica Hargrove, Zion Harris, Joshua Helton, Lashundra Henley, Jerry Hill, Benjamin Horn, Jr., Jaelyn Johnson, Alandria Jones, Paulina Leyva, Makalynn Martin, Jada Mason, Kaland Mobley, Aseania Moten, Dixie Mullen, Julie Nichols, Satterra Nicholson, Kenya Peoples, Gabriel Phillips, Larry Pierson, Robert Provencher, Mary Redman, Jazzman Rice, Abby Romig, Jordan Rowan, Kylen Savors, Hannah Self, Makayla Shepherd, Josiah Smith, Sarah Sonnier-Sudduth, Kelsey Stanford, Zoe Stevens, Aymelia Stevenson, Katelyn Stevenson, Janna Taggart, Aaliyah Young
Sophomores: Lily Adam, Joshua Ashford, Raven Black, Kelsey Bolden, Johne' Brandy, Natyia Brooks, Ajah Clemons, Danny Crawford, Kristina Desmidt, Shawna Diggs, Kawn Dixon II, Tera Anna Dora, Mary Driskill, Xavier Eacholes, Kaely Fenton, Marissa Gilmore, Tylan Hinton, Jarius Hudgins, Quentin Jamison, Tyquisha Jefferson, Ismenia Juarez, Kaleb Kellum, Dominique Key, Micaiah Latham, Makyah Lee, Jalyn Lofton, Mollie Lyons, Brandi McDonald, Madison McGrew, Jordan Mize, De'Ana Neal, Christian Oswalt, Madalynn Pettit, Antonio Phillips, Loren Porter, Abbigail Poteet, Samya Prater, Peyton Price, Makela Quinn, Anthony Ray, Acrissa Reese, Ayden Richardson, Kody Rickert, Nicholas Ross, Hannah Shinalt, Katelyn Smith, Tomyah Smith, Jeremiah Stanfield, Sherquesha Stewart, Sara Grace Strickland, Clara Thomas, Zayanna Turnipseed, Brook Vickery, Kami Warren, Destiny Wells, Tristan Williams.
WorkKeys
Silver: Josh Ashford, Raven Black, Johne Brandy, Ajah Clemons, Bri Desmidt, Kawn Dixon, Tera Dora, Jarius Hudgins, Quentin Jamison, Bryson Johnson, Ismenia Juarez, Kaleb Kellum, Dominique Key, Micaiah Latham, DeAna Neal, Maddye Pettit, Antonio Phillips, Anthony Ray, Acrissa Reese, Hannah Shinault, Tomyah Smith, Sherquesha Stewart, Sara Grace Strickland, Ciara Thomas, Brooke Vickery, Kami Warren
Gold: Tylan Hinton, Mollie Lyons, Brandi McDonald, Madison McGrew, Christian Oswalt, Makela Quinn, Kody Rickert, Wesly Sims, Katelyn Smith, Jeremiah Stanfield, Destiny Wells, Tristan Williams
Platinum: Xavier Eacholes, Marissa Gilmore, Oliver Lofton, Peyton Price
High Five Awards: Frederica Hargrove, Roslyn Butler, Kelsey Bolden, Kaleb Kellum, Jessica Davis, Juvon Stearling
Wildcat Awards: Jalaya Evans, freshman; Ajah Clemmons, sophomore; Simas Johnson, junior
Spirit of GTECHS: Abby Romig, freshman; Ismenia Juarez, sophomore; Alice Mullins, junior
Perfect Attendance
Freshmen: Samya Brooks, Sarah Clark, Frederica Hargrove, Dixie Mullen, MaKayla Sheppard, Aliyah Young
Sophomores: Lily Adam, Raven Black, Kelsey Bolden, Bre Desmidt, Ismenia Juarez, Kaleb Kellum, Domonique Key, Micaiah Latham, Makyah Lee, Madison McGrew, Jordan Mize, Christian Oswalt, AnTonio Phillips, Acrissa Reese, Ayden Richardson, Tomyah Smith, Jeremiah Stanfield, Sherquesha Stewart, Brooke Vickery, Destiny Wells-Thomas
Juniors: Kelly Self, Anayiah Weatherspoon, Angela Williams, Genesis Woods