EMCC CONDUCTS GRADUATION CEREMONIES
News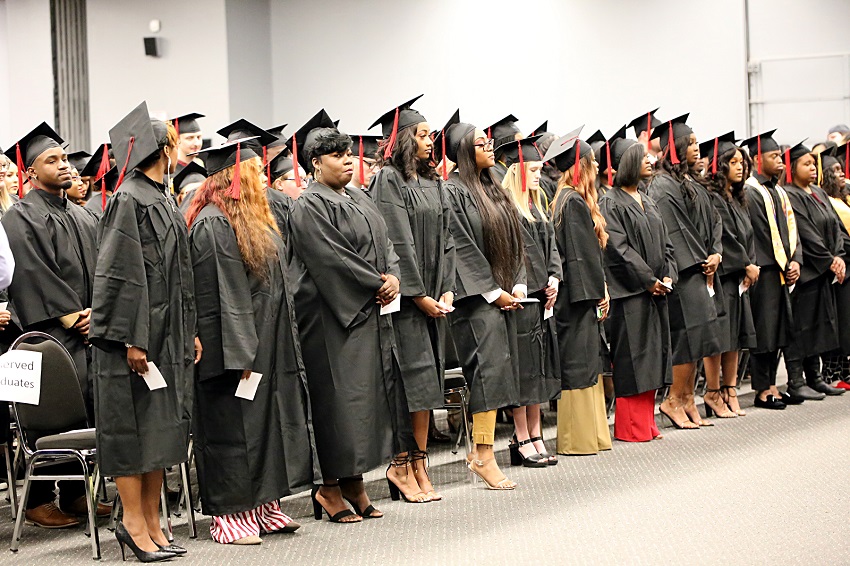 December 16, 2019
East Mississippi Community College held fall 2019 commencement ceremonies Friday, Dec. 13, at the college's Scooba and Golden Triangle campuses for about 300 students. The graduating class included students from academic and career-technical programs.
In addition to online/eLearning classes, EMCC offers classes at its Scooba, Golden Triangle, Columbus Air Force Base, Naval Air Station Meridian, Lion Hills, Macon and West Point Center campuses.
During the commencement ceremonies, EMCC President Dr. Scott Alsobrooks encouraged students to pursue their dreams.
"It is up to you to define success," Alsobrooks said. "For you, that may mean the accumulation of wealth, or to a lesser degree, financial stability. You may aspire to be an agent for social or political change. Perhaps you want to make a difference in other people's lives.
"If you haven't done so already, figure out what it is you want out of life and go get it. If you discover you are on the wrong track, change direction. Take charge of your lives."
Here is a list of students who applied for graduation broken down by the counties and cities in which they reside:
Mississippi
Adams County
Natchez: Shavoke Herrington, Ernest Woods
Calhoun County
Chickasaw County
Houston: Alisha Hardin
Okolona: Jermaine Brown
Choctaw County
Ackerman: Missceelee Ashford, Robbie Bramme, Alundra Davenport, Leah Fondren, Matthew Lawson, Arthur Norwood, Aldridge Taylor, Samuel Williamson,
Weir: Amanda McKnight
Clay County
Cedarbluff: Jessica Poe
Pheba: Antrayvious Brownlee, Breneshia Brownlee, Adan Tamez
West Point: Emily Allen, Jessica Barnes, Unisa Bell, Jason Brownlee, J'shunna Calvert, Terence Cherry, Kaecia Collins, Yashia Davis, Amber Franks, Shakerria Lane, Marquita Ledbetter, Monique Matthews-Bradshaw, Tia McCrary, Amber Pennington, Austin Pennington, Ashley Pollard, Audrianna Randle, Samitra Shaffer, Lanika Temple, Aaliyah Walker, April Walker, Chandler Watson, Jada Webb, Amber White
Copiah County
Crystal Springs: Madeline Tovar
DeSoto County
Horn Lake: Ariel Harris
Olive Branch: Jacobi Sherrod
Grenada County
Hancock County
Harrison County
Gulfport: Jaquarius Moore, Zachary Mozingo
Hinds County
Jackson: Ka'randall Baker, Phequan Johnson, Hayley McCann, Jai'la Williams
Raymond: Cameron Parker
Jackson County
Ocean Springs: Brett Burton
Pascagoula: Illyan Scott
Jones County
Laurel: India Jones
Ovett: Blake Lowery
Kemper County
DeKalb: Kiandrea Cherry, Marlicia Gale, Peyton George, Jakayla Houston, Jamarcus Johnson, Asianeka Little, Rebecca Mowdy, Dorsey Bourrage, Chase Cawthorn, Breanna Odom, Jokobey Smart
Porterville: Anastasia Bryant, Raymod Davis, Jered Gibbs
Scooba: Labrielle Baylor, Jordan Green, Jenna Hailey, Niah Harris, Jada Marshall, William Owen
Lafayette County
Oxford: Christopher Terrell
Lauderdale County
Bailey: Brandon Daugherty
Collinsville: Alexandria Brown
Lauderdale: Shikira Blanks
Marion: Terraline Green
Meridian: Emma Biddles, Cade Cooksey, William Griffith, Jacob Hoffer, Deuntra Hyman, Emily Mann, Raven McShepard, Ladarius Shoemaker
Lee County
Saltillo: Ebony Threat
Shannon: Latoshia Dilworth
Tupelo: Austin Morphis
Lowndes County
Artesia: Shykia Jamison
Caledonia: Elizabeth Boykin, Alika Brackett, Halley Burchfield, William Burton, Timothy Davis, Christy Gartman, Robert Jacobs, Javarius Moore, Morgan Shuttleworth, Sierra Spears, Vanessa Watkins, Brittany Wilson
Columbus: Kalyn Abrams, Julina Allen, Omar Alvarez, Lakenya Barksdale, Dawn Baswell, John Beard, Courtney Beasley, Sidney Bosman, Elijah Box, Johnathan Brown, Rachel Brown, Kaitlyn Buchanan, Ches Chancery, Kimia Cole, Stephen Cornwall, Christopher Craddieth, Robert Cruthirds, Derek Culverhouse, Jaquayla Cunningham, Justin Davis, Ronny De Loach, Bryan Dickerson, Erin Dumas, Knollie Edge, Douglas Edwards, Sara Edwards, Taylor Evans, Tamarcus Ewing, Lille Fenster, Laura Fondren, Tammy Fondren, Amya Gaines, Douglas Glenn, Mya Guyness, Courtavis Hairston, Jordan Hamrick, Daria Hanks, Aubreya Harris, Dantevius Harris, Lavaris Harris, Clarence Herron, Jasmine Hodges, Deon Hooks, Natasha House, April Humphreys, Alexis Jones, Morgan Jones, Jacob Jordan, Laura Jordan, Carla Keaton, Belle Keopraseut, Tierra Ledbetter, Amber Leech, Daniel Leggett, Vince Lemmers, Tyler Lewis, Chelsey Little, Tylon Malone, Jason Martin, Xavier Miller, Diamond Mundy, Gretchen Neal, Kaiya Palmer, Logan Perkins, Tyboris Perkins, Thomas Phillips, Patricia Reeves, Christian Righter, Renea Rogers, Daniel Runyon, Fredrick Scott, Amber Sherrod, Makayla Sledge, Carley Spencer, Keely Stafford, Brittany Stegall, Brandon Taylor, Amiria Thomas, Taneshia Thomas, Kelly Turner, Taylor Warren, Skylar Watford, J'shawn White
Crawford: Auderyetta Bryant, Michael Lowrimore, Jonas Oswalt, Jokeyla Scales
* Steens: Kasha Hinton, Madison Johnson, Stephen Malone, Heather Reed, Elizabeth Zettler
Monroe County
Aberdeen: Whitley Davis, Tinisha Smith, Curtis Williams
Amory: Jeremy Hickerson, Timothy Nelson, Amber Wright
Hamilton: Abigail Baty, Kyle Dahlem, Zachary Jaudon, Dylan Smith, Jessica Smith, Tara Smith
Prairie: Yumaiko McMillian
Neshoba County
Philadelphia: Mayson Ables, Micaela Beason, Cole Cheatham, Casey Hight, Caden Martin, Kay'ona Peebles, Nigel Peeler, Andrew Winstead
Union: Gabriel Robinson
Noxubee County
Brooksville: Neely Abrams, Amber Chancellor, Shakyra Hairston, Nicole Ramsey, Rashad Tate
Macon: Tyrique Brown, Mikayla Disbrow, Rashad Eades, Kaniya Grassree, Delexia Gray, Jaylon Hodges, Marcellus Hudgins, Synario Johnson, Kabria Kincaid, Mary Hardin Mitchener, Adrian Rice, Caleb Wells, Tyhendreon Wilson
Shuqualak: Aris Buckhalter, Alexis Lewis
Oktibbeha County
Starkville: Yvette Akapo-Nukpezah, James Apple, Gia Bean, Jada Bean, Jerlisa Bell, Hassie Berch, Arlilea Bishop, Abbey Bowen, Tiajha Bush, Laoneda Carpenter, Haley Church, Iyuna Clark, Keasheeka Clark, Julissa Duck-Reed, Braylon Fisher, Jacob Goss, Takira Guy, Victoria Harrington, Robert Hartley, Kenley Hays, Kory Hill, Ta'Kasha Holmes, Bailey Inman, Stephanie Jackson, Gabriel Kelly, Jaylon Knight, Andrea Lindsey, Morgan Lomen, Miles Masters, Dy'tavia McClellan, Robert McGough, Latoya Morton, Taneshia Mullins, Stephanie Pannell, Ashley Roberson, Kimberly Rogers, Maria Salazar, Sara Schroeder, Ashutosh Shah, Jamela Stallings, Jessica Stark, Ashlyn Stewart, Tyler Tate, Kdrianna Wade, Terrika Washington, Jeremy Weaver, Tyler West, Penny White
Sturgis: Stephanie Baldwin
Rankin County
Brandon: Garrett Mitchell, Anthony Usey
Pearl: Samuel Gibson, Jailon McIntyre
Scott County
Forest: Jacey Grace, Lindsay Hatch
Simpson County
Smith County
Tallahatchie County
Tishomingo County
Washington County
Leland: Bianca Wesley
Greenville: Al Lim, Austin Parson
Wayne County
Webster County
Eupora: April Butler, La'paul Cullum, Karlie Murrell, Tucker Shaw, Courtney Tyler
Maben: Antwanique Bell, Luke Crowley, Josiah McKee, Mary Shurden, Aaron Woodson
Mathiston: Connor Daniel, William Daniels, Courtney Perkins, Caitlyn Zirlott
Mantee: William Gilliland, Brittany Johnson
Walthall: William Cooper
Winston County
Louisville: Brooke Baker, Kennedy Ball, Pervis Frazier, Allison Lee, Albert Mitchell, LeBreece Steele, Alexius Thomas, William Toliver, James Worrell
Noxapater: Lakin Warmack
Out of State
Ethelsville, AL: Dylan Fondren, Bradley Rollins
Jackson, AL: Jacory Pritchett
Northport, AL: Hunter Guy
Town Creek, AL: Abbey Kilgore
Wetumpka, AL: Parker Elrod
Miami, FL: Davontae McCrae
Zephyr Hills, FL: Myles Carter
Wilson, KS: Jayden Bess
Beaverton, OR: Connor Neville
Taylors, SC: Darryl Debruhl
Chattanooga, TN: Lavonte Greer
New Braunfels, TX: Amber Davis