EMCC, MSU PARTNERSHIP TO PROVIDE STUDENTS RESEARCH OPPORTUNITIES
News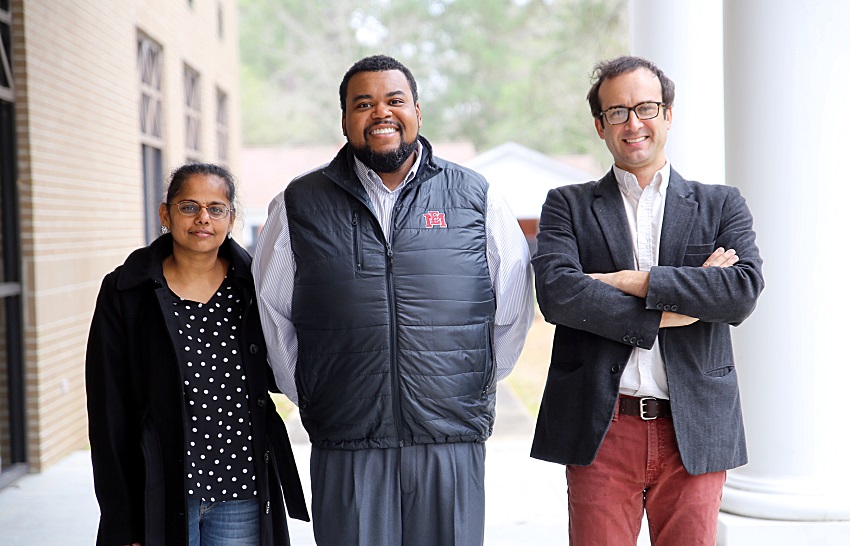 January 17, 2019
Select East Mississippi Community College students will have the opportunity to earn money while conducting research at Mississippi State University labs thanks to a partnership between the two institutions of higher learning.
Applications will be sought this spring for the "Bridges to Baccalaureate" program, which will provide paid summer internships to selected EMCC students transferring to MSU who are interested in a career in one of the STEM (science, technology, engineering and mathematics) fields.
EMCC sophomore Avery Bouchillon intends on applying for the internship. An Ethel native, Bouchillon is an EMCC softball player who plans to major in biological sciences at MSU with an eye to becoming a physician.
"I could play softball somewhere if I tried really hard but I think I need to focus on becoming a doctor,"Bouchillon said. "I would really like to become a brain surgeon. I am really interested in this internship and believe it would help me get some experience."
Students chosen to participate in the Bridges to Baccalaureate program will conduct research at MSU labs in biomedical or behavioral research fields such as microbiology, virology, biochemistry, molecular biology, entomology, psychology and psychiatry to name a few.
"This is a great opportunity for our students who typically would not have access to this type of internship until they transfer to a four-year institution," said EMCC Math and Science Scooba Campus Division Chair Jairus Johnson.
The purpose of the program is to expose underrepresented students to possible careers as biomedical, clinical or behavioral researchers.
"Many students have not considered careers in research and this will allow them the opportunity to see if this is something they enjoy and would like to pursue as an education major and a future career," said Dr. Jonas King, assistant professor in the Department of Biochemistry, Molecular Biology, Entomology and Plant Pathology in MSU's College of Agriculture and Life Sciences.
The Bridges to Baccalaureate program is funded through a $1.1 million grant from the National Institutes of Health Research Education Program. King is the principal investigator for the grant. Johnson is a co-investigator.
Minority students and those from economically disadvantaged backgrounds (Pell Grant eligible) who plan on transferring to MSU and are interested in a STEM field are encouraged to apply for the paid internships. Preference will be given to freshmen students but sophomores will be accepted as well if space is available.
King said students accepted into the program will be paid a very competitive hourly rate while participating in 10-week research internships in disciplines such as infectious diseases, neurobiology, veterinary medicine, bioinformatics and pharmacology.
"They will mostly work with the lab they choose that accepts them and we will have meetings a few times a week where they will come and we will train them as a group," King said. "They are going to get exposed to everything from working one-on-one with experts to working in larger groups with grad students and post-doctoral researchers to see what it is really like in a big lab.
"There are also funds available in the grant for the students who come to MSU to travel to national conferences."
Initially, about 10 EMCC students will be selected but the program is expected to grow in subsequent years, with up to 20 students at a time eventually taking part. The internships will continue for one year after the students transfer to MSU.
On Jan. 15, King and Bindu Nanduri, associate professor in MSU's Department of Basic Sciences in the College of Veterinary Medicine, visited EMCC's Scooba and Golden Triangle campuses to inform students about the program.
On Feb. 7, King and MSU staff from other disciplines will conduct a boot camp from 1 p.m. to 3 p.m. in Warren Hall on the Scooba campus to provide more insight into the internships and research career fields. Sessions will take place in rooms 103, 109, 110 and 114. A boot camp will also take place at the Golden Triangle campus with a time and date yet to be determined.
Johnson said there is a high demand for biomedical and behavioral researchers.
"Especially for those from underrepresented and disadvantaged backgrounds," Johnson said. "I think a big part of why we were able to participate is because of our diverse student body."
For more information, contact Johnson at jjohnson@eastms.edu or King at jonas.king@msstate.edu.