EMCC INSTRUCTOR PROMOTES NATIONAL ELECTRICAL SAFETY MONTH
News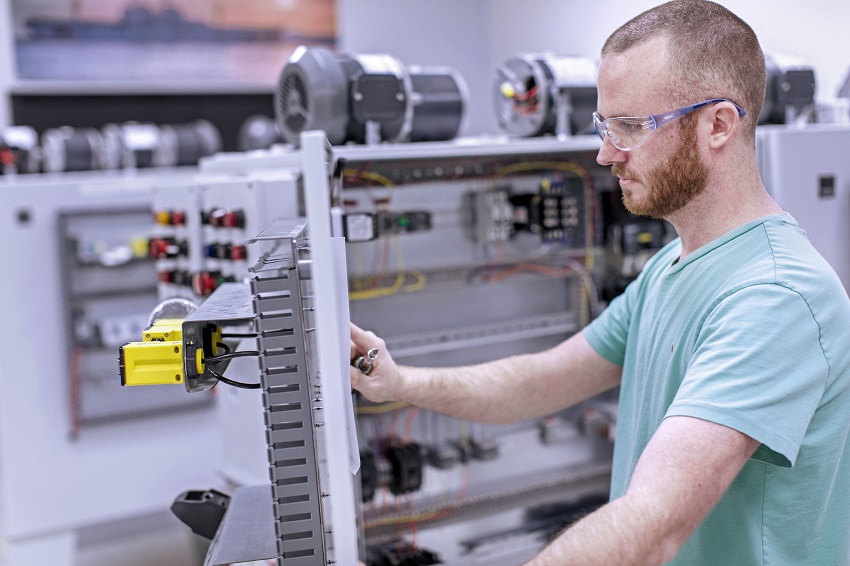 May 15, 2019
People in the U.S. are exposed to electricity daily and should take common sense precautions to protect themselves from injury and reduce the chance of electrical fires, East Mississippi Community College Electrical Technology instructor Jason Throop said.
"A lot of people tend to take electricity for granted," Throop said. "It's just there and it isn't something we tend to think about. There are common mistakes that people make when it comes to electricity that can be avoided."
May is National Electrical Safety Month and Throop is encouraging people to assess their homes and places of work for potential electrical problems. It is a nationwide issue.
According to Electrical Safety Foundation International (ESFI), a non-profit organization dedicated to promoting electrical safety at home and in the workplace, more than 300 people in the U.S. are fatally electrocuted each year, while thousands more are shocked or burned by electricity.
Those numbers don't include deaths, injuries and damage caused by electrical fires.
"Home electrical fires account for an estimated 51,000 fires each year, nearly 500 deaths, more than 1,400 injuries, and $1.3 billion in property damage," the ESFI website states.
One of the best things people can do is to have their property inspected by a certified electrician to do a basic electrical safety inspection, Throop said. Among other things, the inspection will include an examination of the fuse box/breaker panel to ensure it is the correct size and that the wiring is not damaged or outdated.
But there are steps homeowners can take themselves to reduce the risk of injury or fire.
"One of the things I see a lot is people using extension cords as permanent wiring, running them under doors and carpets, which can cause problems," Throop said.
A common mistake is the use of extension cords that are not heavy enough to carry the electrical load. The longer the extension cord, the bigger the potential problem. Voltage drops in extension cords, with the drop increasing as the extension cord length increases. As volts decrease below demand, more current flows to make up the difference, causing wires to heat and appliances or fixtures to run hot.
Don't use extension cords if you don't need to and if one is necessary, use the shortest one possible, Throop advised. Large appliances need heavy gauge appliance extension cords designed for that purpose.
Similar issues occur with use of power strips.
"You should never overload a circuit by plugging multiple things into a power strip and never plug one power strip into another," Throop said.
He recommends testing ground-fault circuit interrupter receptacle outlets once a month by pushing the "test" button on the receptacle to make sure it shuts off power to the outlet.
"When they fail, they fail in the open state and are still supplying power so you have no way of knowing if they work or not unless you check they them," Throop said. "It might not work when you need it to work. I check mine every time I pay my power bill."
Lights are another problem area. A great many light fixtures are rated for a maximum of 40 watts and Throop said he sees people putting 75 watt to 100 watt bulbs in them, which can cause the light fixture to overheat.
"Space heaters are a big problem, as are old Christmas lights, which can get hot," Throop said.
Here are some other tips Throop shared:
Never stick objects into electrical equipment or appliances. No forks in toasters.
Don't use electrical items near water.
Never pull a plug out by the cord.
Stay away from downed power lines and don't use ladders, swimming pool cleaning poles or any other objects near an overhead power line.
Don't leave a charging cell phone on the bed, couch or other flammable material.
Be mindful of warning signs that include a burning smell, warm outlets, a buzzing sound or sparks from electrical components.
If in doubt, shut the power off and call a certified electrician.
EMCC's Electrical Technology department has hosted a free Community Day in the past in which attendees were taught basic electrical safety tips and how to perform some minor repairs, such as replacing electrical outlets and light switches. Throop said the event will likely be held again later this year.
Electrical Technology classes will be available to new and returning students in the fall. Registration is under way now. For more information, call EMCC MTED Navigator Greta Miller at 662.243.2659 or email her at gmiller@eastms.edu. Navigator Patricia Corrigan can be reached at 662.243.2631 or at pcorrigan@eastms.edu.