EMCC'S EARLY CHILDHOOD ACADEMY LAUNCHES PILOT PROGRAM
News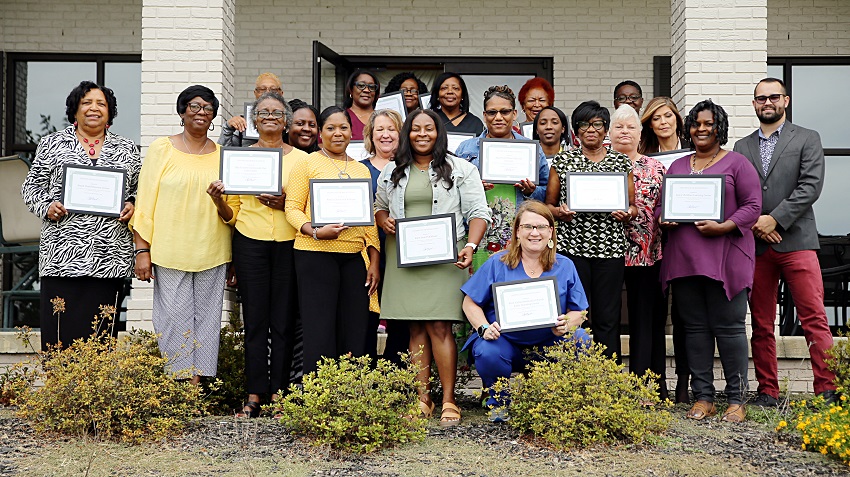 September 25, 2019
The Mississippi Community College Board has named the Early Childhood Academy (ECA) on East Mississippi Community College's Golden Triangle campus the September "Early Childhood Academy of the Month." The announcement coincides with the ECA's rollout of a pilot program designed to improve the quality of early education offered at participating child care centers to ensure preschool children are prepared to enter the public school system.
ECA Coach and Professional Development Specialist Carolyn Harris said children at participating agencies will be the beneficiaries of the program funded through a Preschool Development Grant Birth through Five, or PDG B-5.
"It is all about school readiness," Harris said. "If they do well in their early years, it will carry through to their high school and college years."
On Thursday, Sept. 19, representatives from 26 child care centers and three Head Start centers in Clay, Kemper, Lowndes, Noxubee, Oktibbeha and Webster counties attended a training session at EMCC's Lion Hills Center sponsored by the ECA.
In the pilot program, the ECA will work with the child care providers and Head Start programs to provide technical assistance and resources needed to earn a "Comprehensive Designation" that signifies they have met rigorous criteria in 10 areas that include professional development, curriculum and standards, and community partnerships, to name a few.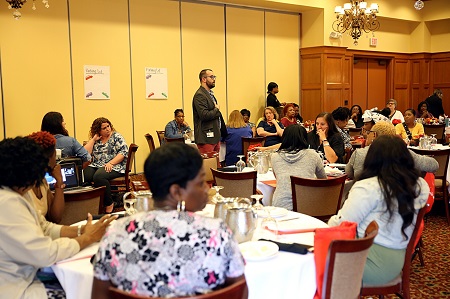 Margaret Davenport, executive director of the Clay County Community Day Care Center in West Point, said she is excited about the program.
"Anything that helps us to improve the quality of services to our children is vital," Davenport said.
Participation in the program is voluntary and is offered only to child care centers and Head Start programs that accept payments through the Child Care Payment Program, in which eligible parents are offered assistance based on their family size and household income.
Mississippi is among 46 states awarded PDG B-5 grant funds by the U.S. Department of Health & Human Services to expand the scope of early childhood development.
In January, Gov. Phil Bryant announced that Mississippi received $10.6 million of the grant funds, with oversight provided by the Mississippi Community College Board. The grant requires a $3.18 million match from the state.
The State Early Childhood Advisory Council, the Mississippi Department of Human Services, and the National Strategic Planning & Analysis Research Center at Mississippi State University were instrumental in securing the grant funds, while the MCCB, MDHS, the Mississippi Department of Education and the W.K. Kellogg Foundation pledged matching contributions to support the initiative.
Twelve community colleges in the state operate an Early Childhood Academy on their campuses and in January each received funding for the PDG B-5 program. EMCC's ECA was awarded $284,000 of the grant funds.
Harris and Jennifer Bell, a coach and professional development specialist hired earlier this year, will visit the centers and determine what they need to achieve the Comprehensive Designation.
"They may need furniture, extra supplies or a curriculum to adhere to in order to meet the 10 criteria," Harris said. "We will purchase what they need out of the grant funds to help them along that trajectory to earning the Comprehensive Designation."
All child care centers in the state that receive funding through the Child Care Payment Program are required to achieve a Standard Designation, which mandates they obtain licensure, adopt a curriculum, and ensure teachers have taken 15 hours of professional development courses and undergone health and safety training.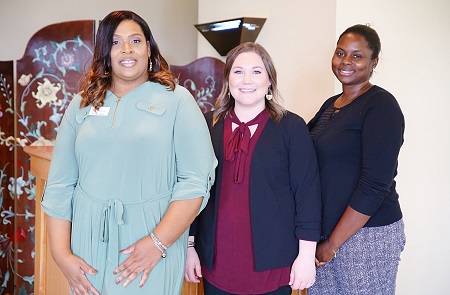 "We have been working to ensure all of the child care centers have reached their Standard Designation," ECA Resource and Referral Center Associate Michelle Cleveland. "They get a certain reimbursement rate for the Standard Designation. Those centers that obtain a Comprehensive Designation will receive a higher reimbursement rate."
A big component of the program is helping child care centers implement a curriculum that aligns with the Mississippi Early Learning Standards, Harris said. To that end, ECA offers training on the Early Learning Standards and the specific areas within the ELS including math, science, arts, language literacy, physical development, self-help skills, and social and emotional development.
The ECA, which opened in November 2017, is located in room 127 of the Douglas Building and provides free resources to parents and childcare providers. While the main focus of the academy is to ensure children up to 5 years of age are prepared to enter kindergarten, parents and caregivers of children of any age can make use of available services, which include professional development training to care givers and referral services to parents.
The ECA hosts Story Time on Wednesdays, which includes the reading of popular children's books, art activities, games and free snacks and drinks.
Dr. Micca Knox, the assistant executive director for Early Childhood Academy at MCCB, said the ECA at EMCC was selected as the Early Childhood Academy of the Month for several reasons. Those reasons include: providing multiple opportunities for child care providers to attend professional development sessions at EMCC's Scooba and Golden Triangle campus; fostering community partnerships with child care centers and Head Start centers; focusing on safety issues in child care centers and providing CPR certification courses; and maintaining a wide selection of books and other items for children to check out.
The staff at the ECA will be featured in the MCCB's monthly newsletter presented to members of that agency's board.
"Carolyn, Michelle and Jennifer have worked hard to ensure they are providing the best resources possible to parents, as well as child care and Head Start centers," EMCC Associate Dean of Instruction Dr. Michael Busby said. "They are deserving of the recognition as the Early Childhood Academy of the Month."