EMCC STUDENTS EARN 14 AWARDS AT MISSISSIPPI COLLEGIATE DECA
News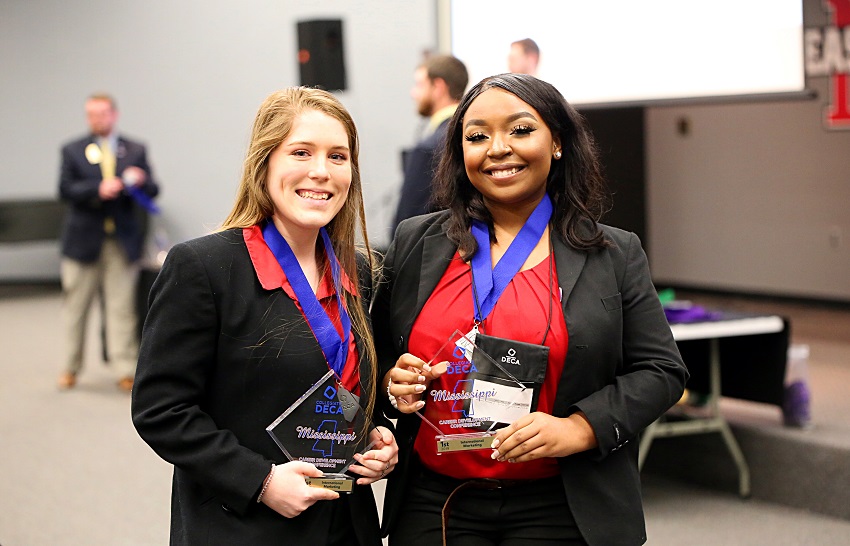 February 25, 2019
East Mississippi Community College students earned three first place, five second place and three third place awards in the Mississippi Collegiate DECA's 2019 Career Development Conference that took place Feb. 20-21 at EMCC's Golden Triangle campus and the Mississippi University for Women.
Students from eight colleges took part in the annual competition, with Mississippi State University and the University of Mississippi fielding teams as well. Competitors who earned first through sixth place awards in the Mississippi DECA competition qualified to attend the Collegiate DECA International Career Development Conference April 13-16 in Orlando, Fla., in which more than 1,400 college DECA members will compete for international championship titles.
Overall, EMCC students earned 14 first through sixth place awards in the Mississippi Collegiate DECA competition and qualified to compete in Orlando.
"I am really proud of all of the students from around the state for the job they did in preparing for this event," EMCC Associate Dean of Instruction Dr. Michael Busby said. "They all won by stepping up to compete."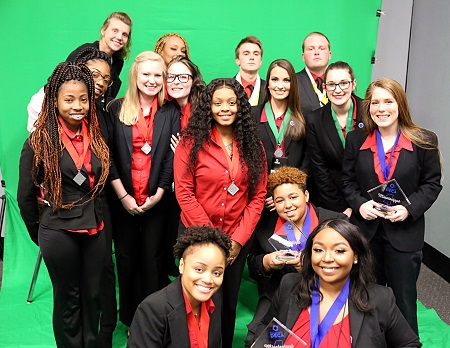 The event included a Culinary Arts competition, which took place Wednesday, Feb. 20, at MUW. EMCC's team of Marvin Lee, Danny McKay and Herman Peters, all of Starkville, took third place in the competition that included a field of 10 teams.
Competitors were given a list of ingredients they could use during the competition and had one hour in which to prepare their dishes, which were judged on skills demonstration, taste, sanitation and teamwork. The main ingredient for the dish was chicken. EMCC's team cooked handmade spinach ravioli with a chicken and Portobello stuffing, sage brown butter, parmesan crisp and lemon air.
"It was a very difficult dish to get done in an hour," Peters said. "We rolled out the rotini and cut it by hand."
"I am proud of all of our students who competed," EMCC Culinary Arts instructor Shannon Lindell said. "They did really well."
EMCC students enrolled in the Business & Marketing Management Technology and Hotel & Restaurant Management programs took part in academic competitions Thursday, Feb. 21, in the Lyceum auditorium on EMCC's Golden Triangle campus.
Academic competitions consisted of individual and group events.
Destiny Jefferson-White of West Point and Laney Horne of Gulfport took first place in International Marketing. They were tasked with coming up with a marketing strategy for a television company that differentiated it from competitors. They had to pitch their proposal before a panel of judges.
"I looked over all of the information we were provided, picked out the key points and figured out how to sell it to the judges," Jefferson-White said.
EMCC Marketing instructors Jaycee Stennis and Megan Gibson served as advisors for the event.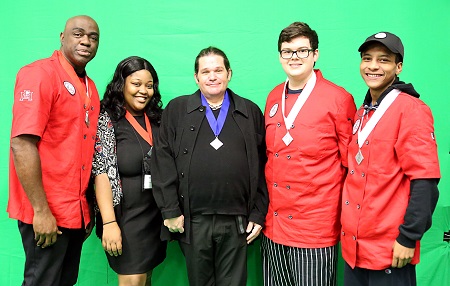 "We had a really good group competing this year and they should be proud of what they have accomplished," Stennis said.
Mississippi Collegiate DECA co-facilitator Jane Eastland-Foreman said Mississippi students typically do well at the DECA international competitions.
"A lot of the kids who make it to Orlando will be competing against students from large culinary institutes and major universities across the country," Eastland-Foreman said. "That is one of the great things about these competitions."
Here is a list of EMCC students who earned first through sixth place finishes in the Mississippi DECA competition:
Dantevius Harris of Columbus, Justin Saulsberry of Columbus, 4th place, Business Ethics
Amber Gifford of Starkville, Sydney Prescott, 2nd place, Business to Business Marketing
Tybra Windsor of Starkville, 3rd place, Business to Business Marketing
Marvin Lee of Starkville, Danny McKay of Hattiesburg, Herman Peters of Columbus, 3rd place, Culinary Arts
Lakenya Barksdale of Columbus, Taneshia Thomas of Columbus, 2nd place, Event Planning
Laurin Harper of New Hope, Ragan Huckaby of Caledonia, 5th place, Event Planning
Herman Peters of Columbus, 2nd place, Hotel and Lodging
Laney Horne of Gulfport, Destiny Jefferson-White of West Point,, 1st place, International Marketing
Morgan Jones of Columbus, Brittany Stegall of Columbus, 2nd place, Marketing Communications
Lamontrail Dupree of Columbus, Joseph Hunter Gramling of Indianola, 3rd place, Marketing Communications
Christopher Winter of Columbus, 1st place, Restaurant and Food Service Management
Brianna Russell of West Point, 1st place, Sports and Entertainment Marketing
Pabilito Doss, Jr. of Columbus, James Jennings of Brandon, 4th place, Sports and Entertainment Marketing
Brianna Tate of Columbus, 2nd place, Travel and Tourism