EMCC'S COMMUNIVERSITY REGISTERING FOR CLASSES
News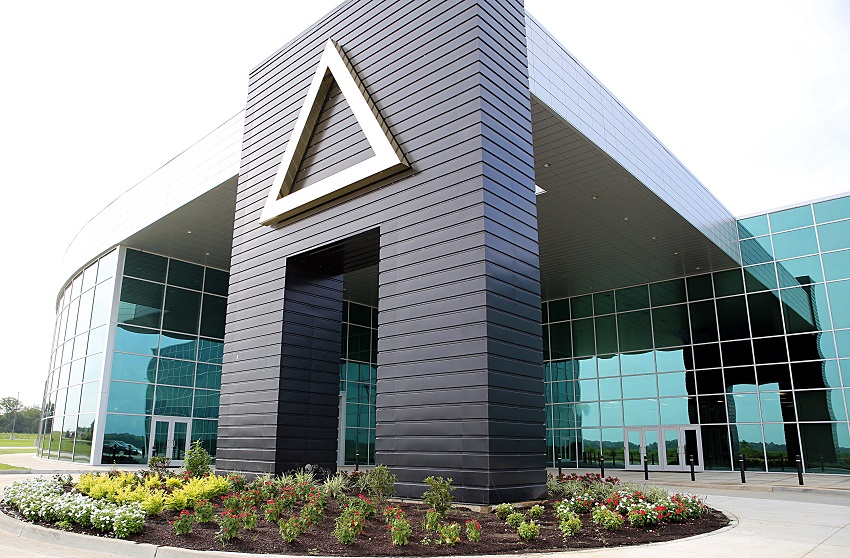 July 17, 2019
Registration is under way for classes at the Communiversity, East Mississippi Community College's new $42 million facility for training that leads to careers in today's advanced manufacturing fields.
Construction on the 145,638-square-foot facility recently wrapped up and the first classes will be taught there in the term that begins in August.
Courses that will be taught out of the Communiversity include: Electrical Technology; Mechatronics Technology; Engineering, Drafting & Design; Precision Manufacturing & Machining; Systems Based Automation; and Industrial Maintenance.
Some of the programs moved from the Center for Manufacturing Technology Excellence, or CMTE, located on EMCC's Mayhew campus. Systems Based Automation is a program that has been revamped and Mechatronics Technology is a new program offered this year that leads to an Associate of Applied Science degree.
Graduates from the programs often earn good wages while working in air-conditioned, clean environments that are the hallmark of many of the new high-tech plants with automated processes.
Mechatronics Technology instructor Ben Harris said students who graduate from that program can expect to earn about $60,000 a year.
"That is starting pay and these guys are in high demand," Harris said.
Mechatronics was offered as special technical certificate at EMCC but has expanded to meet industry demands. Graduates of the program will serve as troubleshooters for complex machinery used in today's manufacturing.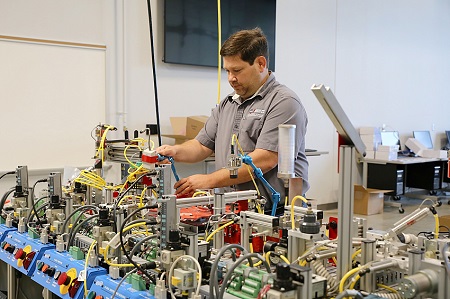 "PACCAR, International Paper, Toyota and Yokohama all had input on creating this program," Harris said.
While automation has transformed the manufacturing industry, not all things have changed. Many industries still operate in-house machine shops where parts are made for both products and for repairs of machinery used to make those products. But as with most processes today, the way machine shops operate has morphed.
Some of the old conventional machine shop equipment is still used but many companies today operate CNC, or computer numerical control, equipment run by a computer. CNC machines can cut, drill and grind parts out of metal and nonferrous materials such as plastic and carbon fiber.
In EMCC's Precision Manufacturing & Machining program, which is offered as a one-year certificate and an Associate of Applied Science degree, students learn to operate both conventional machine shop equipment and CNC equipment.
CNC machinists input data into the computers that run the machines.
"I tell students this is something they can continue to do as they get older," Precision Manufacturing & Machining instructor Ronnie Guy said. "This is not physically demanding on your body."
Demand for skilled workers is high, he added.
"You can go online and literally look anywhere in the country that is near a decent size place and find available jobs for a machinist," Guy said.
Some students are eschewing traditional educational paths for training in career-technical fields.
Tyler Adair is a sophomore in EMCC's Electro-Mechanical Technology program, the predecessor to the Mechatronics Technology program, which is being phased out.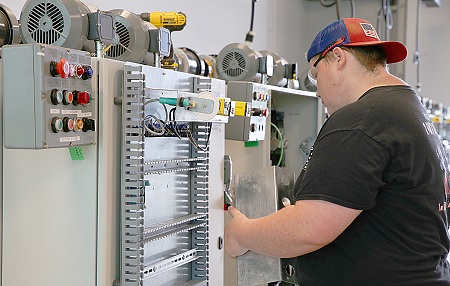 "I wanted a career technical degree because of the availability of work, a good starting pay and job security," said Adair who also plans to earn a degree from Mississippi State University in Industrial Technology.
Adair and Camille Cooper, also of Starkville, are in a work study program and have been helping set up equipment at the Communiversity over the summer.
"I think the Communiversity is amazing," said Cooper, who is also enrolled in the Electro-Mechanical Technology program. "I think it is great for EMCC and for the opportunities it will provide students."
Some noncredit classes will also be taught at the Communiversity, including Manufacturing Skills, Residential and Commercial Wiring, Motor Controls, Composites, and Avionics and Cabling.
Automotive Technology, Diesel Technology, HVAC, Welding and Fabrication, Truck Driving and all Information Systems Technology courses, will remain in the CMTE complex on the college's Mayhew campus.
Noncredit medical classes will stay at Mayhew as well, which includes Certified Nursing Assistant, Phlebotomy, Pharmacy Tech and Medical Billing and Coding.
Students interested in enrolling in one of the for-credit programs can fill out an admissions packet online at www.eastms.edu, which can be found under the "Prospective Students" and "Admissions" tabs.
Once they have completed the admissions process, they can stop by the Communiversity and speak with MT&E navigators Greta Miller or Patricia Corrigan to register for classes.
Students who wish to take noncredit classes can call 662.243.1803 or 662.243.1970 for information about that process.
An open house at the Communiversity has been under way this week and continues from 8 a.m. to 8 p.m. Thursday, July 18. The public is invited to attend. The Communiversity is located at 7003 Frontage Road, between EMCC's Golden Triangle Campus and PACCAR Engine Company.
Louisville resident Brody Burchfield, who graduated from EMCC's Welding and Fabrication Technology program in December of 2017, was among those who toured the new facility.
"This facility is second to none that I have been in recently," Burchfield said. "I am very excited to see how the students are going to react when they come in and see the place."