JACKSON, TENN., REPS SEEK INSPIRATION FROM EMCC'S COMMUNIVERSITY
News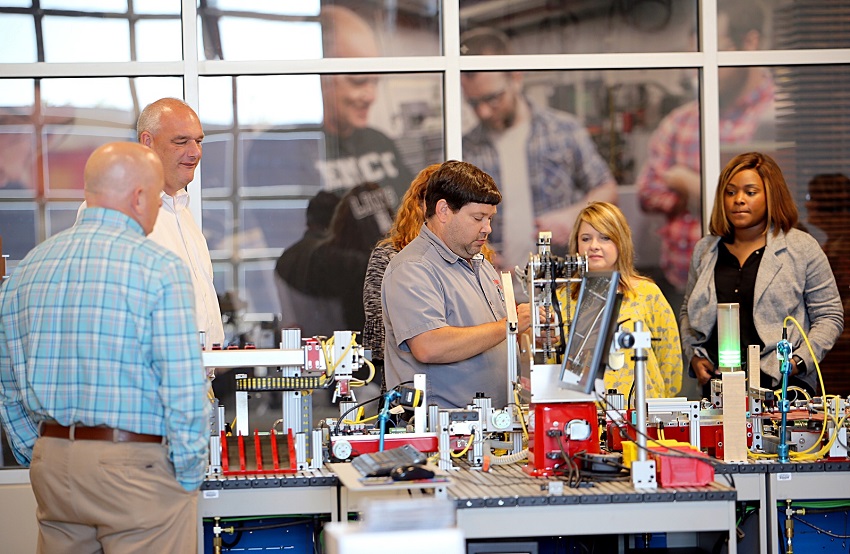 September 4, 2019
A contingent of people from Jackson, Tenn., that included education, business and industry leaders toured East Mississippi Community College's Communiversity Wednesday.
"We are looking to build a new workforce training facility and we are taking benchmarking trips to tour other facilities to get ideas and see how they came to be," Jackson Chamber Senior Vice President of Economic Development Mandy White said.
Members of the group included representatives from the University of Tennessee at Martin, the Jackson-Madison County School District, toolmaker Stanley Black and Decker, and Gerdau, a steel products manufacturer.
Jackson, which is located about 70 miles east of Memphis, Tenn., boasts several industries that include The Kellogg Company, Toyota Bodine Aluminum, Owens Corning and Delta, which produces commercial and residential faucets.
"We want to learn more about best practices and state-of-the-art facilities," said Bill Kipp, a retired human resources professional who worked for more than 40 years at a steel mill in Jackson. "EMCC is recognized as having one of those state-of-the-art facilities."
EMCC's $42-million Communiversity opened to students Aug. 19 and is dedicated to training students for careers in advanced manufacturing. The visitors met with EMCC President Dr. Scott Alsobrooks and were led on the tour by EMCC Vice President for Workforce and Community Services Dr. Raj Shaunak.
During the tour they spoke with students and visited with instructors of some of the six programs offered at the Communiversity, which include Precision Machining & Manufacturing; Engineering Drafting & Design; Electro-Mechanical Technology; Mechatronics Technology; Industrial Maintenance; and Systems Based Automation.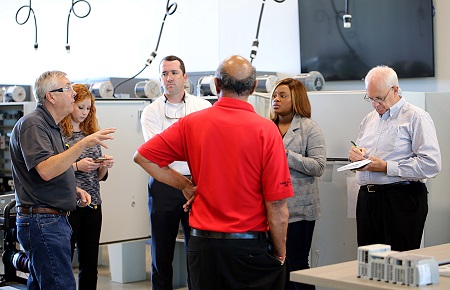 EMCC works closely with area industry leaders to develop curriculum at the Communiversity to ensure program graduates are equipped with skills needed by local employers.
Jackson Chamber Vice President of Talent Development Vicki Bunch said she was impressed with the Communiversity and the training available to students.
"It would be wonderful to have a training facility just like this located in Jackson, Tenn.," Bunch said. "There is definitely a need for these type skills in our workforce and we need to increase the pipeline of workers for our existing industry as well as our future industry recruitment.
"We can have the best infrastructure, the best site and the best location but if you don't have an available and skilled workforce you are not going to be successful in expanding existing industry or attracting new companies. Anytime we can learn best practices from other areas and bring them to fruition in our town, it puts us one step closer to helping our industries be successful."
White liked the facility's potential to attract students.
"We have to establish opportunities for students that is attractive to them, to their parents and to the general public," White said. "Your facility here shows innovation and collaboration. It has the cool factor and I would think it would be attractive to any student looking at what career path they want to go down when it is compared to a traditional setting of classrooms."