EMCC STUDENT AWARDED COMPETITIVE SCHOLARSHIP
News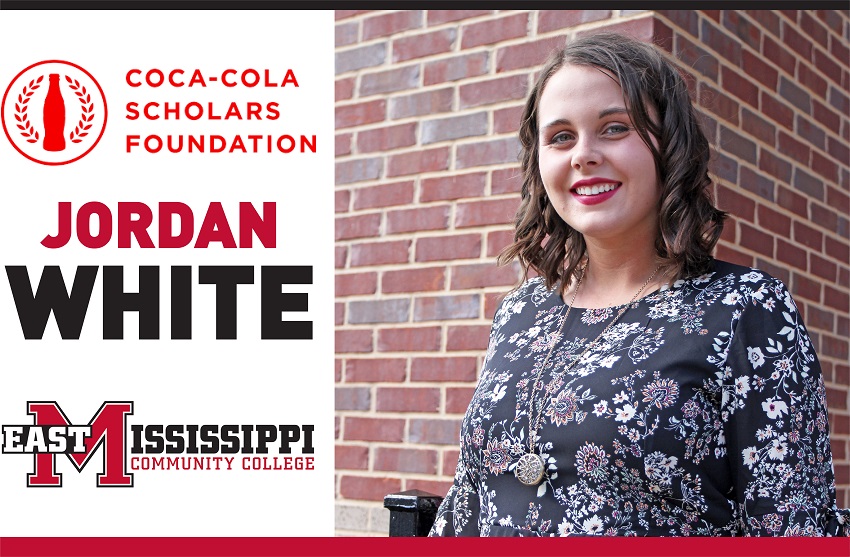 March 6, 2019
East Mississippi Community College sophomore Jordan White was on a break during her Organic Chemistry class when she received an email informing her she had been named a 2019 Coca-Cola Academic Team Silver Scholar.
"I was so excited I showed everyone in my night class," White said.
White will receive a $1,250 scholarship through the program sponsored by the Coca-Cola Scholars Foundation and administered by the Phi Theta Kappa Honor Society.
White is among 50 students nationwide awarded one of the scholarships. Selection for the scholarships is based on scores students earned in the All-Academic Team competition, academic achievement, leadership and engagement in college and community service, according to a Phi Theta Kappa press release. More than 2,000 students applied for the scholarship, the press release states.
"The Coca-Cola Scholars Foundation has a long history of providing financial assistance to outstanding students at community colleges," Coca-Cola Scholars Foundation President Jane Hale Hopkins states in a press release. "We are proud to partner with Phi Theta Kappa and make it possible for deserving students to achieve their educational goals."
White, a DeKalb native, will graduate from EMCC in May and plans to transfer to Mississippi State University to complete her undergraduate work. She then wants to earn a doctorate in medicine from the University of Mississippi Medical Center in Jackson.
"I really want to serve as a rural physician in Mississippi once I complete my education," White said.
EMCC Fine Arts and Humanities Division Chair Janet Briggs, who also serves as a Phi Theta Kappa advisor, believes White will succeed.
"Jordan is one of the most driven students that I have ever been involved with in Phi Theta Kappa," Briggs said. "Her hard work and dedication permeates classroom and extracurricular activities alike. She is exceptional in every sense of the word."
President of the Eta Upsilon chapter of Phi Theta Kappa on EMCC's Scooba campus, White was named the Most Distinguished Chapter President during the Mississippi/Louisiana Region 2019 Awards Gala held March 1-2 at Mississippi State University.
In February, White was named the student recipient of EMCC's HEADWAE (Higher Education Appreciation Day, Working for Academic Excellence) award for her academic excellence.
White is a student ambassador, president of the Student Government Association and vice president of the Math and Science Club.
Coca-Cola Academic Team members will be recognized in both local and statewide ceremonies and during Phi Theta Kappa's annual convention, PTK Catalyst, April 4-6 in Orlando, Fla.
"We thank the Coca-Cola Scholars Foundation for recognizing these student leaders and for investing in their futures," Dr. Lynn Tincher-Ladner, president and CEO of Phi Theta Kappa states in a press release. "Scholarships like these are integral to the success of these students in reaching their educational and career goals."
White credits Briggs and Phi Theta Kappa co-advisor Derrick Conner with supporting her through the lengthy scholarship application process.
"They are amazing advisors and I wouldn't have any scholarships through Phi Theta Kappa if it weren't for them," White said.
She plans to use the scholarship funds to purchase textbooks while attending MSU.
"Every scholarship helps and I am grateful to be selected," White said.