CMTE 2.0 NEARING COMPLETION
News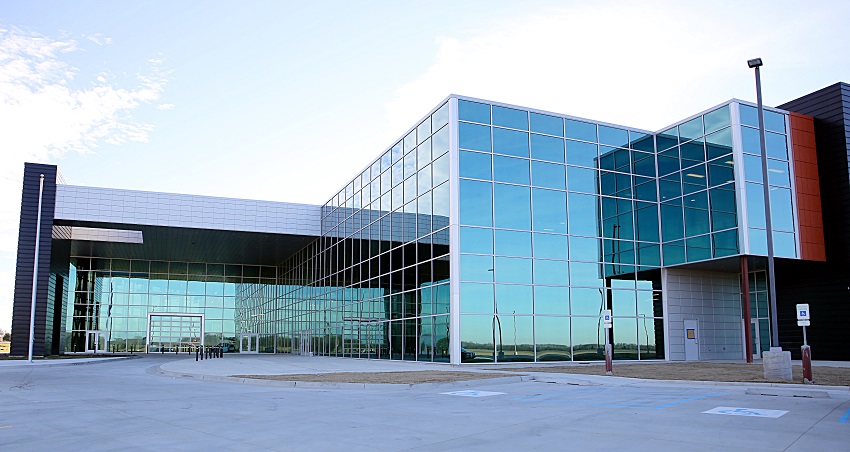 January 11, 2019
The final phase of construction on East Mississippi Community College's Center for Manufacturing Technology Excellence 2.0 is under way and construction crews have shifted their focus from infrastructure and framing to flooring, lighting and other finish work.
"A dream that began in December 2013 is coming to fruition," EMCC Workforce and Community Services Vice President Dr. Raj Shaunak said. "Hopefully the CMTE 2.0 shall be ready for occupancy and we will be teaching students there in the fall of 2019. Our staff has been working diligently to ensure the transition to the new facility is smooth."
A coalition of partners that included EMCC and local, state and federal officials worked for three years to secure funding, nail down a site location and hammer out program details for the $42-million facility dubbed the "Communiversity," which will house EMCC Workforce Division programs in advanced manufacturing.
The Appalachian Regional Commission provided more than $10 million for the project. Other funding partners include the Mississippi Legislature and Clay, Lowndes and Oktibbeha counties. The Golden Triangle Development LINK has also been instrumental in the project.
Area business and industry leaders comprise the advisory board for the Communiversity.
"They are our partners in every sense," Shaunak said. "Not only are they guiding us as to what activities should occur but they are also supporting us both through the purchase of equipment and additional resources for operating the Communiversity."
EMCC's collaboration with area industries to provide students skills needed to work in today's high-tech manufacturing environments is a formula that predates the CMTE 2.0 and one that comes with a proven track record.
"Over the past decade, we have produced north of 10,000 trained employees to meet the changing needs of incoming industries, whether it was American Eurocopter, Stark Aerospace, Aurora Flight Sciences, or the aerospace sector in general. We are producing employees with skills needed in advanced steel manufacturing processes. Our former students are making 12.9 liter engines for PACCAR, or are employed at the most advanced tire manufacturing plant that Yokohama has in the world."
EMCC has worked closely with the companies to provide instruction specific to their industries, often training students on the same cutting-edge equipment used on local manufacturing shop floors.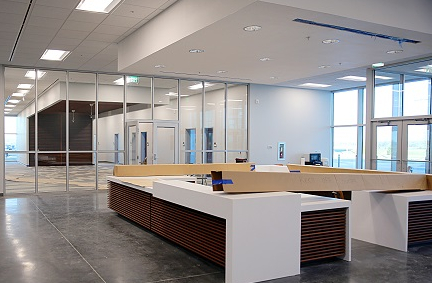 The Golden Triangle area has experienced a manufacturing renaissance in recent years, with an influx of industries like those listed above, as well as Steel Dynamics, Inc., SeverCorr Corporation (now Severstal Columbus) and Baldor Electric Company, which is now ABB, to name a few.
"EMCC has been at the hub of attracting new industry," Shaunak said. "In the end, workforce development is economic development."
Construction of the CMTE 2.0, which will expand the college's capability to meet current and future industry needs, has garnered widespread attention.
In October 2017, officials from Harvard Business School met with local elected officials, members of the Golden Triangle Development Link, Mississippi State University and EMCC on a fact-finding mission to determine if the success experienced in the region could be duplicated elsewhere.
"I think many of us are worried that the American economy is doing half of its job," said Jan Rivkin, senior associate dean for Harvard Business School. "It (the economy) is benefitting large companies and those who work for and invest in them but it is not supporting working middle class Americans. Rural communities are really struggling.
"Yet, here in the Golden Triangle, we see something very different going on: A community that is coming together to create broadly shared prosperity and great manufacturing jobs. We came here to learn. We came here to see what is going on that is special and to figure out what we might apply to other settings in other communities."
In June, Appalachian Regional Commission (ARC) Federal Co-chair Tim Thomas toured the facility.
"I see you all stepping up and showing that this region of North Mississippi and the Appalachian region, which is my charge, can do anything that the rest of the country or the rest of the world can do," Thomas said. "You are changing the narrative of this region by this type of planning and foresight in what you will be prepared to do with the workforce in the future."
The CMTE 2.0 will be at the center of the region's workforce training.
Much of the instruction will take place in 21 high-bay laboratories designed to allow easy access for the setup and removal of heavy machinery. Most of the bays will be housed inside two, single-story wings that will intersect the main building at 45-degree angles.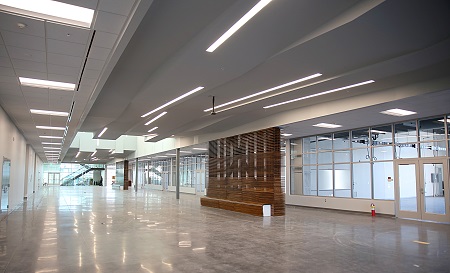 Programs that will have dedicated space in the bays are: Automation and Control Technology; Electrical Technology; Electro-Mechanical Technology; Drafting and Design; Mechatronics Technician; Precision Manufacturing and Machining Technology; and Industrial Maintenance.
Workforce services not directly related to advanced manufacturing, such as Automotive Technology, Welding and Fabrication, and Information Systems, will remain in the original Center for Manufacturing Technology complex on the college's Mayhew campus.
Soft space in the new facility will be dedicated for start-ups and industries locating to the area and seminar rooms will be available for educational, business and civic purposes. Future plans call for a full-service cafeteria. The 145,638-square-foot facility designed by Columbus-based PryorMorrow will also feature a two-story imagination center, or museum, which will include interactive exhibits and displays of products built by area manufacturers.
"One of our primary tasks will be to bring in young people so they can see what STEM related career pathways exist," Shaunak said. "We want them to know they can come to EMCC and go through these programs, graduate without any substantial debt and earn middle to high-wages from the outset."
Plans are to expand the number of students in the programs when the need arises. There has been a recent need, for example, for more trained technicians to repair industrial machinery. EMCC graduates about 200 industrial technicians each year, which is up from about 120 graduates four years ago.
"Our local business and industry partners have informed us that north of 350 technicians are needed annually just to replace their aging workforce," Shaunak said. "Our goal and our hope is to provide the employees to meet that need."
At its heart, the mission of the Communiversity will be to serve the community, Shaunak said.
"On the one hand, we want to meet the needs of individuals who want to get a job," Shaunank said. "On the other hand, we want to serve the needs of business and industry so they will have a skillful workforce and can remain globally competitive. The new CMTE 2.0 will better help us to achieve that mission."