STUDENTS SOUGHT FOR EMCC CHORAL GROUPS
News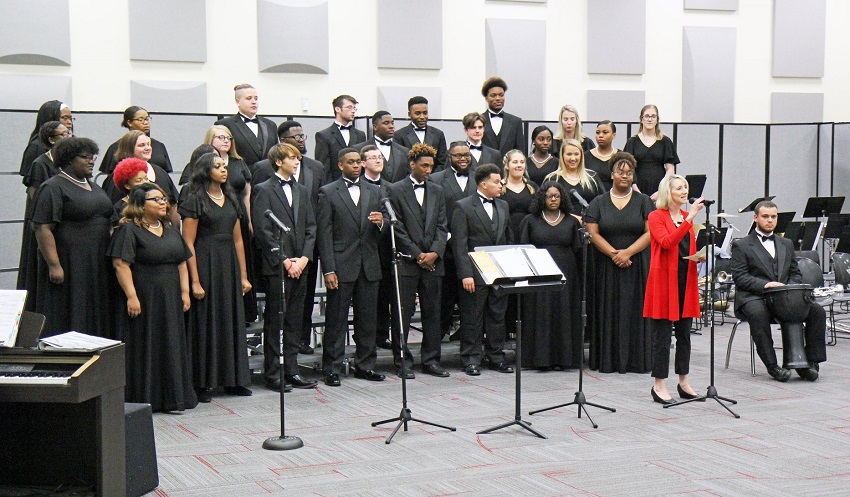 January 7, 2019
Current and prospective East Mississippi Community College students who are interested in one or more of the choral groups on the college's Scooba campus are urged to reach out to Director of Choral Activities Dr. Lorrie Stringer.
Stringer said spots remain available in the Concert Choir and Music Theater Workshop groups.
Concert Choir is the largest vocal ensemble on the Scooba campus and meets Mondays and Wednesdays at 11 a.m. The concert choir will perform at Mississippi State University's Riley Center in Meridian in February.
The choir will also learn all of the songs from the music theater program, and will perform as the "Charleston Choir" for two shows in April.
Music Theater Workshop is for students who would like the opportunity to act, dance and sing. This program meets on Tuesdays and Thursdays at 1 p.m.
The group's performances of "Charleston" are scheduled for April 7 with area schools and the public invited.
While most students in music theater are also in choir, it is not required.
Scholarships are possible, but prospective members should contact Dr. Stringer immediately by email at lstringer@eastms.edu or by phone at 662.476.5004.
Current or prospective students who are interested in choral activities on EMCC's Golden Triangle campus should contact Jamie Taylor at jtaylor@eastms.edu or 662.243.2688.