EMCC COMMERCIAL TRUCK DRIVING GRADUATE DRIVEN TO SUCCEED
News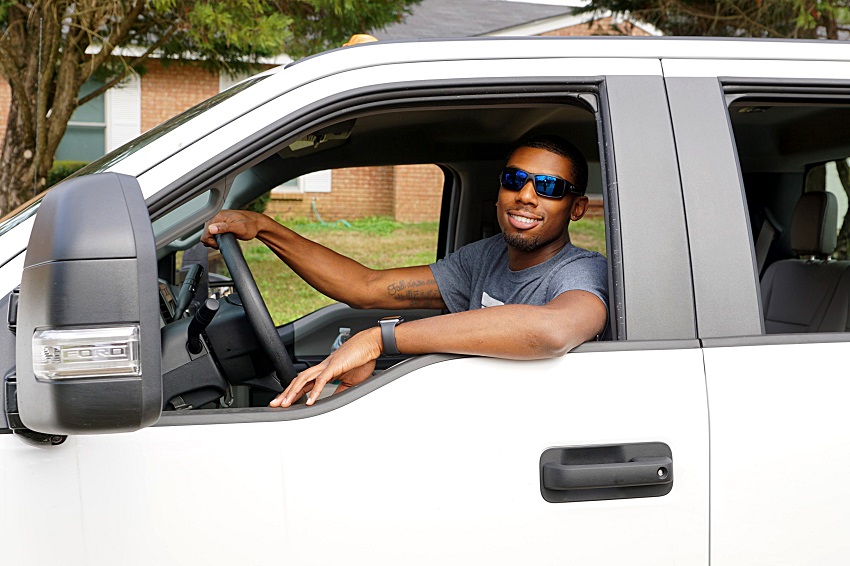 February 27, 2019
Thirteen months after graduating from East Mississippi Community College's Commercial Truck Driving program, Jackson resident Corwin "CJ" Lawson, Jr., 23, is launching his own freight transport business.
In January, Lawson purchased a 2019 Ford F-350 Super Duty pickup truck and is finalizing the paperwork for his business, Lawcor Transport LLC.
"I should be up and running by next week," Lawson said.
Lawson plans to pull a 40-foot gooseneck trailer carrying hotshot loads, which are smaller loads that don't require the use of a semi-trailer.
"You get paid as much if not more hauling hotshot loads as you do with a larger rig," Lawson said. "The advantage is there is less expense upfront to get started."
Lawson, a graduate of Ridgeland High School, was in his freshman year at Mississippi State University working towards a degree in computer engineering when he decided he wanted to do something different.
"I really liked what I was doing but realized that wasn't something I wanted to do for a career," Lawson said.
He enrolled in the Counseling to Career, or C2C, program under EMCC's Workforce Services division, in which students are taught skills to improve their employability. Students must complete a career readiness certification, or WorkKeys, and are educated on topics such as work ethics, communication, attitude and organization.
"Corwin was one of those students you know right away is going to do really well," C2C Counselor Yulanda Haddix said.
After he completed the four-week C2C program, Lawson enrolled in the Commercial Truck Driving program, a five-week course in which students learn skills such as parallel parking, straight-line backing, offset backing and alley backing.
Students are also taught safety, rules and regulations, driving practices, air brakes, hazardous materials and emergencies. The course taught on EMCC's Golden Triangle campus includes vehicle inspections, coupling and uncoupling trailers and driving a tractor-trailer truck under varying road and climate conditions.
At the end of the course, students are allowed use of an EMCC tractor-trailer when they take their Commercial Driving License road test and are accompanied by course instructor Mark Dodson.
Lawson had a plan when he signed up for the class. He wanted to obtain his CDL, which he did in February of 2018, and to gain some on-the-road experience before starting his own business. After graduating from the class, he began work at Paschall Truck Lines, Inc., hauling general freight across the continental U.S. for more than 10 months.
"I hauled everything from aluminum cans, to clothes, engines and beer," Lawson said.
By all accounts there is a demand for truckers nationwide. According to the American Trucking Associations, an estimated 50,000 drivers are needed to meet current demands and that number is expected to grow.
"There are companies that are in desperate need of drivers," Dodson said. "There is freight sitting still right now that they can't get moved because they don't have enough drivers."
Lawson plans to capitalize on that demand.
"My goal is to add trucks to my company as I can and hire other truckers to drive for me," Lawson said. "I want to continue to grow."
Those interested in enrolling in the Commercial Truck Driving program can email Dodson at jdodson@eastms.edu or call 662.243.2686 or 662.243.1751.