CARL HOGAN TOYOTA DONATES COROLLAS TO EMCC
News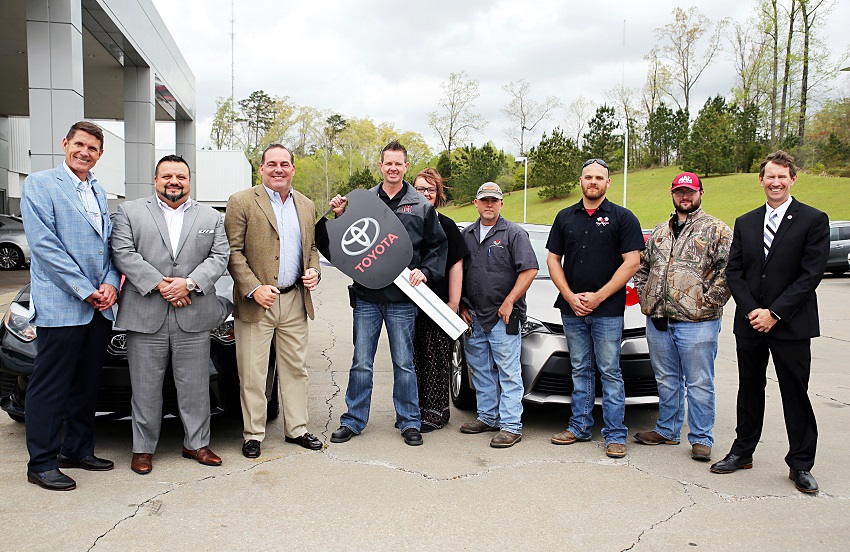 April 4, 2019
Students enrolled in East Mississippi Community College's Automotive Technology Program have two Toyota Corollas to hone their skills on thanks to a donation of the vehicles by Carl Hogan Toyota.
Keys to the Corollas were presented to EMCC officials the afternoon of Thursday, April 4, at the dealership located on Highway 45 in Columbus.
Carl Hogan Toyota General Manager Jonnie Moore said three graduates of EMCC's Automotive Technology Program work in the service department at the dealership and that they are all good employees.
"We are really excited about what EMCC has going on over there in that program and we want to help out in any way we can to get these students ready to go to work," Moore said. "If we give them Toyotas to work on, it will make it a little easier when they come over here to work for us."
The 2015 Corollas are preproduction vehicles assembled at Toyota Motor Manufacturing Mississippi, Inc. in Blue Springs. Preproduction cars are those run through a production assembly line and rigorously inspected prior to the release of that particular year model.
Preproduction vehicles, which have minimal to no miles on them, have no VIN number, cannot be sold and are used solely for automotive training purposes.
Texas-based Gulf States Toyota, a private distributor of new Toyota vehicles and parts that serves 158 Toyota dealerships in Arkansas, Louisiana, Mississippi, Oklahoma and Texas, coordinates delivery of the preproduction cars to dealers for donation to accredited automotive training programs.
"We only had 12 preproduction cars and Carl Hogan received two of them to donate to East Mississippi Community College, which is a testament to the strong relationship between his dealership and the college," Gulf States Toyota Workforce Manager Robert Trevino said.
In January 2018, EMCC was among 12 colleges nationwide selected by Toyota Motor North America to participate in the Toyota Technician Education Program (T-Ten), which allows students to obtain official certification from the University of Toyota for training modules they complete. Previously, only Toyota employees could receive certification through the University of Toyota, which is required of technicians who work for the company.
EMCC Automotive Technology students hired by Toyota can begin work right away in the areas in which they earned Toyota certification.
EMCC Automotive Technology Program lead instructor Dale Henry said the donation of the cars will allow his students to perform hands-on work that dovetails with University of Toyota training modules such as Toyota Express Maintenance, which includes an oil and filter change, tire rotation and brake, fluid and multi-point inspections.
"I am extremely excited to have two exact cars to match the service information and curriculum Toyota has already provided us," Henry said. "This will give us two stations we can run at the same time while teaching Toyota's certification modules."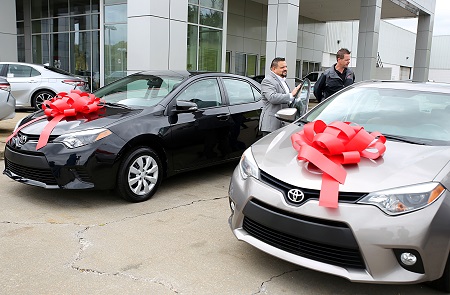 EMCC's Automotive Technology Program is accredited by the National Institute for Automotive Service Excellence and was recently ranked No. 2 in Trade School Future's list of Best Automotive Schools in the Southeast.
"Toyota believes in rewarding results and performance," Gulf States Toyota District Service and Parts Manager Colin Jones said. "We want to reward that performance by giving EMCC students modern technology to get familiar with."
In October 2017, EMCC hosted the Toyota Express Maintenance Contest sponsored by Gulf States Toyota and the National Automotive Technicians Education Foundation. Two-person teams from 12 high schools across Mississippi competed in the event. It was the first time the contest took place outside of Texas and was comprised of students from high schools in another state.
Last year, Henry assisted with the contest in Brookhaven, Mississippi.
"Dale has been a great partner to us and to our dealerships in supplying students who are current in their training and capable when they begin work," Trevino said.
EMCC President Dr. Scott Alsobrooks said he is grateful for Carl Hogan's donation of the Corollas.
"These Corollas will further enhance the quality education provided to students in our Automotive Technology Program," Alsobrooks said. "We can't thank Carl Hogan Toyota enough for this contribution and for the support of this program and our institution."