EMCC EXPANDING CAREER AND TECHNICAL EDUCATION OFFERINGS
News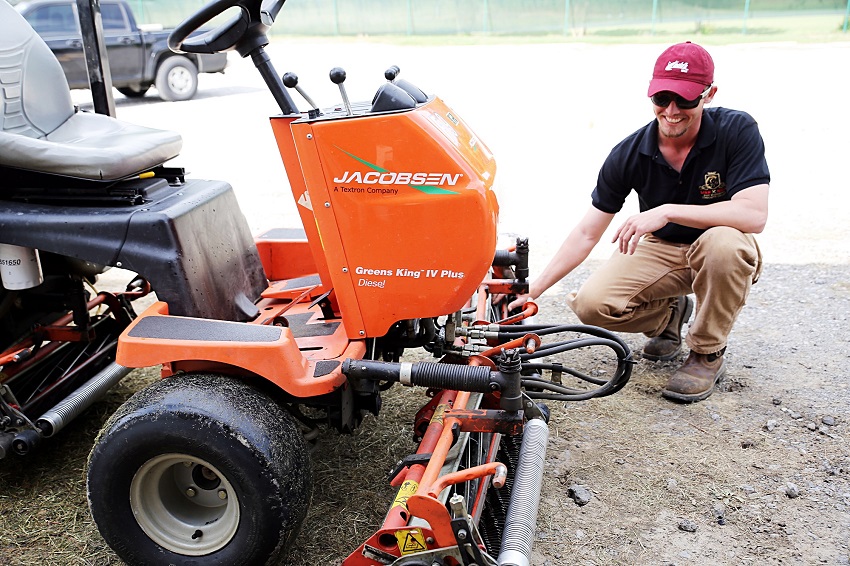 May 9, 2019
East Mississippi Community College's Office of Career and Technical Education is expanding its offerings to include four new programs that will be available to students in the fall term that begins Aug. 19.
The new programs are Baking and Pastries, Barbering/Stylist, Small Engine Equipment Repair Technology, and Travel and Tourism Technology.
"Information provided by industry representatives indicated that that there is a demand in these areas and jobs available for those with the necessary training," EMCC Associate Dean of Career Technical Education Dr. Michael Busby said. "These are programs that students showed an interest in as well."
Barbering/Stylist training classes will be taught at the college's Mayhew campus, with the remaining programs offered at EMCC's Lion Hills Center.
Baking and Pastries is a one-year certificate program that will provide students a solid foundation in the methods and science of baking that will include the art of making cakes, custards, frozen desserts and sorbets, among other things.
"Baking is not all about sweets," EMCC Culinary Arts instructor Shannon Lindell said. "One semester is devoted to making artisan breads, for example."
Many students enrolled in the Culinary Arts program have expressed an interest in the Baking and Pastries concentration, Lindell said.
"I tell students the more food stations they can work, the easier it is for them to get and retain a job because it makes you seem invaluable in a kitchen," said Lindell, who will also teach courses in the Travel and Tourism Technology program.
EMCC already offers a program in Hotel and Restaurant Management Technology, which provides students the skills needed to work in front office management in hotels and restaurants.
Travel and Tourism, which will be offered as a one-year-certificate and an Associate of Applied Science degree, will ready students for careers as tour guides, museum docents and activity directors on cruise ships, among other things.
"Anybody who enjoys interacting with people will like this program, Lindell said. "When we were out talking to business owners about the new programs, Travel and Tourism elicited the most excitement. Some of our local chambers of commerce expressed an interest in hiring interns and graduates in the program."
Barbering/Stylist is a nine-month program that leads to a one year certificate. Students can also earn an Associate of Applied Science degree.
"There is a very big demand for barbers," said EMCC Cosmetology instructor David Long, who will also head up the new Barbering/Stylist program. "People are kind of going back to the old barber shop atmosphere."
Students in the program will learn how to cut hair with both clippers and scissors, the correct way to shave using a straight razor and the use of hot towels for steam facials. They will also learn basic manicure, pedicure and chemical hair treatment procedures.
"We will also teach them how to do artistic hair designs, which includes all of the latest trends," Long said.
Small Engine Equipment Repair Technology will prepare students to work on both two cycle and four cycle engines and specialized equipment used in the sports turf, landscape and golf course industries.
"We will also train them so they are familiar with the maintenance and repair of both electric and gas powered golf carts," EMCC Golf/Recreational Turf/Landscape Management Technology instructor Danny Smith said.
Students can opt for either a one year certificate or an Associate of Applied Science degree. The program is a natural fit for those with careers in the landscape and turf industries, Smith said.
"A lot of times when a piece of equipment breaks down it is a simple fix that operators could repair in the field if they had the training," Smith said. "That decreases their down time and makes them that more valuable to a company or operation."
Registration is under way for EMCC's fall term and students can sign up now. Those interested in applying for a spot in the Barbering/Stylist program will need to fill out an application packet after they enroll.
The contact person for those wishing to enroll in any of the programs is EMCC Student Services Coordinator Yolandra Beck. She can be reached at 662.243.2613 or by email at ybeck@eastms.edu.
Information about all EMCC programs is available online at www.eastms.edu.