MORE EMCC STUDENTS CHOOSING CAREER TECHNICAL PROGRAMS
News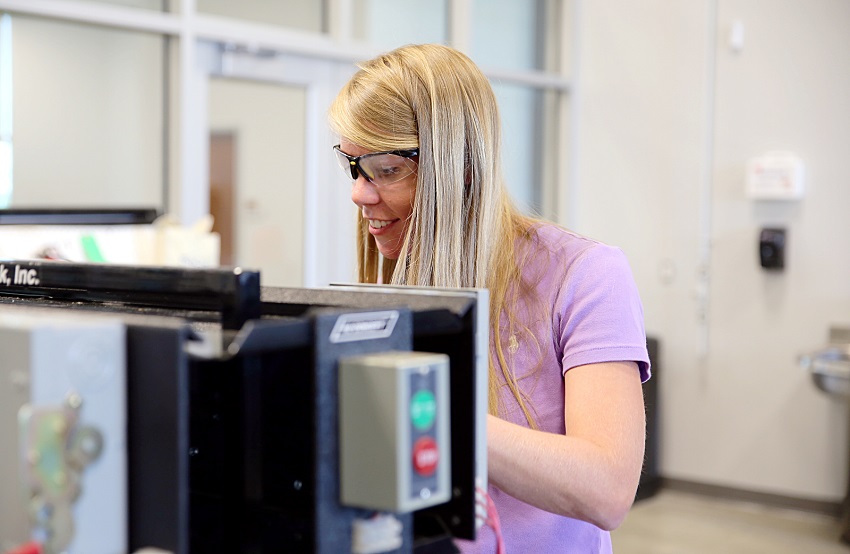 September 12, 2019
Starkville resident Camille Cooper is among a growing number of East Mississippi Community College students enrolled in career technical programs, most of which are offered as one-year certificates or two-year associate degrees and prepare students to enter the workforce upon graduation.
When Cooper began looking at available programs of study, the single mother of a 3-year-old daughter, Carolyn Grace, knew she wanted to enroll in something she could complete fairly quickly that would leave her with little student debt and great job prospects.
"I needed a good job with benefits for me and my daughter but I really didn't have four years I could dedicate to school," Cooper said.
Next May, Cooper will graduate from EMCC with an Associate of Applied Science degree in Electro-Mechanical Technology, which prepares students for installing, maintaining and repairing machinery used in manufacturing or industrial processes.
"I like hands-on work and there is such a big demand for skilled trades nowadays that I knew this was a field I could find work in here locally," Cooper said. "My parents are here and I plan on staying here for a while anyway, but you can travel anywhere and find work with this degree."
Enrollment at EMCC in career technical programs for the fall 2019 term jumped 10.6 percent over the previous year, from 874 students in the fall of 2018 to 967 students this year. That percentage could dip slightly as a few students typically drop out at the beginning of the term.
While the bulk of EMCC students historically enroll in academic programs, there has been a steady uptick in enrollment in career technical programs over the past decade.
In the fall of 2009, 781 students were enrolled in career technical programs, which represented 16 percent of the student body at that time, with 84 percent of students enrolled in academic programs. The percentage of career technical students had climbed to 21 percent last fall and is at 25 percent for the current term.
Like the rest of the nation, workers in Mississippi who possess "middle skills" that require more than a high school diploma but less than a four year degree will be in high demand in 2020, according to the Georgetown Center on Education and the Workforce, which predicts that 39 percent of jobs in the state will require some college, while 16 percent will call for a bachelor's degree and 6 percent will necessitate a master's degree or higher.
"We are uniquely poised to meet the demand for middle skills jobs," EMCC President Dr. Scott Alsobrooks said. "That is our specialty. We train people in programs that offer one-year certificates and two-year degrees."
EMCC offers more than 40 career technical programs on its campuses under three umbrellas that include the Career Technical Education Division, the Manufacturing Technology and Engineering Division and the Nursing and Allied Health Division.
Programs of study run the gamut from Funeral Service Technology to Cybersecurity, from Surgical Technology to Culinary Arts, and from Business Management Technology to Forestry Technology, to name a few. EMCC continues to add new programs as the demand for workers in those fields grow.
"Everyone can't attend a four-year university and some don't want to do so," Alsobrooks said. "Providing residents educational options opens up opportunities for them to earn a credential or degree and find work here at home."
Aberdeen resident Curtis Williams is working on an Associate of Applied Science degree in Precision Manufacturing and Machining Technology at EMCC's Communiversity. He said he is not interested in earning a four-year degree.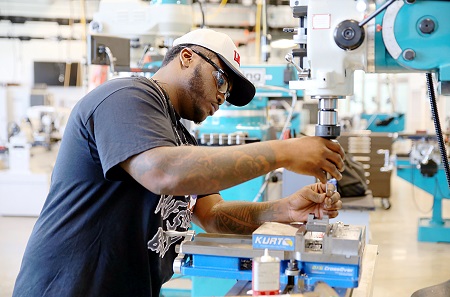 "I never wanted to be a doctor or lawyer or anything like that," Williams said. "I always wanted to do something to get my hands dirty."
Studies have shown that community college students are more likely to stay closer to home once they graduate than are their counterparts who earn a four-year degree.
According to a report by the Mississippi Community College Board, more than 40 percent of residents who earned a baccalaureate degree have left the state five years after graduation. A joint research project by Emsi and The Wall Street Journal found that, on average, students who graduate from a community college tend to stay within 300 miles of the college and 61 percent reside within 50 miles of the college.
"Most of our graduates find work here, build homes and become taxpaying citizens," Alsobrooks said. "If we can get people into these programs that match up well with the local labor market, they will stay here and contribute to our local economy."
EMCC's newly opened Communiversity is dedicated to training students for careers in advanced manufacturing. EMCC Manufacturing, Technology and Engineering Division Dean Joe Cook said growing programs there dovetails with a statewide push to expand the middle skills labor pool.
"From the governor's office on down, the state initiative is middle skills jobs and growing the state of Mississippi regionally and in particular strategic sectors of industry," Cook said. "We try to focus on what our sector strategies are for our area and deliver those to the highest level. When we can incorporate other skills for other sectors, we certainly try to do that as well."
Programs at the Communiversity include Precision Manufacturing & Machining; Engineering Drafting & Design; Electro-Mechanical Technology; Mechatronics Technology; Industrial Maintenance; and Systems Based Automation.
The advisory board for the Communiversity is comprised entirely of local industry CEO's and human resources professionals and each technical program has craft committees whose members are industry experts in their respective fields who offer advice on curriculums for programs and individual courses.
"Since ours is an industry-driven curriculum, we are delivering an education to students that is preparing them to go to work in our area," Cook said. "Our students are in demand locally and throughout the state."
That demand for local middle skill workers is expected to grow as aging baby boomers retire.
"Our advisory board is saying our skilled labor pool is diminished right now and we need to help fill that pool back up," Cook said.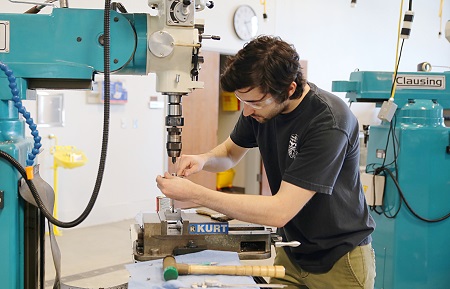 Richmond resident Ryan Nicholson has an associate's degree in Art and plans on earning a degree in Engineering at Mississippi State University. Right now, he is enrolled at the Communiversity where he plans to earn a certificate in Precision Manufacturing and Machining Technology.
"I feel like there are a lot of benefits to this program at EMCC," Nicholson said. "If I choose not to go through the stress of becoming an engineer, this will provide me with a great career option and a backup plan."